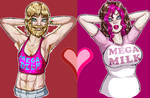 Lazy Neon Pink Glitter Goth
Feel free to ask any questions if you're curious! I'll be as open and honest as I can!
the cliche collection of stamps that i feel describe me that every account has




SLIT SOME WRISTS
SUCK SOME DICKS
POP SOME PILLS
AND PUNCH YOUR MOTHER
THIS BITCH AIN'T CHANGING!

All you need in life is:
A dick to suck
A way to make buck
No ability to give a fuck


---


GO WATCH THESE AWESOME PEEPS

Proxiide MY PAL
MASTER-K0HGA MY PAL
LilMissPunchingBag GREAT HOE
xMoonlightMoonx DUMB HOE TO MY DUMB BISH


---


People I Stalk A Lot

6-88-13 SUCH A SWEETIE SO TALENTED
nonfu AWESOME AND CUTE
TheChicRecruit FRIENDLY AND AWESOME


---


i feel the need to say this:
if I say horrible things about myself i'm not looking for sympathy or to be told otherwise. normally i don't really think these things its just a self degrading sense of humor I have.
I honestly do not have that low of self esteem I just like to rip on myself because I find it the easiest and honestly who the fuck is going to be bothered by a joke at my own expense? Don't worry about when I say these things. 95% of the time its said as a joke and all in good fun.