Journal Entry:
Mon Jan 9, 2012, 1:08 PM
Gallery

Add me

Note me
Finally finished my first portrait of 2012...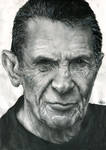 My bf suggested I dont draw wrinkles for a week before I loose my sight... lol...
But Im planning on continuing with the same group... What group you ask? You will see!

Watch