Journal Entry:
Mon Dec 19, 2011, 11:24 AM
Yes, I finally finished the calendar, both Italian and English versions.
ITA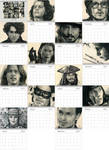 ENG
fav.me/p24023709
:thumb274685243:
English one is currently available in my print store on DA, for the italian one need to send me a note if you are interested, its 10 Euro + shipping (domestic rates for USA btw)
I must admit... I couldnt have done another Depp portrait even if I wanted... I have done 14 total, including the 2 I consider failed, the first sleepy hollow and benny and joon, they didnt make me happy so I decided to not put them in the calendar.
Thank you everyone for support me through this... calendar adventure.
Bia
P.S. The room is still full of dust with walls to be finished scraping... and thursday we leave... anyone wanna bet how even possible it is we can get at least the scraping done at this point? Part of me wants to sit and cry lol...