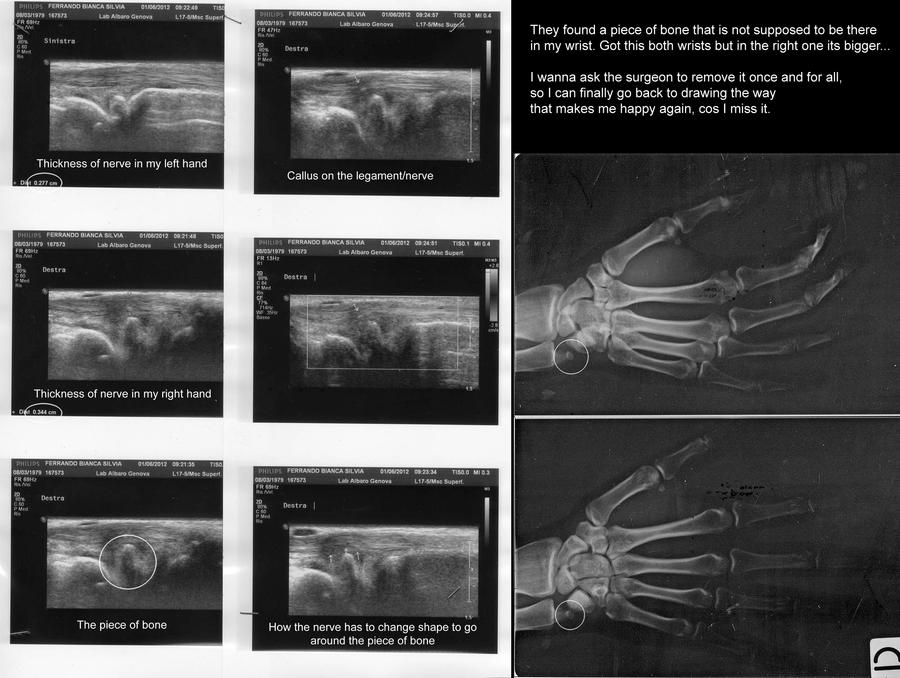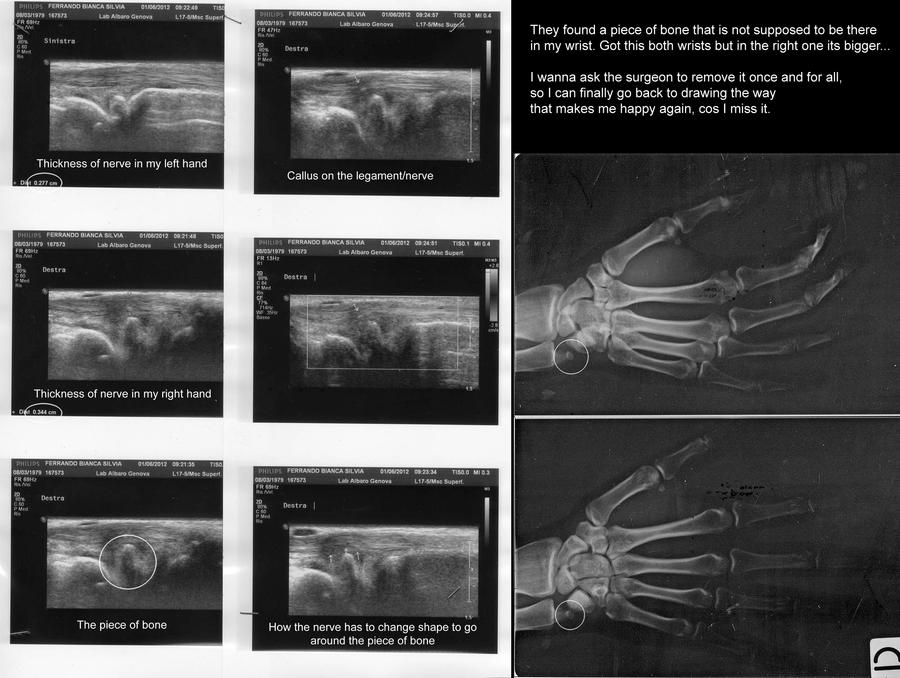 Watch
Wish me luck my friends...

I admit... I am worried and scared...

Good luck with your hand!

Reply

Best of luck in getting this problem resolved quickly and safely, Bia! Do the doctors say that removing the extra piece of bone will do the trick? You will be in my thoughts!

Reply

Thank you so much Clare

Its my hope, I dont know for sure, the doctor that took care of the analisis I posted said I prolly have 2 options, laser therapy or surgery, I cant drag it on and on over time, cos I work with my right hand and this problem makes it too hard and painful, it would just be a procrastination in my opinion. Wednesday I have an appointment with the actual surgeon, Ill bring him everything and see what he says...
Reply

Oh, good! The surgeon himself will be able to give you the whole picture... keeping in mind, of course, that surgeons always think that surgery is the best option! (roll eyes)
This is so important for you, Bia. With your right hand being your most valued tool, don't be afraid to get a second opinion if you're not comfortable with any of the information, potential procedures, or doctors involved. You'll want to feel sure that you're working with the right people and taking the right course of action in order to have a right hand that's healthy and pain-free for the rest of your life.

And hey, when it comes down to it, better a bandage on your hand/wrist at the wedding than not being able to enjoy your entire wedding day (and honeymoon!) to the fullest due to pain, right?

Reply

After surgeon pretty much said the only solution is surgery cos of the nature of the problem I decided right away to get surgery asap so Im getting it on the 19th... with one more thing to do for the surgeon, re-attach the ligament to the bone with extention and an anchor... I have to believe its going to be ok, but Im scared too. Its still my right hand, the one I draw with, my precious right hand I need to be 100%...
On a brighter note Ima see if I can show you the hair stylist pic Im taking of the different ways I can have my hair done for the wedding, Id really like your opinion

. Monday I have the second version done, Ill see if I can upload the pics for you before I leave for surgery
Reply

Yes, it seemed that surgery would be inevitable... my thoughts and prayers go with you, as I said!

Don't worry about uploading the pics before you go... Of course I'd love to see them, but your being relaxed and ready is more important! Whenever there's time, Bia. And I'll be honored and happy to give my opinion, thank you!

Reply