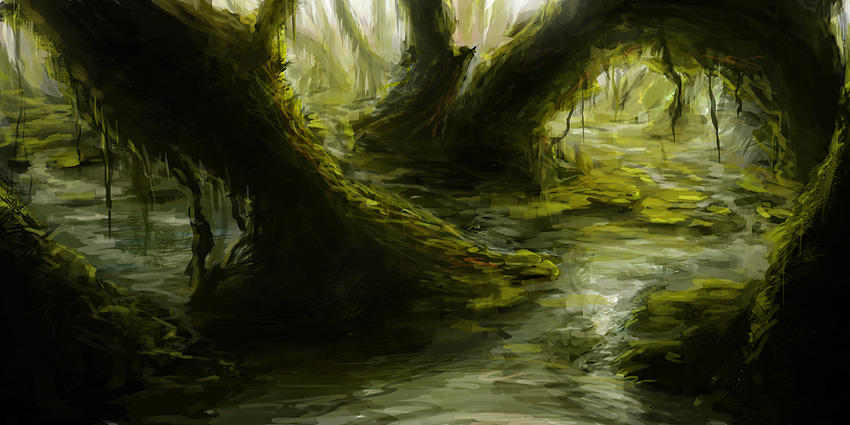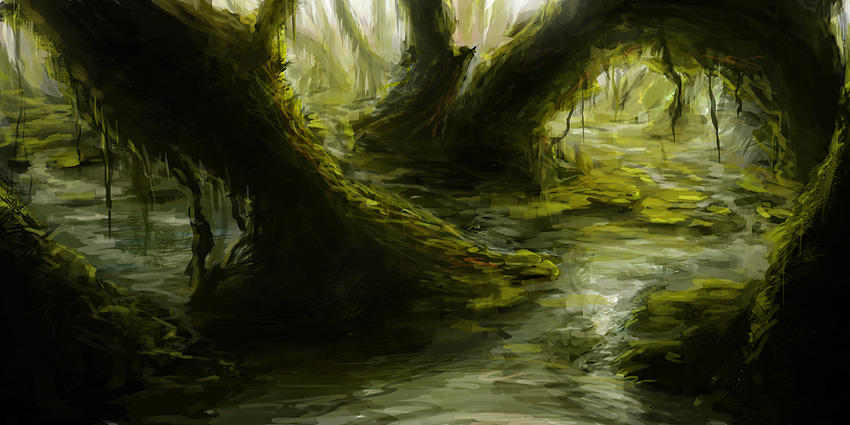 Watch
Speedpaint - 3hours. I've not had time for anything complex because i am in the last days my "Bachelor of Art" degree.
I dont want to be out of practice, so I am going to do some of them in my spare hours in the next time.
We are going to use that as a story background setting in our current game which we are developing at the moment. We chose this swampworld as the birthplace of one of our alien races. For more information visit www.die-game.com
Photoshop CS2, 3000*1500
______________________________________________


COPYRIGHT NOTICE ©
Do not use the pictures in my gallery for layouts, blogs, tubes, websites, myspace, banners, designs, posters, cd, books etc. Thank you.
First of all, this is EPICNESS.

I'm so amazed when it comes to how this thing is done. First of all, I'm pretty impressed with how you did the trees and the vines and the algae mats. The shading is also epic, and the overall greatness of this piece leaves me speechless.

How you visualized this drawing is what impressed me. It looks something like a fairytale swamp where the marsh trolls dwell. I bet you worked hard on this thing. It's dope.

Regarding technique and visual impact, they go hand-in-hand. Better technique, more power and impression. As you can see, everything is nicely done. Regarding how you colored the water, it looks a bit cloudy but it's kinda easy to fix. The entire piece would be perfect for a storybook cover, because the impression of it will leave viewers speechless!

Great job!
The Artist thought this was FAIR
8 out of 8 deviants thought this was fair.