Mature Content
This content is intended for mature audiences.
---
or, enter your birth date.*

Month
Day
Year*
Please enter a valid date format (mm-dd-yyyy)
Please confirm you have reviewed DeviantArt's Terms of Service below.
* We do not retain your date-of-birth information.

Watch
I feel as if this one carries some of my old style on it. It was indeed very fun to write, so I'm satisfied anyways :3 Hope you guys like and feel free to leave your opinions.

Image source: www.pixiv.net/member_illust.ph…

---------***---------

"You know that most guys aren't that interested in going shopping with their girls, right?" "Do you think it's weird?" "I think it's cute! Guess you are not like most guys." Ashley cheerfully said, kissing Simon's cheek. It wasn't the first time he'd come to the town's commercial district with Ashley when she wanted to buy some clothes (in fact, that was becoming kinda common), but everytime she would point out how happy she was by it. It was always a similar schedule: at first, they would split on the street to find clothes for each other; then, they would exchange information about what they found to decide what they should buy.
And that day wasn't different: they arrived at town and split up to see more stores. But after some mere seconds of walking, seeing the same stores he already saw over and over again, something caught Simon's attention: on a shadowy alley, a plaque with a pink dress drawn, with the words "Ophelia's Wishes" featuring above in pink colors. A quick view on the show case made him regret never seeing that place before: the clothes were incredible! All of them feminine, with all shapes and sizes! As he entered the incredibly organized and surprisingly empty store, he was greeted by a old lady on the balcony. "Hello there, my dear!" She said with a trembling voice. "How can Ophelia help you today?" "Oh, I guess I will just take a quick look in some models! Thanks!" He said, sneaky trying to avoid any chance of the old lady disturbing him. After all, Simon did enjoy buying clothes to his girlfriend… But in reality, he had a much more personal reason for it: Simon liked to crossdress. A pleasure he kept hiding from everyone that he could somehow enjoy with the excuse of searching for his girlfriend's clothes. In Ophelia's store, he followed the standard plan: getting some random masculine outfits, then some female outfits for the petite Ashley and then some clothes that would clearly not fit in his girlfriend. As he moved to the changing room with a considerably big amount of clothes, containing even some bras and panties, the old lady giggle. "Have fun in the changing room." Something in that phrase sent shivers down the man's spine, but he just kept going.
As he watched his slim body in the mirror, Simon could proudly say that, with a wig and some make up he could easily be confused for a girl. He would just need something to fill that extra large F cup bra, and it would fit perfectly! It was around 15 minutes of staring at himself (and even taking some pictures), before he decided it was enough. It came suddenly, when he moved his hand to open the bra and put his clothes back: a sudden pain in his back, exactly under the bra's lock. "Gah! What is..." He gasped, lowering down his voice, afraid of having an unexpected visit of the old lady. "Okay, deep breath..." He whispered to himself, now moving both hands to get free from the bra. But no matter how hard he tried and forced the closing, it just wouldn't open! Desperately, he tried to at least remove the panties, in an attempt to move freelier, but it was somehow stuck on his skin! He pushed with all his might, even tried to rip it, but nothing seemed to work on its fabric! "Is this a prank?" He shout, as the pain increased on his back. Hearing no answer, he tried once more, feeling the pain spreading on his back. "HELLO? I NEED HELP!" He yelled, now trying to open the room's door. But just like the clothes, it was stuck! What was all that?
As the pain reached his shoulders, now covering his entire back, he felt a weird crack like sensation on his spine. Unable to hold a scream, he accidentally turned to the mirror, gasping in surprise by what he saw: his figure seemed… Smaller? He was never a tall guy, but was he always that small? It wasn't a great difference in height, but that explained the crack he felt. With that, the pain on his back was gone, but the agony was still reaching his shoulders: with another crack, he now fell to his knees, watching his half naked figure on the mirror suffer from a sudden, almost not remarkable, reduction on his shoulder's width. "HELP! I NEED H-" Simon was suddenly interrupted, choking as the pain hit his throat and face. Why wouldn't the lady come? Desperately watching his changing figure in the mirror, Simon watched every single second of his Adam's apple shrinking, the minimum tuning of his throat, but more than anything the changing in his facial traits: it were soft changes, though very noticeable to him: from the thinning of his chin to a delicate plump of his cheeks and lips; the disappearing of all facial hair slight presence; his eyelashes going longer, his nose thinning, perking up; if his look was already feminine before, now he could easily pass as a cute tomboy! Last but not least, his hair grew, just in length enough to better fit his feminine features.
As he hoped for it to be finished, Simon felt the pain quickly moving down his body, travelling through him like an electric shock, splitting to simultaneously affect his torso and arms. The multiple cracks now were even loud. "HELP! SOMEBODY PLEASE HELP ME!" With his throat now free from the pain he once again screamed, freezing in shock as he heard the high pitched, girly ask for help he just let out. Now, though, the almost were almost done on his already feminine, shaved limbs, as he stared in disbelief at the petite figure he now had. But while the pain on his arms once again quickly moved to other limbs, the pain on his chest got worse… And worse and worse, as the bra started to feel… Tight? Not exactly tight, but much less loose! And after some seconds at desperate pain on his chest and his now enlarging hips, he could tell the reason for the tightening: his once slim, even petite torso was growing fat, as if it was trying to fill the oversized bra somehow! While that, his hips pushed the panties' fabric. Similarly to his chest, a sudden pain on his ass denoted the sudden gaining of weight. He couldn't avoid panting, feeling the changes reaching its climax, not only on his chest and hips, but moving to his legs and even his groin, as a feeling of shrinking on his already small penis made clear the transformation was almost finished.
After bare instants, his legs were completely changed, getting plumper in some crucial parts to better match his ass and smaller in others, like his feet. With a quick moan, he felt his dick being sucked inside his body, something inside him being reshaped. And by seeing the camel toe on his panties, it was clear that "he" wasn't going to be the pronoun most people were going to use. But as the pain vanished from the rest of his body, the growth kept happening in his chest, that now almost perfectly fit the large bra, bouncing with every gram of mass it gained, forcing him to change his posture until it finally reached the massive size of F cup mammaries that, by the aching feeling on his nipples, were certainly perfectly function in the task of releasing milk.
The pain stopped as suddenly as it started. After some seconds panting on the floor, seeing her almost naked feminine, the girl tried once more to remove the underwears, finding they weren't stuck anymore. But after staring at herself for some minutes on the mirror, there was no doubt it would be impossible to leave the room with those puppies hanging free. Finding herself forced to use the only clothes with an appropriate size she had, she left the room with a pink dress, trying to find the balcony lady. Yet, the shop was absolutely closed. Without knowing what to do, she picked a card from the woman's desk to make an attempt of calling her, only to find the words: "Ophelia's Wishes! A piece of cloth can change your future! Want to accomplish your dream? Buy our stock and feel the magic. PS.: One wish for each customer." Shocked, the girl stood there for some more minutes. But she couldn't stay there forever. She got the clothes from the changing room and clumsy ran to the outside of the store in an attempt to find the old lady. But outside, only a dark alley could be seem. She tried to go back to the inside, but felt her chest and face smashed against the wall. The door completely vanished.
For the girl there was no other option; since the clothes were basically free, she still had enough money to buy a purse in order to don't lose the only proof she had about who she was: the ID that she carried on her pant's pocket. The walk to the meeting point was kinda of uncomfortable, with all those people staring at her. But it was definitely the less scary part of all that: after all, how could she explain all of that to Ashley? How could she tell her she just turned into a woman? Or how it happened? Poor her, that couldn't see the bright side: once Ashley accepted all of that, they could go shop in the same stores.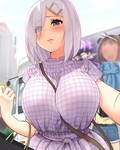 Hello! I'm Varen, I don't think we've met, but I'm an avid lover of all things TG, and I also love to give constructive feedback to NSFW artists like yourself, so, since you're looking for Critiques, I though I'd throw my hat in the ring!

First and foremost, I have to praise the detail you went in to while describing the transformation process. Down to the very last detail, no part of the transformation of her body went undocumented, which is phenomenal! I love my TG transformation, and the more detail the better! Your particular method of describing the changes as being painful and even describing the creaking and cracking of bones as they reformed was all quite unique, and a very fun way to describe what the changes felt like for Simon (or should I say Simone?). It was almost a more realistic approach to what such a transformation would feel like, so big kudos there.

The second aspect of this that I have to praise is the setup for the story in general! A closet crossdresser uses his trips to shop for his girlfriend as a cover for his escapades, but then he stumbles into a magical shop that grants him his heart's desire (whether he wants it to happen or not) and transforms him into a lovely girl! It's a very fun story that, combined with the ending showing the complete impossibility of Simon ever undoing this transformation, does a solid job of satisfying my desire to read Forced TG Transformation stories.

The third thing I'd like to praise is somewhat minor, but it's still worth noting. Specifically, I very much so appreciate the competent grammar, syntax, and diction that you utilized in this story. While there are plenty of great TG stories out there, they tend to suffer from somewhat amateurish writing patterns even at the best of times, and at the worst of times they dip down into a grammatical nightmare. You, however, did not fall for any such traps! Your writing is some of the most quality/professional work I've seen in this community, so great work there!

That's pretty much all my praise, and while I do have two critiques, they are pretty minor and don't detract from your work too much. My first critique is with regards to the somewhat low amount of details provided regarding the appearance of Simon post-transformation, and the low amount of details describing the clothes she wears. A big part of the enjoyment of TG writing, for me at least, stems from the in-depth descriptions of the character's appearance after they transform, and while you provided a wonderful amount of detail when it came to describing the transformation itself, you didn't quite go in to detail regarding what she actually looks like. The main details I personally would have liked to hear described include her eye color, hair color, hair style, EVERYTHING about her makeup (if she's wearing any), and exactly what her body shape is. All of these play into painting a picture of what kind of girl has just been created, and while you did lightly touch upon one or two of these, for the most part they went undescribed. I felt similarly about her clothes. This is a character who's really into crossdresssing, so it would be fun to hear what kind of clothes she liked to wear, and what kind of clothes she was wearing as she left Ophelia's. Again, you DID touch upon these things lightly, but a little more detail would be greatly appreciated.

The second critique is mostly just personal taste, so don't take it too seriously, but I would have liked to see some sort of sexual action taking place in this, if only a little bit. Again, this is mostly just a personal preference thing; if you weren't interested in depicting this character in a sexual way, then that's totally fine and you can dismiss this critique. But I figured I'd throw this out there anyway just so you got my full thoughts on it.

And that's my "Critique!" I definitely enjoyed your story and I definitely enjoyed reviewing it. Giving "critical feedback" isn't really my thing, I'm more into just pouring out praise on artists as that's just a more positive experience for everyone, but I can also appreciate the benefit of getting a little critical, constructive feedback from time to time as well, so I hope my input was helpful! If it wasn't, or if it accomplished nothing except to make you feel bad, then feel free to let me know and I'll avoid doing critical stuff in the future. Ultimately I just want to help, and if me providing just praise is more helpful to you than me haphazardly throwing together a critical analysis, then I'm totally fine just sticking to the praise!

Anywho, I've rambled enough. Great work on this story, I enjoy your work thoroughly, and I hope you have a wonderful New Year!
The Artist thought this was FAIR
9 out of 10 deviants thought this was fair.