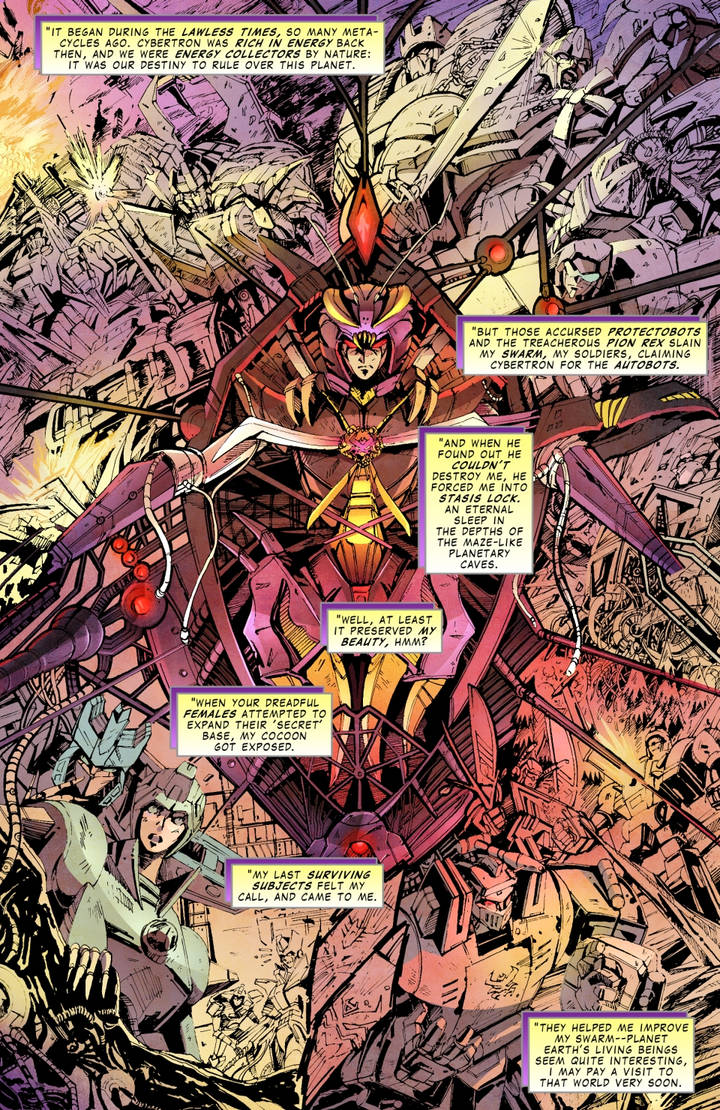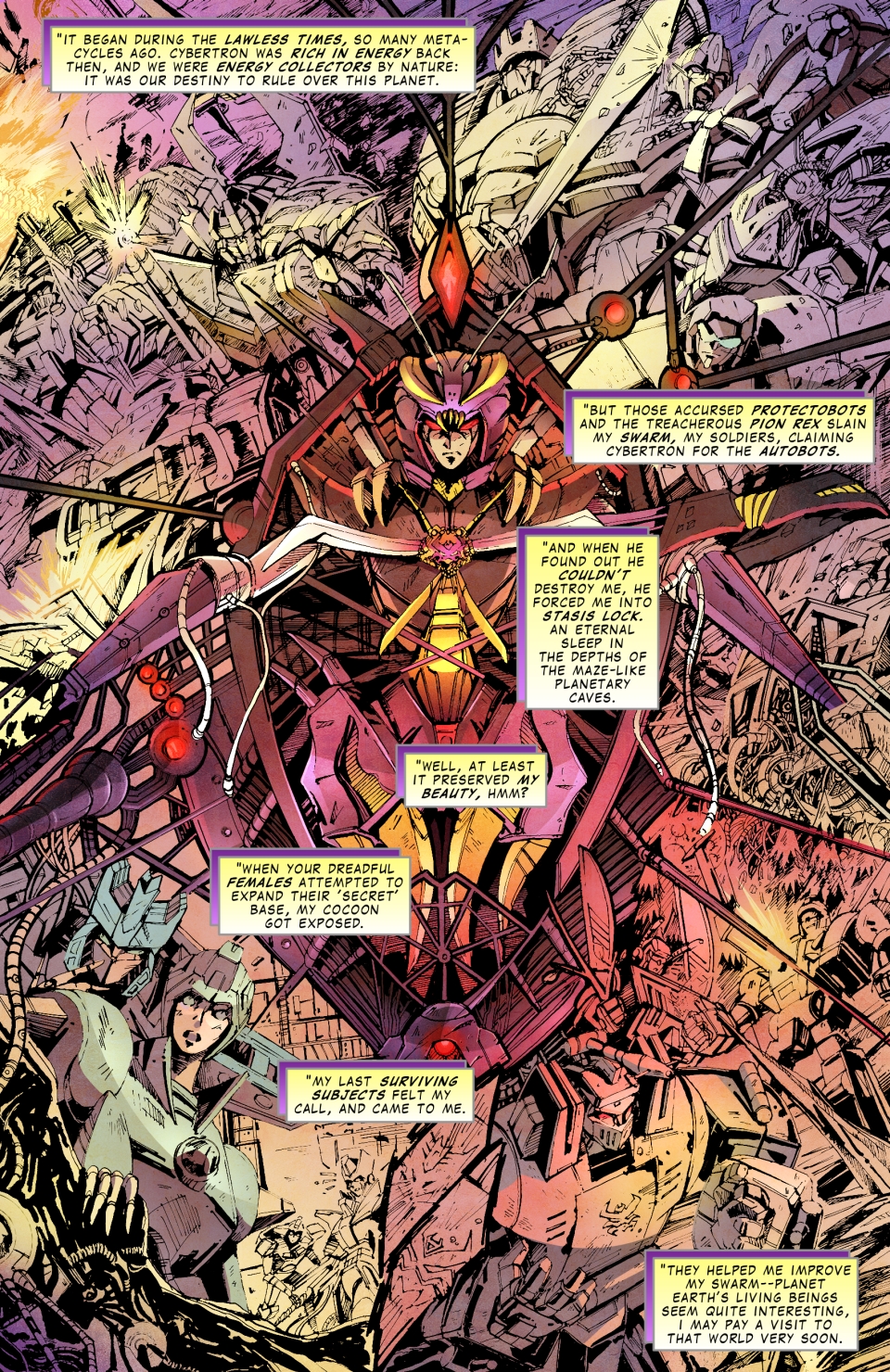 Page 08 of The Queen's Gambit, Episode 01 of our Season 2.5.

Story

Pencils and inks

Colors

Letters and edits
Behind the scenes
Know more of the Lawless Times in
The Magnificent Five
:
And check out designer

gallery for more on the Injecticons' designs:
[link]
As for who is Pion Rex? more on him soon, but for now, see his design by

:
And a couple of shots of his past adventures:
--------------------------------------------------------------------------------
INDEX
Cover A
Intro page
Part 1:
Page 01
Page 02
Page 03
Page 04
Page 05
Cover B
Part 2:
Page 06
Page 07
Page 09
Page 10
--------------------------------------------------------------------------------
DISCUSSION THREADS
Seibertron
,
Tfw2005
,
Tformers
,
AllSpark
,
TfArchive
,
TheTF
,
FullMetalHero
,
Cybertron
,
TransFans
,
TMUK
,
TfCog
,
TfShadowCon
,
NTFA
,
Unicron
.

Wow, Protectobots are very old... but I suppose that makes sense in YOUR continuity as are the other Gestalts.
Love the panel layout on this page. Everything seems so chaotic!

Reply

Not all the gestalts are so old in the Lost Seasons, we are following the cartoon continuity, and they never showed the protectobots' origin, so we wanted to make them old, just like their counterpart, the combaticons came originally from a previous era. More on their Lawless Times adventures, hopefully soon

Reply

Holy CRAP

The Protectobots ARE THAT OLD in this continuity ??!!!

.....................(choking on my own drool)
Reply

Yep, they'll be lost for a long time though, and we have yet to reveal how they re-appear in modern times.
Reply

So the Evil Elita in the previous volume wasn't Elita.
I 'm glad that Optimus didn't need to force to battle his love now.
Reply

The drawings in this page are magnificent! The way it is layered out reminds me of a spider web which compliments the panels effectively. It's really good to see the explanation and history of this fantastic new character and the idea of a Insectiqueen? Marvelous creation in general!
The colouring in has been executed beautifully having contrasting so well together with the mv's drawings.
What really also captures my eye about this page is the mentioning of the Protectobots and seeing them drawn in their WW designs really gets me pumped!
And as always wonderful credit to Franco and his letter+edits always enjoy the colour references to the characters colour schemes.
All in all this is a really excellent page of part 2. Very great and hard effort to the team on this!
I now really look forward to reading part 3 I know you people won't disappoint and want to say thank you for sharing with us!
Reply

Many thanks JP, it's always great to read your insightful comments.
And of course I'm sure you noticed this particular page has connections to that "you know what" we are working in together

Reply

You're very welcome Juan.
Haha I looking closely and making sure I didn't miss anything! Yep indeed we are.
Reply

This page..
..bloody hell...

Reply

I know, it's like... impossible, how can there be so much detail in just one page?!
Reply

This is gonna get tough from here,Convoy!!
Reply