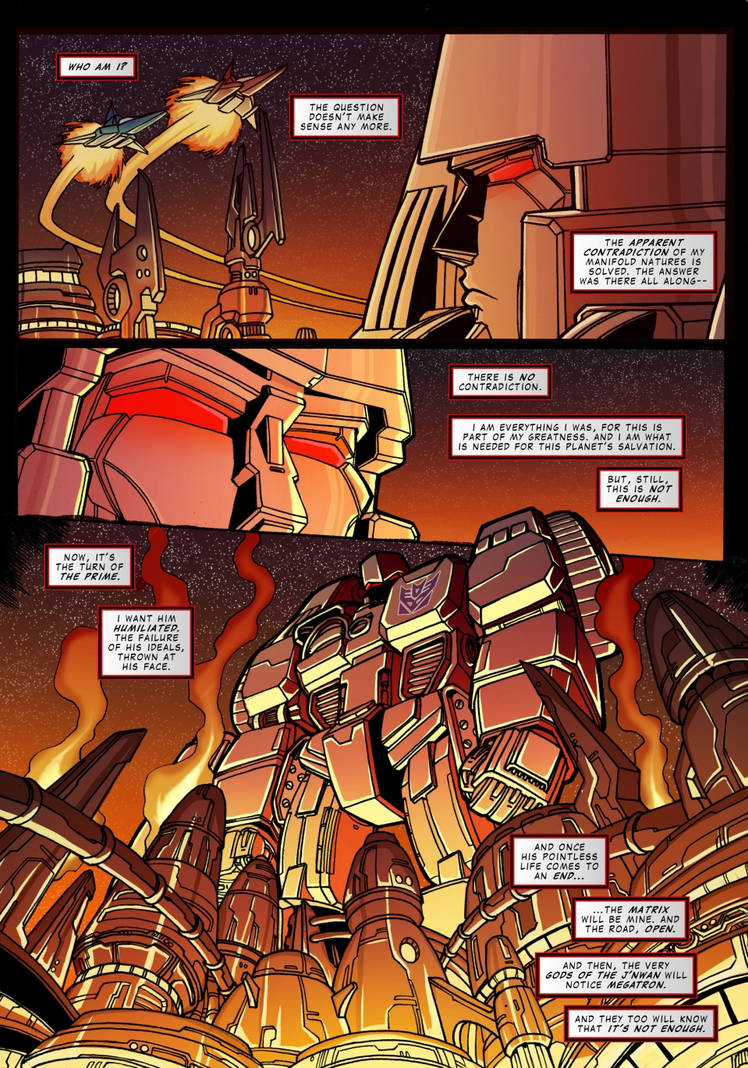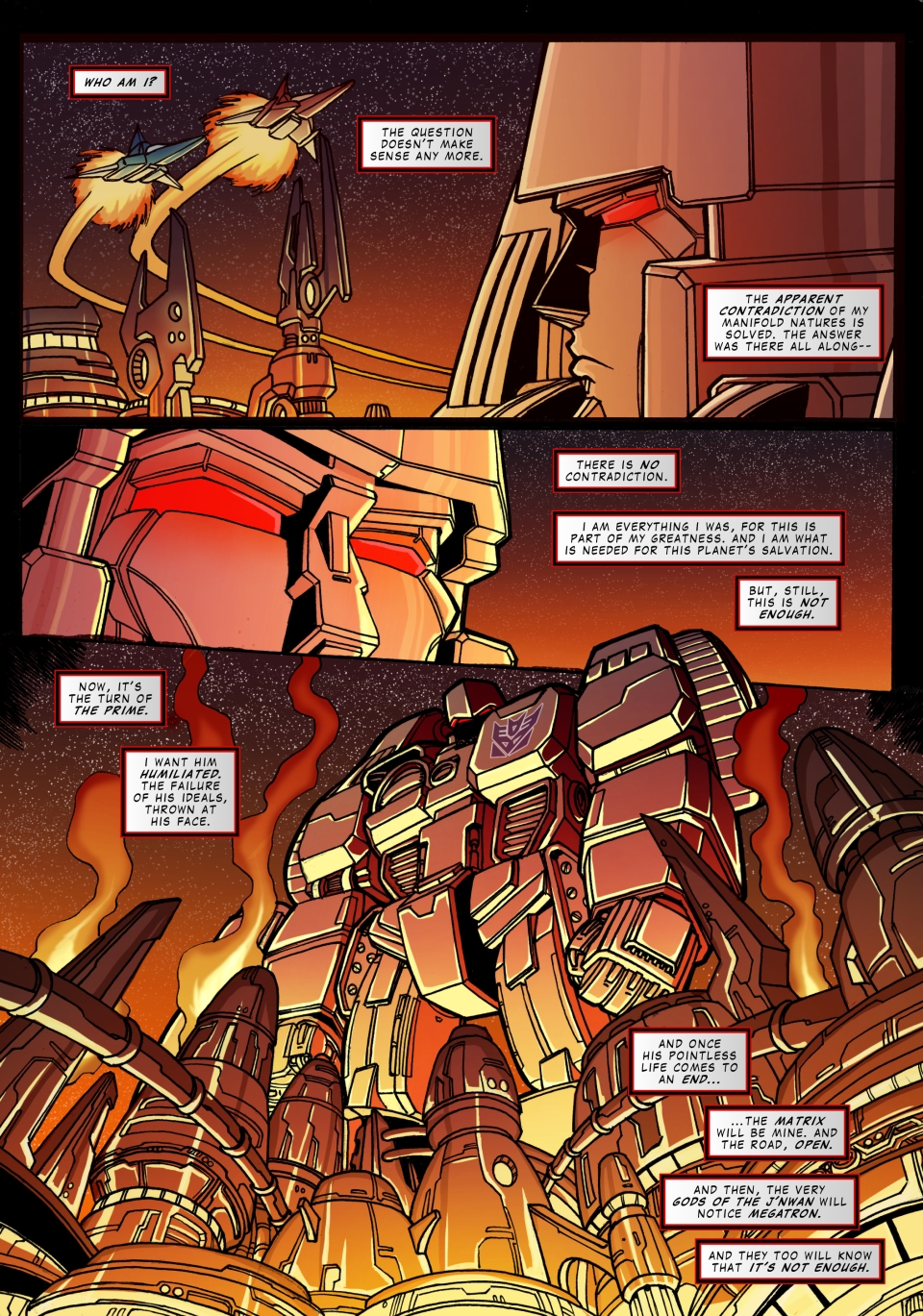 TRANSFORMERS: SEEDS OF DECEPTION
TRANNIS
PREV <
Page 22 (of 22)
> STORY FOLDER
Lineart by Daniele Spezzani

Colors by Charlotte

LottiesLittleWorld on Tumblr
Story and lettering by Franco Villa

Story and project by Peter Istyle

Edits by Joe Teanby

Special thanks to the President of the Trannis Fanclub!

NOTES
More about the
J'Nwan
in
Special Story: The Dark Side of Sentinel
(featuring an alternate Megatron!).
Is the saga over?
Far from it! This Trannis arc is just the beginning of the fall of the Golden Age.
As per his words, the newly-created Megatron faces Sentinel Prime in a battle that will pave the way to
The War Within (vol.1) #1
.
Follow his exploit as the leader of the Decepticons starting from
page 14 of SoD: Sentinel Prime
.

Thanks, a great finish to the Trannis story. Love the closing image of Megatron towering over Cybertron
Reply

I miei più sinceri complimenti per la storia: Leggerla tutta d'un fiato la fa apprezzare ancora meglio. Mi piace pensare che quel "io sono Megatron" di qualche pagina fa sia una contrapposizione netta con la stessa frase (e personaggio) visto negli sciagurati film. Solo che la c'è solo piattume e cose buttate a caso; nel tuo racconto c'è una grossa profondità e studio e leggere i testi con lo scorrere degli eventi é un piacere.
Reply

Grazie di cuore, soprattutto perchè l'hai letta (riletta?) sin dall'inizio, cosa che appunto mette in luce tutto il lavoro che Peter e io abbiamo fatto. E' difficile non chiedersi perchè la gente alla IDW, o gli sceneggiatori dei film, pur facendolo di professione, non siano riusciti a mettere insieme ciò che noi due abbiamo assemblato nel tempo libero, pur svolgendo un lavoro "vero" durante il giorno.
Hai nominato proprio gli obiettivi in questione, a cui aggiungo il desiderio originale di contestare "Megatron Origin", e di creare quindi un preludio a "War Within" che fosse più coerente e onesto. E nella tavola finale, l'apoteosi visiva di Megatron si spinge a contestare pure AHM!
Reply

Avevo letto le pagine in contemporanea alla pubblicazione e ora che ci sono tutte ho ricominciato la lettura dall'inizio, tutto d'un fiato, fino alla fine. Davvero un bel "viaggio".
Come ben sai, tutto ciò che contesti ai professionisti lo contesto anche io.
L'unico dubbio é se sono davvero così incapaci oppure glielo impongono dall'alto per assecondare il pubblico.
Reply

Concordo, e immagino ci sia una triste selezione poco naturale, quando gli addetti a mercato e vendite intervengono, imponendo le loro trovate commerciali. Gli autori bravi cercano di adattarsi, ma mordono il freno, e continuano a manifestare talento anche obbedendo ai mandati dall'alto; e alla fine vengono rimossi. I mediocri, gli scbriacchini, invece, obbediscono senza fare una piega, e la qualità della loro opera non subisce cambiamenti. E questi ultimi restano al loro posto, e magari vengono anche celebrati.
Reply

Prepariamoci che tra pochi giorni esce il nuovo film che incasserà milioni e milioni di dollari. Che tristezza.
Reply

Well, now I'm caught up with this story.
Reply

Thank you for reading. Coming soon, the final pages of Jetfire/Grimlock.
Reply

Dan's work on that last panel is supreme!
Reply

Awesome! Great job by all involved. Very enjoyable

Reply

"Is the saga over?"

In Furman's words... "It never ends!" xD
Reply