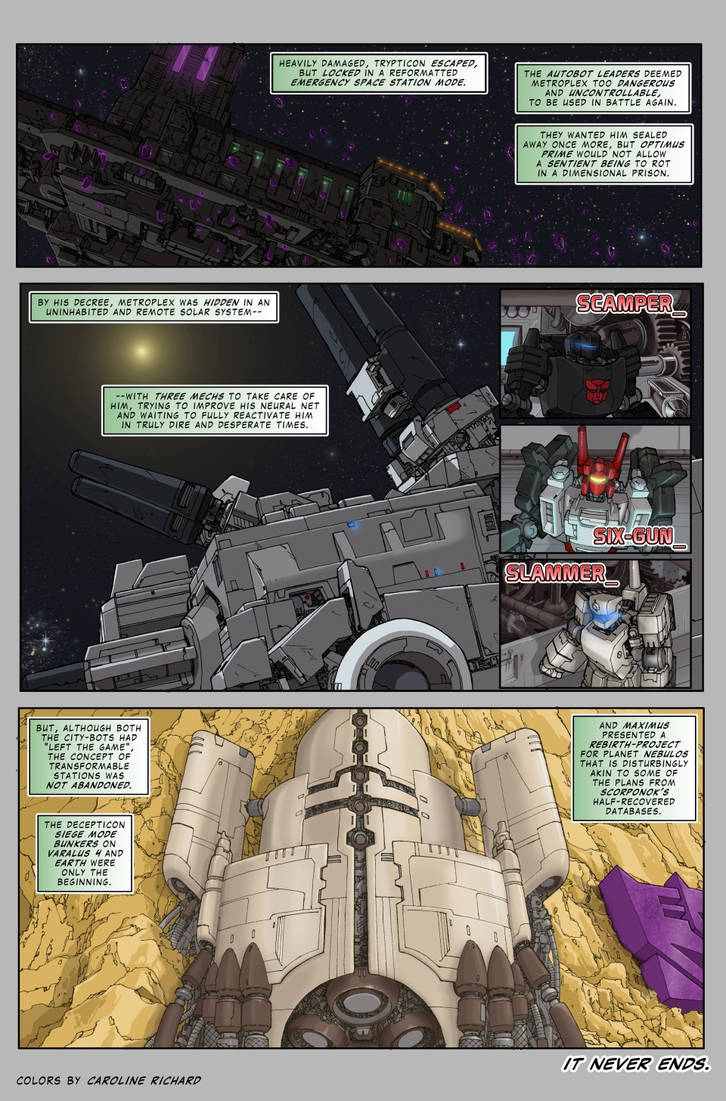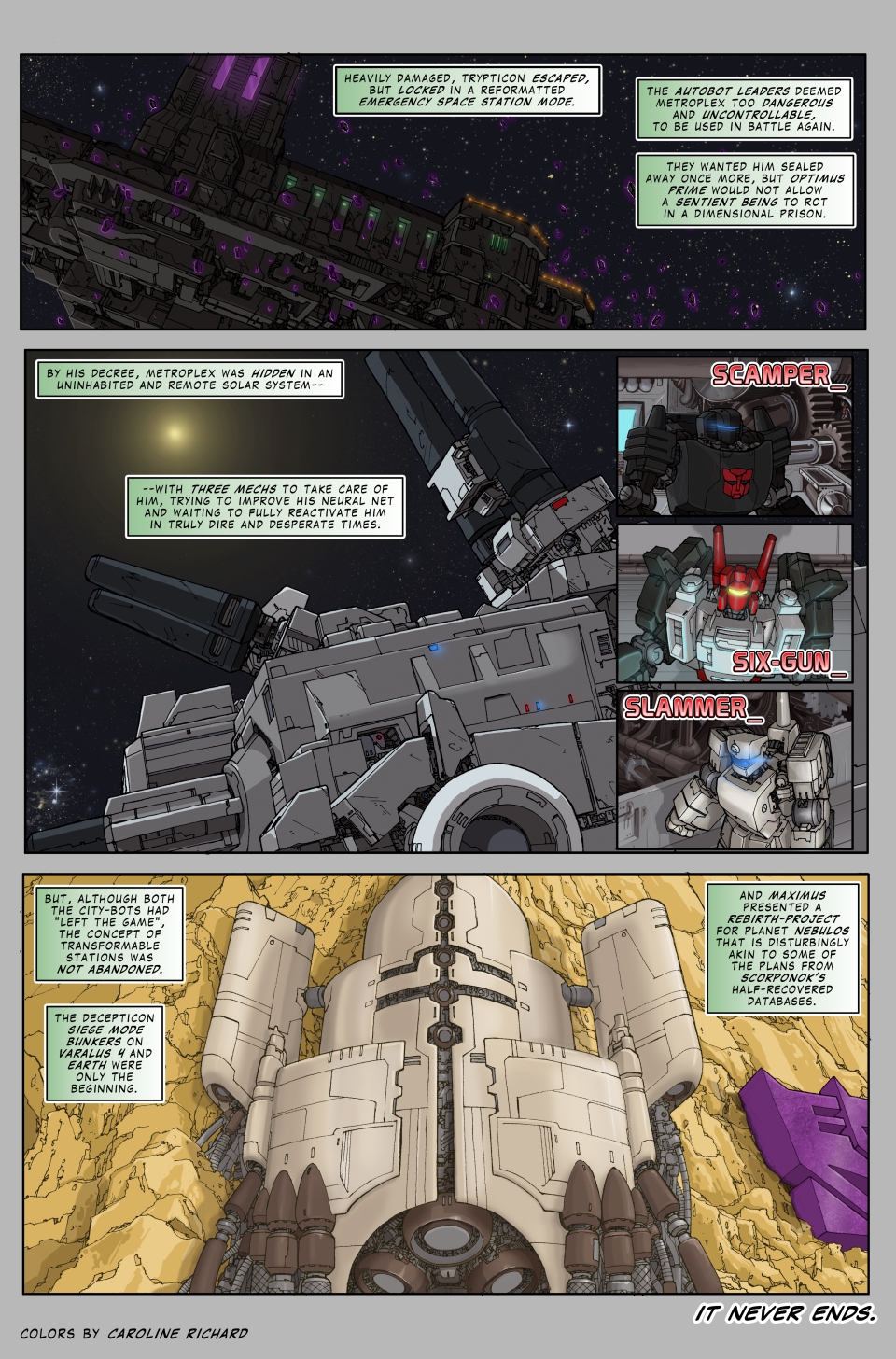 SEEDS OF DECEPTION: METROPLEX
"THERE WERE GIANTS" SAGA
A TALE OF TWO CITY-BOTS
Page 6 (of 6)
PREV PAGE <<
Story folder
>> NEXT PAGE
Lineart by Jeremy Tiongson

Colors by Caroline Richard

Story and lettering by Franco Villa

Edits by Simon Reeves

Project by Peter Istyle

Ideas by Ibai Canales

Ideas by Juan Pablo Osorio

Ideas by Gianluca Gamba

NOTES
Apparently, Trypticon's "emergency space station" alt mode looks like the Decepticon Space Station seen in
Spotlight: Sixshot
(check out
page 3 of "A Tale of Two City-Bots
for more details).
Optimus Prime has issues about exiling mechs in dimensional prison, as seen in
Spotlight: Optimus Prime
.
Scamper, Six-Gun and Slammer are the names of G1 Metroplex' partners: Scamper turns into a car, Six-Gun is the combined form of Metroplex' weapons, and Slammer is actually just a small tank.
His robot mode was never seen in the official continuity (as far as we know!).
See the lineart for
Slammer's transformation sequence by Joe Teanby
.
More about Scamper, Six-Gun, Slammer and their life inside Metroplex in
The Transmogrification Occurrence
.
The Decepticon Siege Mode Bunker was first seen in
Infiltration #2
Varas Centralus was first featured in
Stormbringer #2
It's not by chance that Fortress Maximus has a project for rebuilding Nebulos-- and that the project is named "Rebirth!.
Scorponok was first seen in
Spotlight: Ultra Magnus
and then defeated and captured in
Maximum Dinobots
.
Learn more about Fortress Maximus' plans in
Short Story: The Once And Future King
.
More about Scamper and his teammates in the Metroplex Team bios, from
Scamper (robot mode)
to their ultimate combined modes (coming soon).

Very good written story, and as always, Jeremy is so great to see. Come on IDW, we know your reading this. Hire those people!!!
Reply

poor Metroplex. Hide him in inhabitable solar system. At least, he is not alone.
Reply

Dang I almost forgot I could color... lol Where's my time!?!?! Bring my time back!!!!
Reply

Excellent! Great story and amazing art.
Reply

You've given a great purpose to Metroplex's mini bots.
Hope to see some more of them. Slammers bot mode is very cool!
Reply