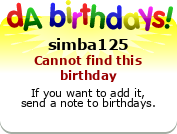 Close to my heart

random placement, I love you all equally





I decided to make something useful from my last English lesson and write here something about myself

First of all: call me Simba. Or Kage. Kagero Simba is my japanese name I'm using in fanfictions, and I'm more used to it than to my real name.
My name's Angelika, though I am NOT an angel. Not a bit. Never was, never will. I can be patient, but it is not like my patience are, like, infinite. I am nice and helpful only for my friends and people I really like

I have a little sister
devil
who love to kill my non-submited pictures.
I live in Poland, in little town Oława, near Wrocław. Feel free to ask about anything you want to need about this...Ekhem...Wild country and tropical language...
Now I'm in third class of High School, Logistic Class. It is not the thing I really want to do in my live, but still it's all really interessing.
Favourite characters:
- Kuroko Tetsuya, Tetsuya #2, Koganei Shinji, Miyaji Kiyoshi (Kuroko no Basket)
- Okumura Rin, Kuro (Ao no Exorcist)
- Gin, John, Benizakura (Ginga Nagareboshi Gin)
- Komamura Sajin (Bleach)
- Soul Eater Evans, Maka Albarn (Soul Eater)
I draw stuff from: Bleach, Pokemon, Ginga, Soul Eater, Kuroko no Basket, The Lion King, some other Disney Movies. Also, I can draw typical animals, as long as it's Canine or Feline.
My human drawings are still not as good as I want them to be... I still need more practice...
I'm open for trades and commishes.