" 𝑹𝒆𝒎𝒆𝒎𝒃𝒆𝒓 𝒕𝒉𝒊𝒔 𝒅𝒂𝒚 𝒊𝒏 𝒘𝒉𝒊𝒄𝒉 𝒚𝒐𝒖 𝒄𝒂𝒎𝒆 𝒇𝒐𝒓𝒕𝒉 𝒐𝒖𝒕 𝒐𝒇 𝑬𝒈𝒚𝒑𝒕, 𝒂𝒏𝒅 𝒐𝒖𝒕 𝒐𝒇 𝒕𝒉𝒆 𝒉𝒐𝒖𝒔𝒆 𝒐𝒇 𝒃𝒐𝒏𝒅𝒂𝒈𝒆, 𝒇𝒐𝒓 𝒘𝒊𝒕𝒉 𝒂 𝒔𝒕𝒓𝒐𝒏𝒈 𝒉𝒂𝒏𝒅 𝒉𝒂𝒕𝒉 𝒕𝒉𝒆 𝑳𝒐𝒓𝒅 𝒃𝒓𝒐𝒖𝒈𝒉𝒕 𝒚𝒐𝒖 𝒇𝒐𝒓𝒕𝒉 𝒐𝒖𝒕 𝒐𝒇 𝒕𝒉𝒊𝒔 𝒑𝒍𝒂𝒄𝒆..." -𝑬𝒙𝒐𝒅𝒖𝒔 13:3

............
This was an image I recreated from "The Ten Commandments", an old classic film about Moses leading the Jews out of bondage from Egypt. This is the screenshot I took from my phone. I also cut out Moses and edited his appearance. The rest was recreated on my iPad in Procreate.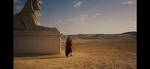 ...........
Check out more art like this in my "Beyond Time" series!
Beyond Time series
Program: Procreate
Social Media:
Artstation
Procreate Folio
Shops:
RedBubble
This work may not be used, tubed, redistributed, posted, altered or printed without my permission. My art is not stock!
TessasART ©
Image details
Image size
2508x1318px 368.23 KB