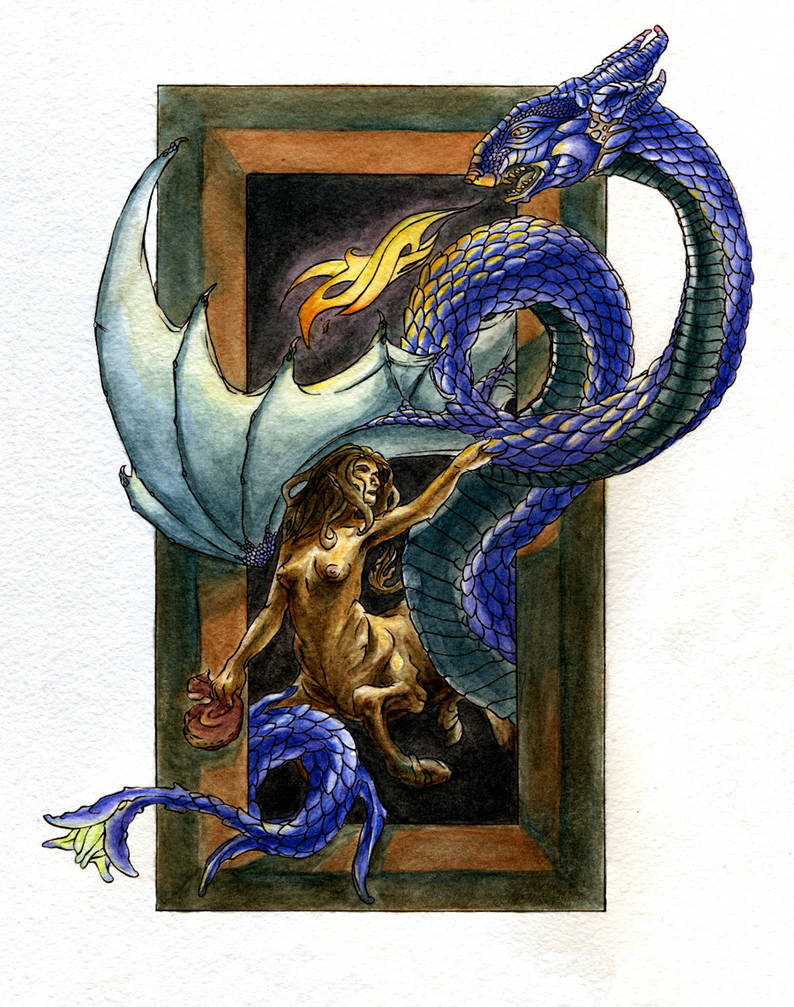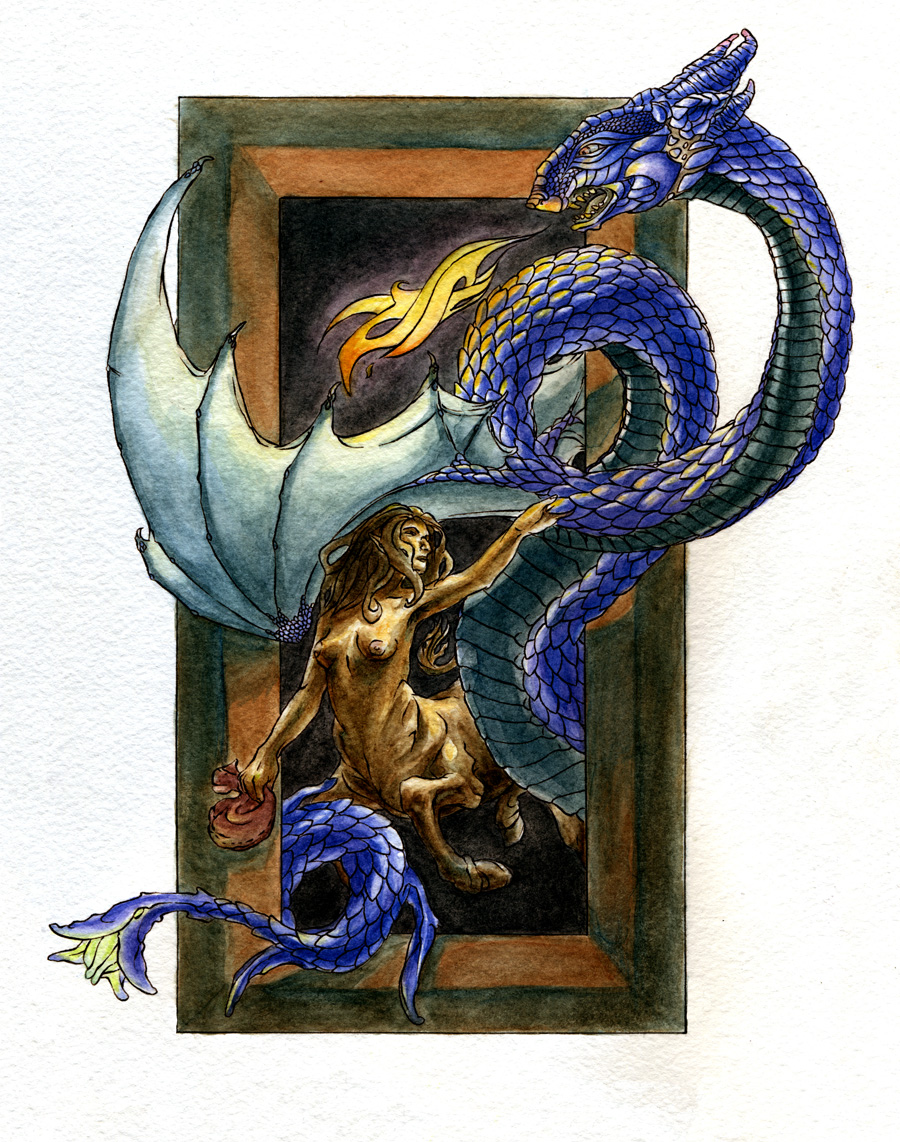 Basically felt that I needed more images of two or more characters interacting. The centaur requires just one scale from the Amphiptere, in order to complete her quest. The Amphiptere is a hair on the uncooperative side.
(I could not bring myself to draw anything worse happening to a dragon).

Influenced by Catherynne M. Valente's The Orphan's tales in the night garden, though not actually representative of any of her characters.

Sepia ink and watercolor, on watercolor paper. 9 x 12"

brilliant art! just lovely!
Reply

Sorry for the long response time, and thankyou so much for the feature!

I appreciate it, truly!
Reply

That's a great piece, I like the colors and how you worked on the light

Reply

Thank you! I actually had a lot of trouble with this piece, it's good hearing that you like it.

Reply

Awesome!!!

Reply

Your technique is good as far as underdrawing, linework, composition, applying different opacities of watercolor, and making the paints look as though they are still wet on the page. That's all very good.

Some of the colors appear to be 'default' to me, as if they were applied straight out of the tube. The dragon's blue stands out the most, followed by the oranges and yellows in the fire. They lack the richness of a mixed color.

Other colors look muddy. The frame, the background, and the centaur look too desaturated and dark. This is caused by mixing warm and cool colors (such as green and orange together, bleh), or mixing too many colors into one.

A good rule of thumb is to mix no more and no less than two colors together in varying amounts. A second rule of thumb is to keep warm colors and cool colors firmly separated. There are many books on the subject of mixing watercolors, some that even go with certain brands of paint.

Careful measuring of hue-to-hue and paint-to-water ratios will help keep the colors in your composition consistent. Use scrap paper to practice mixing before painting any final composition, and take careful notes.

Watercolors are the most finicky of finicky 2D art materials, so I'm glad to see you using them! They're a huge challenge!
Reply

Thank you so much for taking so much time to critique my work! I seriously appreciate this.

Particularly on this one. This was my first attempt to use tubed watercolours. I'd been using my little Van Gogh travel kit exclusively for the past six years, and having been told that tubes were easier to work with I bought some Sakura Koi and made the jump.
Did not work out well. Every portion of this was a huge struggle, and I think I've finally been convinced that tubes are not for me (using a student grade might have been part of the problem, but I think I'm also just very bad as mixing tubed paints).
Some of your points have made me reconsider this piece a bit, though. I think I'm going to try and put it into greyscale, and see if it can stand on its linework and contrast alone.
Again, thank you for your critique and thoughtful advice-- this is really what I come to dA for.

Reply

I can't see why it would be uncooperative! It's a very reasonable request!
Your shading on this is fantastic, I adore the Amphiptere's face! I can personally never get the scales to look natural on the face. You can tell he's annoyed by his expression! And, well... the fire. . . The wings are lovely as well! I can never get my watercolours that smooth looking. I always have drips and runs all over. I assume it's watercolour?
The anatomy on the centaur is amazing, and I like the hair. I didn't at first, it looked very chunky, like silly dreadlocks gone funny, and then I realized that it lived in the wild, so its hair was probably unkempt and on the way to dreadlocks anyhow.
My only complaint is the border! It's half a shade off from the poor centaur, and it takes away any presence the centaur could have had. My eye gets pulled away and up along the border.
The neck of the Amphiptere gets very thin at one point as well, but I assume it's from the angle it's twisting at.
It's a lovely piece, overall! The shading is lovely, the piece is well balanced and tells a story. I love that about your art, it's never just a character standing there, it's always a story with you. Or a piece of a story. You are a story teller, a fable weaver, if nothing else.
I love the organic feel in your art as well. It's like nothing I've ever seen before, Half story-book illustration, half technical illustration in a scientific tome.

I admire your work greatly!
Reply

I've been keeping this comment around, both because of the wonderful compliments and also the incredible astute critique of this piece.
It just occurred to me that I should respond and thank you for it!

Thankee! I love your comments, I'm just sometimes stupid about responding to things.
Reply

very nice shading and contrast of color.
Reply