EDIT:
As of 4/2 at 9 am EST, I'm not taking any more bookings for these. If you've already contacted me or paid, your spot is safe and your commission is forthcoming! Thank you all so much for the support- this was a great (and really fun!) sale and I'll definitely be doing another one when I get time. :3
So sorry for the radio silence lately- I've been embroiled in a few long-term projects, which is great for keeping me on my toes; however, I have a little free time, so even though my regular-scale commissions are closed, I'm offering a $5 sale on headshot sketches! Headshots will be delivered in a digital file and are lineart only, no color or shading. Like these!: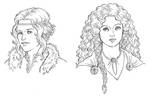 If you want a commission, please send me a DA Note titled "$5 headshots"
with the necessary character info included. Please also include at least one link to a reference image
so I have something to work from


I will reply to Notes in the order they came in,
as long as they have the required character info and image/s
. . In my reply, I'll include my paypal info and your total ($5 per character headshot). If you Note me without the info, I'll move on to the next person in line until you get the info to me.

Once I receive payment via paypal, I'll get started on your headshot/s! As I finish these, I'll contact the next person in line and so on.