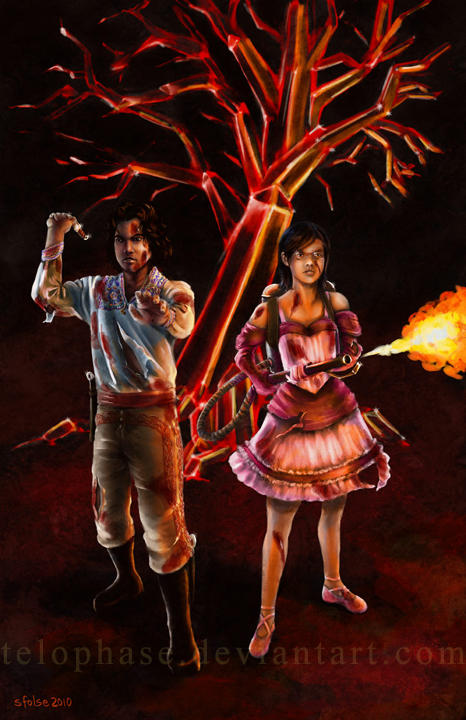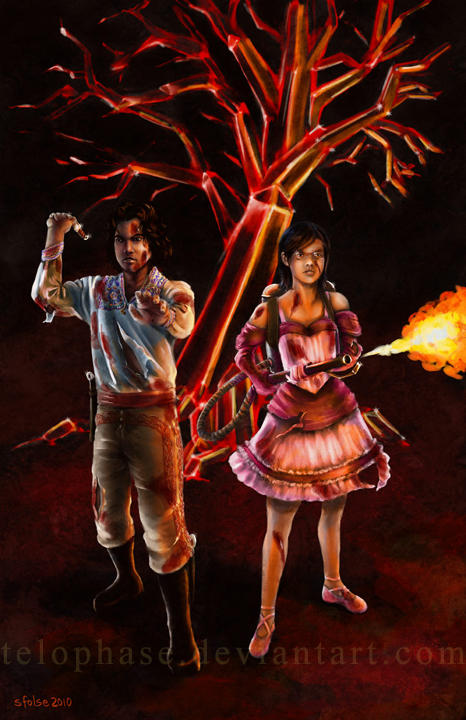 Watch
Two Livejournal friends of mine are collaborating on a novel, and one of them commissioned this painting of a scene from it as a present for the other.

I made my boyfriend pose for both of the characters, with a kitchen knife for Ross, and with an over-the-shoulder vacuum cleaner for Mia and her flamethrower. I am a very good girlfriend because I am not posting the pictures of him doing so. (No, he was not dressed as either of them, before you ask.)

Anyway. Done in Photoshop and Painter - PS for the sketch and coloring, Painter for the B&W rendering. I colored it by layering colors over the B&W in PS and using various layer blending modes to simulate colored glazes.

--------
Characters and story copyright 2010 Rachel Manija Brown and Sherwood Smith.

Oh wow!!!....this looks great...this present will be well loved.
Liking the characters and the expressions...this novel looks interesting.
well done.
-"t"
Reply

oh, GLORIOUS! i especially love the use of multiple light sources (her FLAMETHROWER as one is an especially awesome touch) and the details on the clothing, oh man.

Reply

Thanks! I knew I wanted two light sources, one from each side, so that it would appear a bit more ominous, but it wasn't until I'd gotten the B&W painting done on the figures that I metaphorically slapped my forehead and went "OF COURSE the flamethrower will be a light source! DUH!" So I had to redo the light on Mia. XD
Reply

~ ~awesome ~ ~

(this is Asakiyume from LJ--I transform into Inatangle on Deviant Art)
Reply