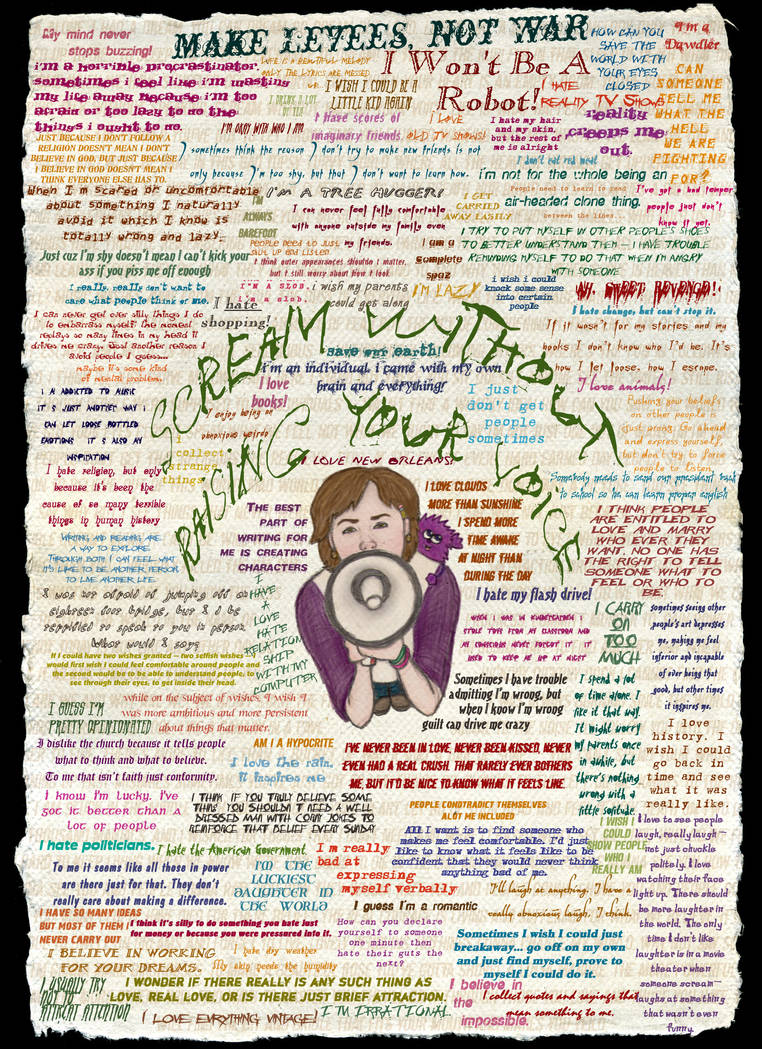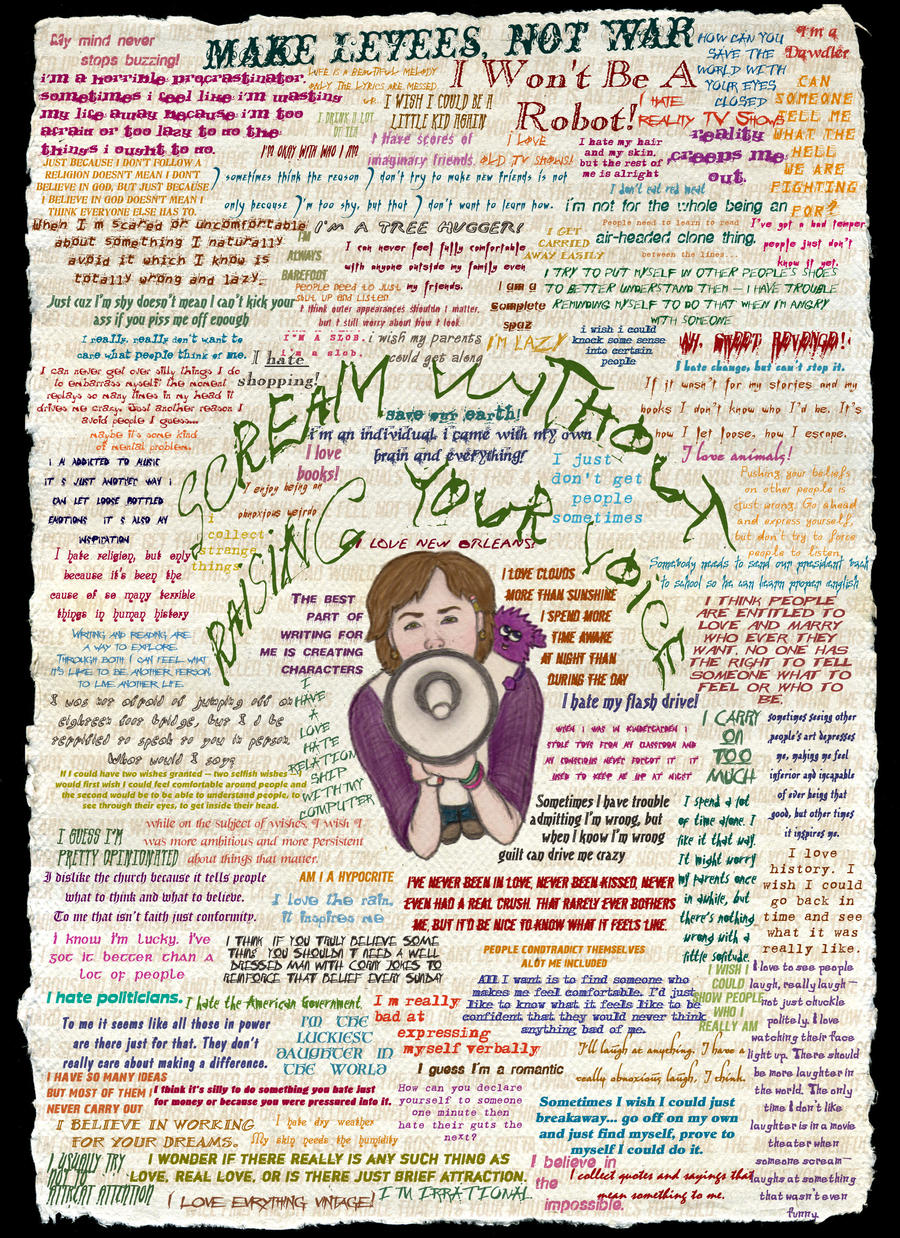 Watch
I was going to use the lyrics from Shout — Tears For Fears, but realized everybody was probably doing that so I chose U2 instead, but I couldn't fit "Scream Without Raising Your Voice" in the title box so I compromised... blah, blah, blah.
By the way, these are just
my
opinions, no one has to agree with me.

Echo and Pugzlie © me!
Edit:
Sorry. Forgot the link -->
[link]
<-- Go there for more info.
None of these fonts are mine. I lost most of the links to them so if anyone knows who made them just let me know.

wow i can relate myself to this somehow..i mean im almost barefoot everyday nd i hate red meat too lol.
now seriously thats awesome so personal and intimate , a few ppl could do it ..so yeah cool

Reply

Yeah, for some strange reason I have less of a problem letting people I've never met know personal things about me than people I've known for years. But I was sort of afraid to put this up here. When I first started I didn't intend to cram so much information in there then I just kind of went crazy.

Thanks for reading it all.

Reply

well actually i enjoyed it

and i kinda felt good when i realized im not the only one who gets that"weird"

and yeah when you dont know someone too well is easier sayin things that you would never dare to tell even to your parents.
honest realationships bt with strangers lol. :]
Reply

Hey, I just read all this again (because I knew I missed something - I did miss a lot. I like it when you look over it over and over and always find something new) and I realised a lot of this is similar to what I think. The religion thing, the bit about going back in time, and being shy (and I'm a firm believer that there's nothing wrong with that, not matter how many people tell me there is). That's really weird, that there are so many things similar (and I'm not just saying there are just for the sake of it, or writing a long comment). I like it when I can spend a long time looking at/reading a picture like this...And the bit about love at the bottom, and the liking clouds and spending time alone. A lot of these thoughts are things I never really think about, but I do think pretty much the sameish...
Reply

I almost didn't submit this because I was afraid to put all those private opinions up there, but it's really a nice way to just let out whatever you've been thinking about or just things about yourself that you wish you could let people know.
I was hoping someone would agree with some of my thoughts and I wouldn't offend anyone. Thanks so much for reading it!

I didn't think anyone would really take the time to read all of that.
I believe there's nothing wrong with being shy too, but I just wish that I could feel comfortable around people. I'm glad our thoughts are silimar!

And I'm glad you like the picture. Thanks again for reading!
Reply

This is all so interesting to read, you wrote some really wonderful things in there

That picture in the middle is cute!
Reply

Reply