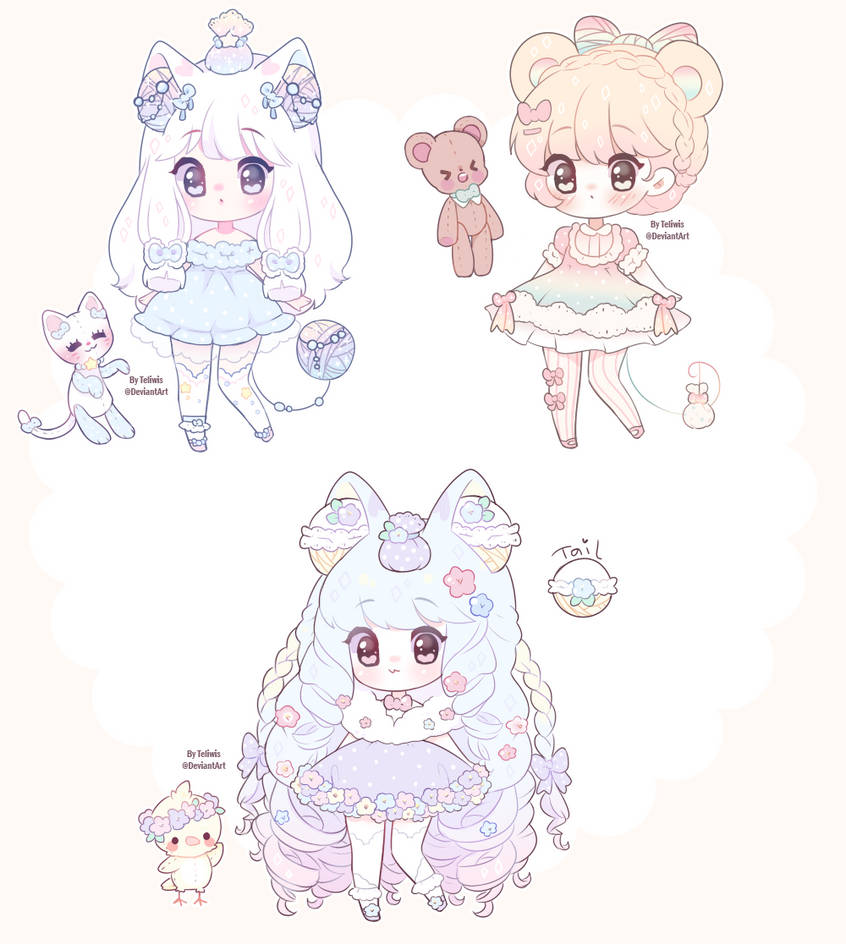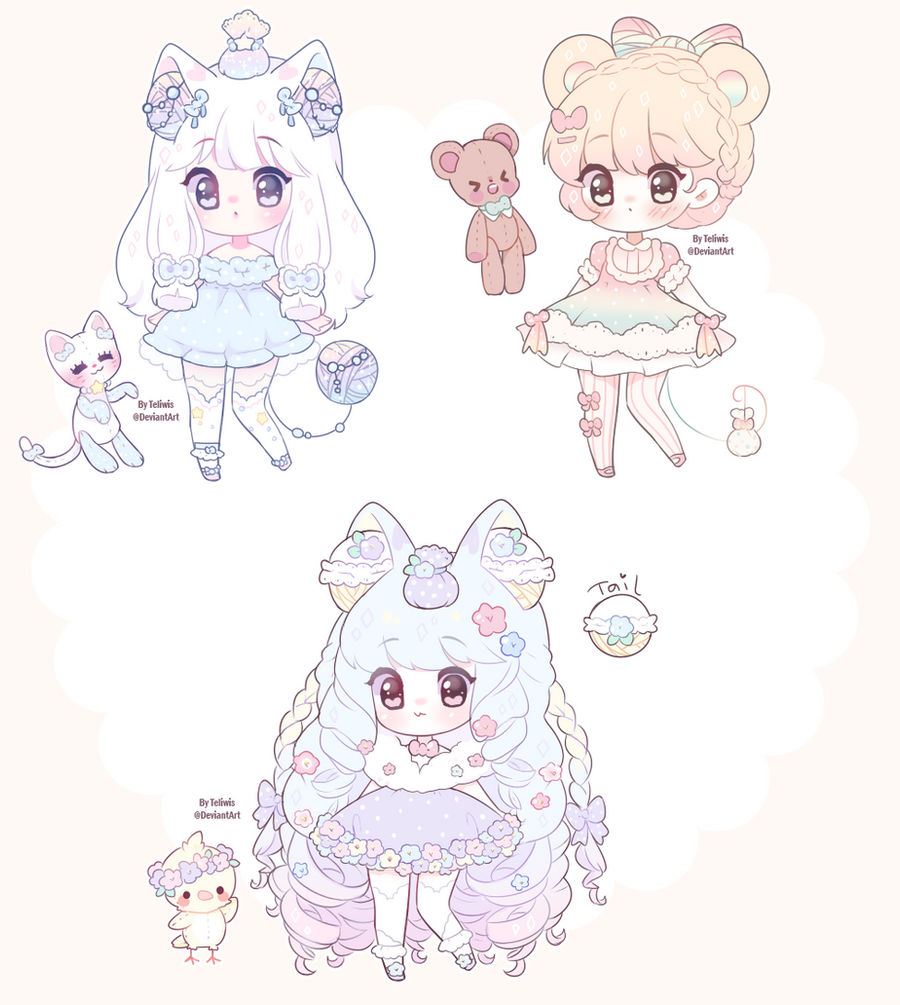 Watch
Today I wanted to make adoptables of my Specie uwu I hope you like them :3!!!

SB - 1500

// $17
MI - 200

// $3
AB1 - 3000

// $33
AB2 - 4000

// $43
AB2 Include a chibi like this

ENDS AFTER 5 DAYS AFTER LAST BID
---
#1 CLOSED $20

Owner: Bunni-Earss
Rarity:
Rare

- Yarn Type: Uncommon
- Yarn Color: Rare (Shinny)
---
#2 Closed! <3 AB $33

Owner: MyuHime Rarity:
Rare

- Yarn Type: Rare
- Yarn Color: Uncommon
---
#3 CLOSED $20

Owner: bb-jiRarity:
Uncommon

- Yarn Type: Uncommon
- Yarn Color: Normal

Info here:
RULES
-
Credit me for the design ,please.~
- Only Points and paypal
- Once you pay i
'll send a note you with the unwatermarked/separate image
- If payment is not received within 24 hours they will be put back up for sale.
- Do NOT steal/trace/copy etc.

- You can sell it at the same price.


Another Adopt OPEN:

very cute! wish i had money on me to bid ;W;
my favorite has to be that cat girl in the top left corner
Reply

Omg, these are all so heckin adorable c:
Reply

Would I be able to change it to a non-species characte if I adopted one?? ;v; Edit: sorry didn't see the comment below mine!! ;v;
Reply

Np dear, yes you can nwn
And if you do ab2 I can do the chibi without the traits and remove the traits of the chibi base :3
Reply

It says we can change anything we want after adoption. Could we make them a normal kemonomimi? Love the designs but I'm not a fan of closed species traits.
Reply

Yep, you can! And if you do ab2 I can do the chibi without the traits and remove the traits of the chibi base n_n
Reply

Oh so you'd edit the original adopt image to remove the traits? Just asking for clarification. <3
Reply

Yup, only if you do AB2, I modify the original adopt and do the extra chibi without the traits n_n
Np <3
Reply

Reply

Reply

AHHHHHHHHHHHHHHHHHHHHHHHHHH !!!!! Thaaankss so much dear u//u
I can wait until tomorrow, I have no problem :3
just let me know when you send the payment to my paypal.me and I send you the png image <3
It's really an honor that you want a design of mine, thank you very much dear ;///;
send me the payment here when you can :3
www.paypal.me/teliwiis
Reply

Will do!
This batch is crazy adorable and Im finally getting to the point where I can start to buy some adopts again so its really exciting for me! I have a more discerning eye for what I like these days and as soon as I saw short hair + bear ears I was DONE hhahaha.

uwu I will send you payment ASAP
Reply

SB uwu
(I reeaaallly want her, so I just pray nobody bids too high >~<)
Reply