Over the last week I've decided to really get serious about doing commissions and such. I've been flip-flopping on the idea of buying a Cintiq because I feel like I've hit a bit of a wall with my current abilities, but what's annoying is that I draw so much better (and faster) on paper, because then I'm drawing on and looking at the same surface and I have that extra hand-eye coordination.
But I've always been scared of drawing directly on a screen because it's so slippery and I'd have to completely relearn it.
But last week I tried out the newest Cintiq model and was amazed by its new screen surface. It's been treated somehow so it feels like drawing on paper and I immediately fell in love. So now I'm fantasising about upgrading to one every waking second. Being able to draw on computer with all my usual faculties. The dream!
So in order to keep more organised, and motivated, I sat down one night and wrote out a simple algorithm to measure how far along in a given project I am. This way I can give clients a better idea of how I'm progressing through a commission. Then I passed it onto a friend at work and he turned it into this lovely little program for me. The radial graphic even changes colour from orange to green as it fills up!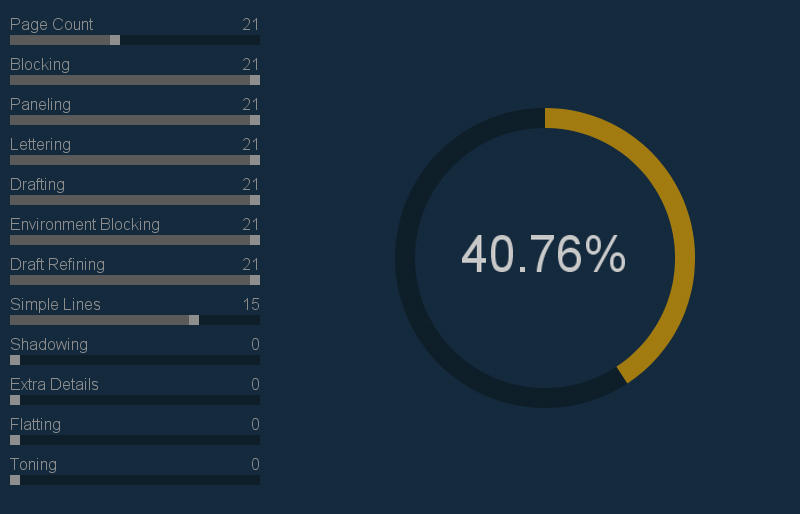 I just worked out approximately how long each phase of a drawing takes me, multiplied each phase variable by the result of dividing the corresponding phase time by the total time, added those results all together, then multiplied that result by 100 and finally divide by the Page Count variable, and the result is this percentage metre!
Commission status: ALL SLOTS ARE FILLED
Slot 4