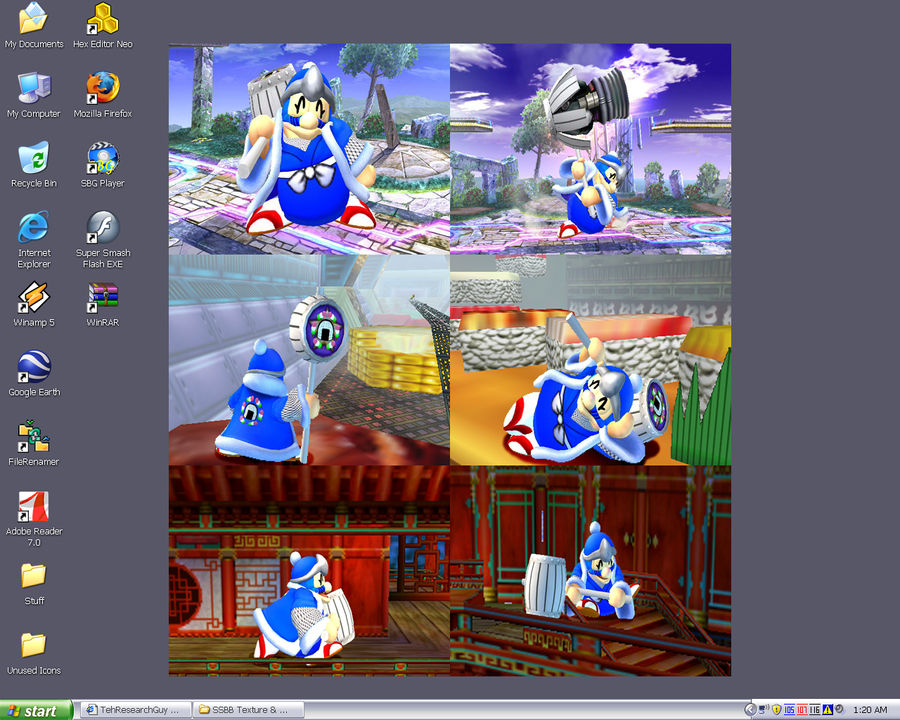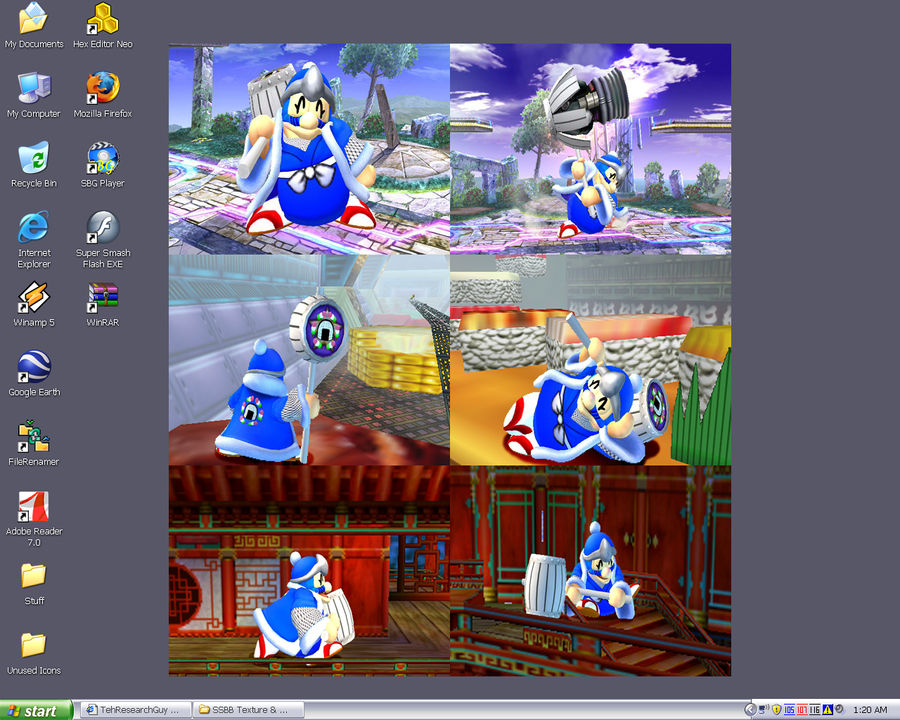 Watch
And finally, after months of waiting, the eccentric character of the Goemon series, Penguin Ebisumaru!

Remember the Wiseman's invention? The one that was supposed to transform Sasuke into a human, but ended up transforming the rest of the group as well? It had an effect on Ebisumaru too, but it was much more gradual. He was on his way to the Wiseman's house to pick up his newly mechanized hammer, but running a little late after a large breakfast of sushi, so it took a few months for him to change. Seems that sushi had a bigger effect on him than he realized…

I spent more time working on some parts than I expected, like those FULLY ROUND shoes, and less time on the rest, like his clothes, and his eyes. I thought his eyes would take me hours, considering all the files for them. I wanted to make his hurt animation have the one from the game, with the open eyes, but I checked, and that seems impossible at the moment. I also made that design on his robe and hammer from scratch. I couldn't leave those areas bare (the star on the hammer doesn't count), plus, they seem to fit his personality pretty well.

Well, with Ebisumaru finally finished, the entire group from the Ganbare Goemon series is finally together! Now, just replace a few music files, and SSE becomes a new Goemon game! Kind of…

Ebisumaru (c) Konami
Super Smash Bros Brawl (c) Nintendo

Woah, now wish that Konami could have let more characters to SSBB... (-;

Ebisumaru looks really AWESOME here.
But wait. He's always awesome. (-ïwï-)
Reply

Reply

Wow, this is great! Ebisumaru totally works as Dedede.
Reply
Thanks! I figured he would, with the size and quirks of both characters, and the hammer, of course. I thought about Ness and Wario, but neither seemed to fit as well. I also wanted to keep the proportions of the Goemon textures I've done closer to the game, and those two were too short for that, lol.
Reply

This actually looks a heck of alot better now that it's fully finished, though I wonder if you've managed to do anything with the "hurt" parts.
Reply
Thanks lots! And no, each eye uses a different texture file when he gets hit. I tried to find a way around that, but couldn't find anything.
Reply

This is especially funny when you consider the fact that Ebisumaru's VA also did the voice of King Dedede in the Kirby anime.
Reply

I liek your texture hacks. They're awesome, especially the ones that you've put up since you've come back.

Reply
Well thank you! Oh, and thanks for the watch, even though it's kinda late, lol.
Reply

No problem. Also, thanks for the (indirect, kinda) help with transparent textures. (I had read a comment that you made for helping somebody else.

)
Reply
Oh yeah, I just checked that one. Well, no problem! Glad I was helpful either way.
Reply

Haha. Yes. You were very helpful.

(People like you are what got me into the texture hacking stuff. >.&gt

Reply
Oh wow, that's quite flattering to hear~ Good luck with your textures!
Reply

Thank you.

If you care to see, I have one on my webcam already. (nope, totally not advertising my page)
Reply
Oh lol, I didn't know that was yours. It's nice to see a new texture hacker who keeps the original shading intact (and who comments with grammatical accuracy

). I also like what you did with his sword. Keep at it; you learn new tricks as you go on. And don't hesitate to try new painting tools. After all, CTRL+Z is your friend (and mine, lol)
Reply
(1 Reply)

THIS IS FRIGGIN' AMAZING.
Seriously, I wouldn't have thought it possible to make such an awesome looking Ebisumaru, but you've just proved me completely wrong. I think this is the best of the Goemon set!
Reply
Oh wow, it really looks that good? Guess all my hard work paid off then! It's really satisfying to hear such a hardcore fan of the series give so much praise. I only wish I got this finished sooner.

Also, just curious, but what do you think of the riceball/dumpling design?
Reply