All my characters!




I am currently writing the story of the characters that inhabit the kingdom of Nevelska. There are characters that will not be mentioned in the story, since they are not important in the plot. Each character is present in some stories or only in one.



Nevelska stories: Part 1 Nevelska, a great country founded by King Leontas (Father of the current King Jeff), whose name is a deformation of the words Sky (cieLo) and Nevasca. The king chose this name as a tribute to his kingdom friends, the Sky kingdom, whose queen is Tenshi, and the Crystal kingdom (Place with snowy landscapes) whose queen is Shiva.
The country was (and still is) quiet, people go to shows, children play to be knights and magicians. Young people study at the Nevelska castle to increase their skills (they must pass an entrance exam)
The knights of the kingdom always finished with the enemies that came, that's why the peace reign. The king's chief knight was Ying, also known as King of the hats Knight or Dragon King.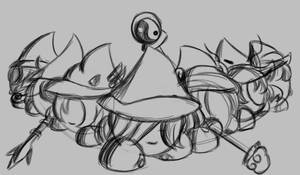 Ying had a brother, Yang, a knight with great sk

Nevelska stories: Part 2Nevelska recovered slowly because of the harms caused by Yang. The little son of Leontas ascended the throne. That child would be known as King Jeff. The little king had already decided who would be the black and white knights.
The white knight would be Serisu, a friend of his childhood, very intelligent and obedient in the tasks of the school. She specializes in magic attacks, including the power to heal. Shadow took the position of black knight. As a child he liked to make jokes to Jeff, sleeping him deeply and taking him to any part of Nevelska and so when he woke up he would be frightened. Nevelska had only two knights, but after many years they were incorporated more.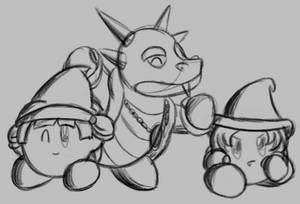 King Jeff was almost an adult. More knights arrived. Fratley, blue knight, and Lani, green knight, were next. These two guys studied at the Nevelska school (like all the knights that I'll mention later.) Fratley specializes in quick attacks, while Lani in defense and d

Yami writes a historyMy brother and I when we were little we admired Ying, the golden knight, he was super strong, fast and very famous in almost all the planet. Thanks to him, our dream was to be knights of Nevelska. But that tragedy happened thanks to his stupid brother Yang, our idol was sacrificed along with his warrior friends.
It was our chance to show the world how strong we are, Ying would be proud of us.
We study at the Nevelska school. One day my brother was accepted as a gray knight, by that time, Nevelska army had accepted 11 knights. It was my chance to be part of them, but Jeff, the son of Leontas and new king rejected me ... I tried to attack him, but his knights stopped me, Taiga was not with them.
̶(̶I̶ ̶d̶i̶d̶ ̶n̶o̶t̶ ̶g̶i̶v̶e̶ ̶u̶p̶,̶ ̶J̶e̶f̶f̶ ̶s̶e̶n̶s̶e̶d̶ ̶s̶o̶m̶e̶t̶h̶i̶n̶g̶