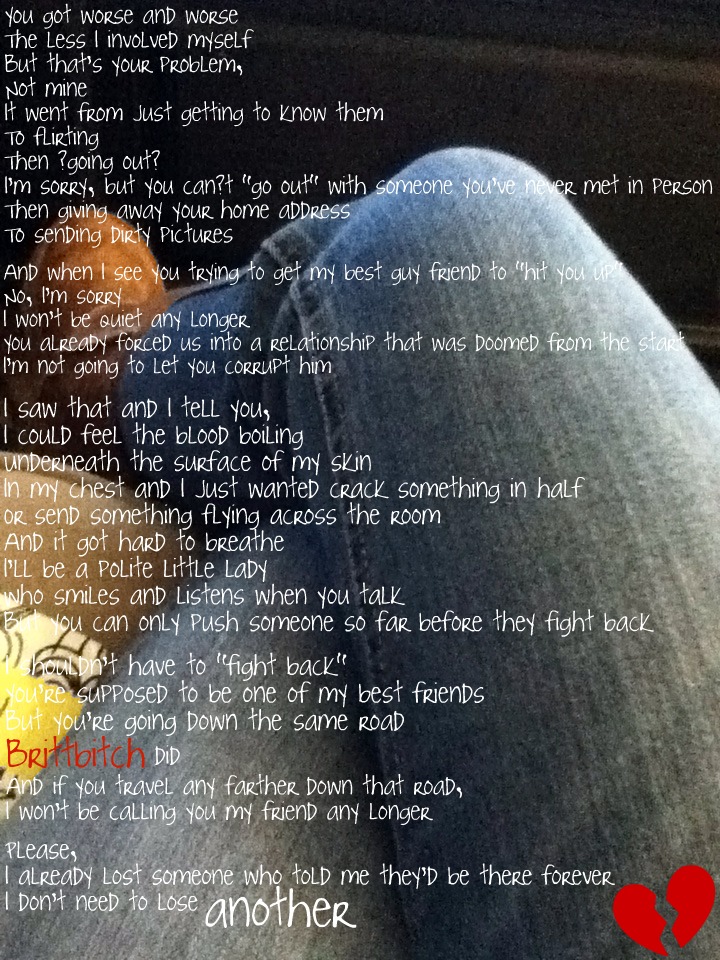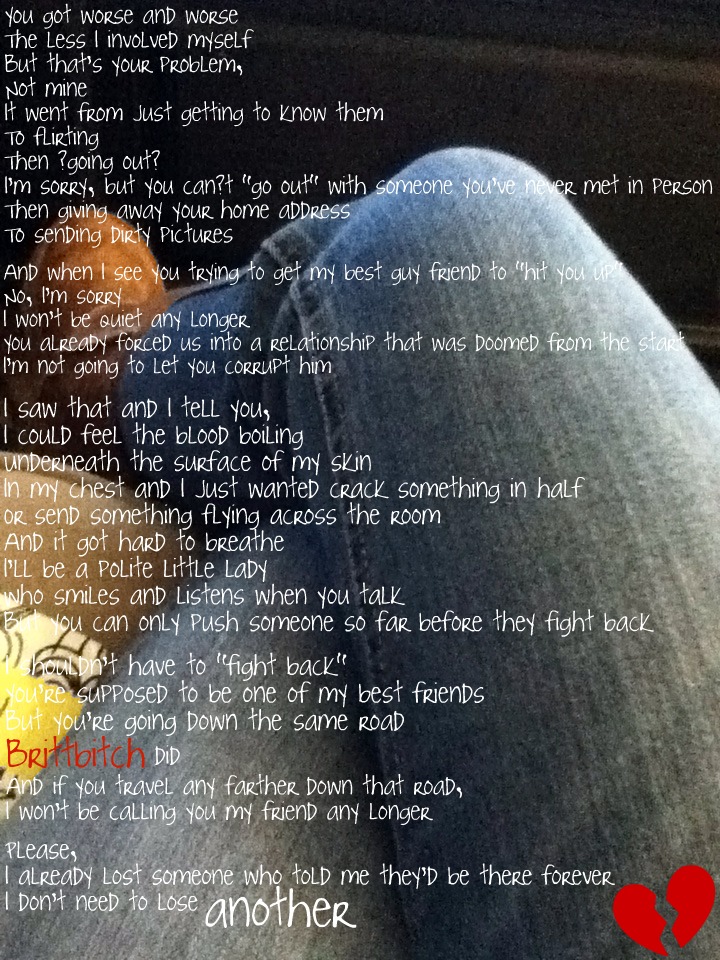 Watch
"You got worse and worse
The less I involved myself
But that's your problem,
Not mine
It went from just getting to know them
To flirting
Then "going out"
I'm sorry, but you can't "go out" with someone you've never met in person
Then giving away your home address
To sending dirty pictures
And when I see you trying to get my best guy friend to "hit you up"
No, I'm sorry
I won't be quiet any longer
You already forced us into a relationship that was doomed from the start
I'm not going to let you corrupt him
I saw that and I tell you,
I could feel the blood boiling
Underneath the surface of my skin
In my chest and I just wanted crack something in half
Or send something flying across the room
And it got hard to breathe
I'll be a polite little lady
Who smiles and listens when you talk
But you can only push someone so far before they fight back
I shouldn't have to "fight back"
You're supposed to be one of my best friends
But you're going down the same road
Brittbitch did
And if you travel any farther down that road,
I won't be calling you my friend any longer
Please,
I already lost someone who told me they'd be there forever
I don't need to lose another"
~*Part 2 of 2*~
I had to break it into 2 "parts" because it was so long that I wouldn't fit on one picture . smh .
First off, I tried really hard to make the poems looks similar; (i.e. The first poem was in Sepia and I tried to do the same thing with this one) but it defeated a lot of the purpose I had when I TOOK the picture, so I left it the way it was .
Secondly, this part is a lot more personal than the other;
Yes, that's what I call one of my ex-friends now (Anybody got a better name for that ? xD)
I put it in red for a reason
This is serious deja-vu for me because she was acting the same way when this happened to her . The only difference was;
1) She didn't care what people (her friends) thought of her
2) She moved away and I was completely unaware that any of this was happening until it was too late
But anyway, she doesn't deserve that long of a paragraph on my deviation . She makes me want to spit on puppies .
For all I know she could be reading this (I'd be AMAZED if she took enough of her "precious time" to listen to a word I had to say when we were friends to remember that this was my deviantART page) but I don't really care .
BITTER .
anyways, I'm good now .
Besides, I know I'm not the only one who went through something like that so I wont act like I am .
But, uhm, I guess that's it ? I'll come back if I think of anything else .
Enjoy ? (:
OHH; let me know if you want a deviation with the WHOLE poem .

Photography, Poem, Art, (c) Me
Part 1:
[link]