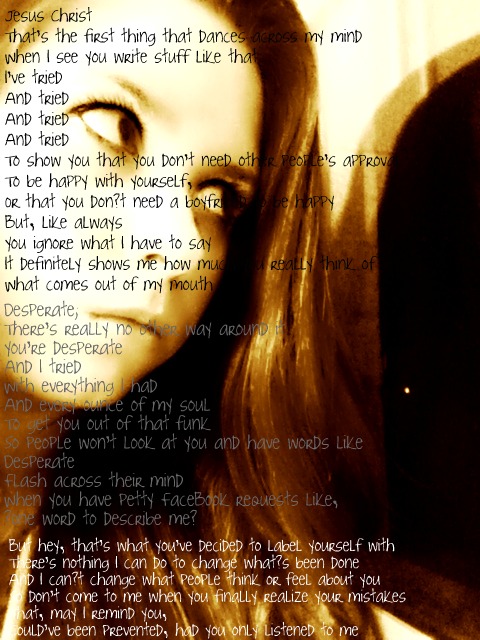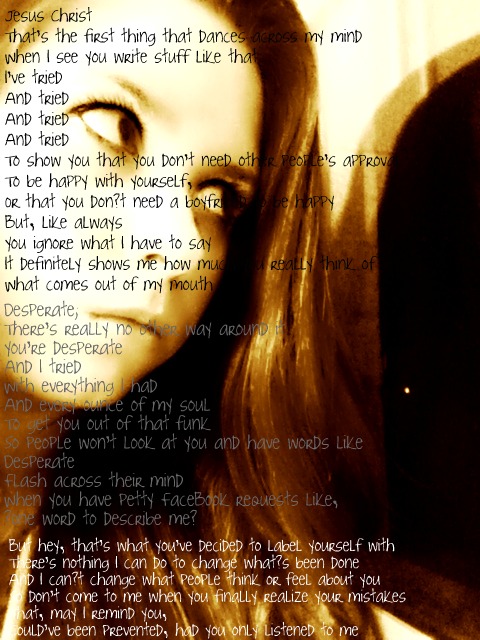 Watch
"Jesus Christ
Thatís the first thing that dances across my mind
When I see you write stuff like that
Iíve tried
And tried
And tried
And tried
To show you that you donít need other peopleís approval
To be happy with yourself,
Or that you donít need a boyfriend to be happy
But, like always
You ignore what I have to say
It definitely shows me how much you really think of
What comes out of my mouth
Desperate;
Thereís really no other way around it
Youíre desperate
And I tried
With everything I had
And every ounce of my soul
To get you out of that funk
So people wonít look at you and have words like
Desperate
Flash across their mind
When you have petty FaceBook requests like,
ďOne word to describe meĒ
But hey, thatís what youíve decided to label yourself with
Thereís nothing I can do to change whatís been done
And I canít change what people think or feel about you
So donít come to me when you finally realize your mistakes
That, may I remind you,
Couldíve been prevented, had you only listened to me"
~*Part 1 of 2*~
I had to break it into 2 "parts" because it was so long that I wouldn't fit on one picture . smh .
So uhm, yeahh . Just more depressing poetry to prevent myself from breaking my fingers xD
But seriously, I don't want anyone reading this to look at me && think I'm being a brat . Normally, I'm very even tempered && it takes a lot to get me mad but, angsty teenagers, whaddya gonna do ?
i shouldn't be using that as an excuse, but i'm lazy . xD
It's a problem I'm having with my friend, and I KNOW that I should talk it out with her--and I've been trying to--but she doesn't listen to me . I've been telling her the same thing for four months now and I'm tired of being ignored . She's going to have to learn the hard way, now .
Enjoy ? (:
Photography, Poem, Anything Else (c) Me
Part 2:
[link]