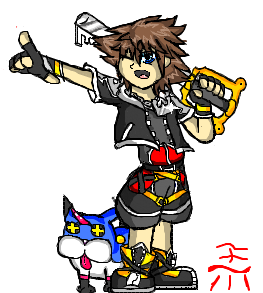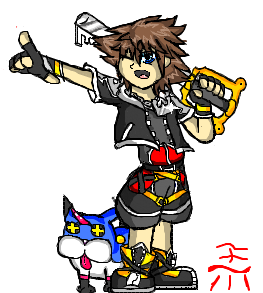 AKDIFDNSAKF I am so amazed how i done this pic.;U;
Weird latley I've been pulling off alot of pics which takes me DAYS to make (Days Made: 3 on PS3 Remote)
Me and
was talking about the new Kingdom Hearts: Dream Drop Distance 3D game and i actually wanted to draw Sora for a change cause he frigging awesome even though i can NEVER manage to draw him.XD
Meow Wow (the dog thing) was a bouns request for
cause i needed something to pass by time.XD
So here ya go one Sora and Meow Wow pic~
Enjoy.


& MeowWow (c)


Reply

Yay! A Kitty!:'D I Want To Pet It!X3
Reply

gofor it.

even though its a dog thingbut yay.

Reply

WOOOOOOO -death hug- -shot-

Amazing as always I can't get over Meow Wow ;u; makes me so happy looking at it thank youuu
Reply

Reply

Thats awesome! at least you can draw Sora
Reply

thnx~
Man I got lucky. Dat hair. Dem shoes. Those Pants HHHHNNNNG! I can't believe myself i pulled it off honestly.XD
Reply

its always his hair that gets me XD oh god have you tried drawing Roxas? It's impossible! His freaking spiky hair...
Reply

AH don't get me started on him.XD
I wanted too after Sora then I thought oh god dat hair and outfit-dies-

If I do another one it highly might be Neku from World Ends With You.
Reply

I love Neku he's awesome XD have you played The World Ends With You. Great Game >:3
Reply