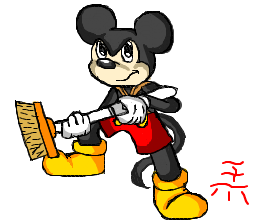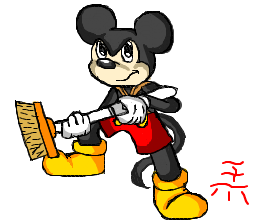 I bet you no one knows where this Mickey appeared in unless they did research on Kingdom Hearts: Dream Drop Distance-shot-
Heres Mickey with his broom getting ready to kick a whole lot of tail. So don't make him angry cause if you thought his Keyblade was bad, wait till he waks you with this -shot-
Enjoy~

(c) Disney

Mickey Mouse the Janitor lol
Reply

This janitor beasting to kick someone ass with dat broom.

Also i seen your journal. Bad ass on your skype when i get my laptop im gonna bug you there.
Reply

Reply

it should still be DarkTheSneasel

but since ps3 dont havve skype apperently i cant go to it yet.
Reply

oh that sucks transformers balls
Reply

I Guess He Is Going To "Clean" Out All The Heartless In The Game!XD
Reply

at least they got a nice clean brush before death.

-shot-
Reply

Reply

YAY MICKEY!
Great job as always~

Reply