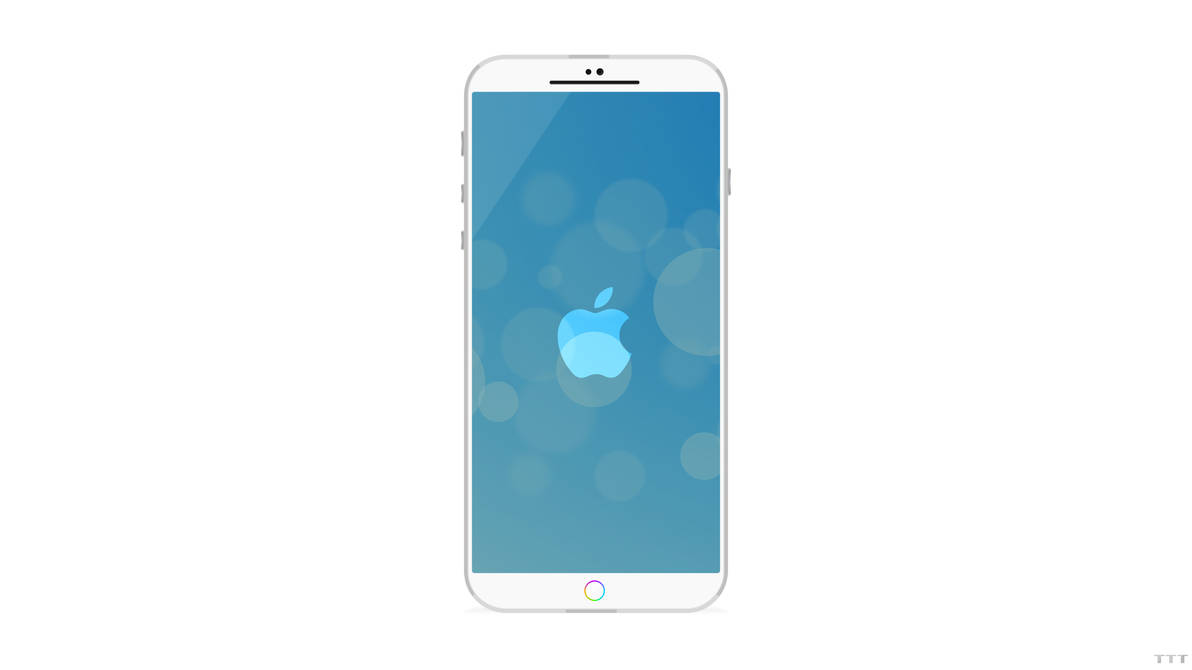 A new iPhone concept - with an all new exterior and some more realistic specs (as opposed to my previous concepts).
2 main features of this iPhone concept are a larger 5 inch rounded 1080p screen and a customizable RGB LED light that makes use of the 500 pixels per inch built into Touch ID.
The iPhone 6S houses a quad core A8 CPU clocked at 1.5GHz, has 2GB of RAM, an improved 8MP camera lens... cover... uhh

The power button has been repositioned to the side of the device, the top, bottom and side bezels has been slimmed down, and it's thinner but slightly heavier than the previous iPhone.
Hope you like this concept!

///
You can now download this wallpaper specifically for iOS devices here:
thetechnotoast.deviantart.com/…
Entire iPhone designed by me, but various elements have been carried over from this vector by Zee Que:
www.designbolts.com/2013/09/12…
Brand logos are copyrighted to their respective owners.
Uploaded as TheTechnoToast (Ltd).
Copyright © 2014 Tecior (Ltd). All rights reserved.
Featured in the following articles:
Phonesreview:
www.phonesreview.co.uk/2014/05…
meltyStyle:
www.meltystyle.fr/iphone-6s-co…
Concept-phones:
www.concept-phones.com/apple/i…
gearburn:
gearburn.com/2014/09/iphone-6-…

can you upload the psd file?
Reply

Hrmmm.... Lemme give it some thought.

Reply

Just got a Samsung Galaxy S5 and it's amazing. I will never ever get an iPhone again.
Reply

To me the S5 isn't aesthetically pleasing, but tbh I feel it wasnt made to look aesthetically pleasing.
I prefer the m8 and might get it if I had the money.
Tbh although I know ios isn't as customisable as android, I don't mind apple. I don't really understand all the hate for it, I can imagine the iphone being a classic iconic symbol lol. But then the thing that puts me off iphone is that I see it everywhere, it's just too common for my liking, I know I sound like a hipster lol. I also wish it just used a micro usb adaptor. I know Samsung galaxy and htc one aren't all that rare but I like the vairety when it comes to android phones.
Reply

Huh, interesting. Really, I kind of agree with you, although I think the Galaxy S5 is pleasing. If the Galaxy S5 was meant to be aesthetically pleasing, they would have made it metal a long time ago. But the real charm is what's inside and the awesome features, like all those eye, head, hand tracking things. HTC made the One in such a way that it would get known for the appealing design. Last year I wanted the One over the S4, because of how amazing it looked. This year, it's still amazing, but the cool features and power of the S5 made me get it.
Honestly, I have nothing against Apple. I actually like iOS, and I do like iPhones. However, my point is that I just like Android phones
more
than iPhones. Variety for me is only between the HTC One's, Galaxy S's, Nexus's, and LG G's, and maybe even Sony Xperia Z's. Besides that I don't think I'd want any other phone.
The Galaxy's and iPhones are wayyyy to common if you want a rare phone. iPhones are definetely, without doubt, an iconic symbol. But, the Galaxy is up there, too. Nowadays, people ask you if you either got an iPhone or a Galaxy. However, the One is definitely one (lol) that get some attention. People will ask you what kind of phone it is, because, I admit, it's a beautiful phone, although I think the old one was a lot better looking.
But, hey, if you really want a unique phone, you should go for
this
XD.
Reply

Yusssssss.

Reply

What's the rubbery back like?

Reply

I LOVE IT!! Seriously, it makes the phone feel and look so much better, and I'm not kidding. S4 is garbage compared to this. The S4 is what feels like a cheap piece of plastic. The S5 actually feels like a solid well-built phone, even if it's not as good as the HTC One M8. However, I think the phone really is absolutely beautiful, especially the dimpled back. No way I would have ever thought that the phone was made of cheap material. Don't know why people would complain about it. I got the black one.
Reply

Awesome stuff dude. I actually prefer soft touch plastic to aluminium - it's not cold when you leave it for hours, and it's just as high quality

I think in general, people complain about Samsung/Touchwiz/quality simply because they're the biggest player and people are jealous.
Is that back comparable to like, the Nexus 7/5?

Reply

True about the cold thing. I've touched an HTC One in freezing temperature, and boy, is it uncomfortable.

I actually prefer TouchWiz, now that I've used it! It's not that bad if you know your way around. If you call the S4 "cheap", yeah you're kind of right, it does feel like that. But, how can anyone say that about the S5? Samsung is definitely the biggest player, and all those people who got another phone only to realize that Samsung is better, are the one's who "complain" XD.

The back really is not comparable to the Nexus's, because it's different. While those feel like matte rubber, the Galaxy S5 feels like really nice and expensive soft touch leather. Personally, I like it better.
Reply

Hmm... Interesting.

I think the S4 is actually a really nice device, not particularly a fan of its back but it's definitely a beast (especially that screen).
I think Touchwiz is pretty cool, though it could do with using less RAM really. It's the only thing stopping older Galaxy devices from getting KitKat :_(
Reply
(1 Reply)

Looks snazzy. I like it. I have no idea why people are hating. Designing the product is very important, and is especially important for us as artists. I believe that the apple store has done good.
Reply

Thanks for the comment, glad you like it!

Yeah that's true... Tbh I don't understand why Apple haven't got round to redesigning the big skeuomorphic menu bar at the top of the Apple website...

Reply