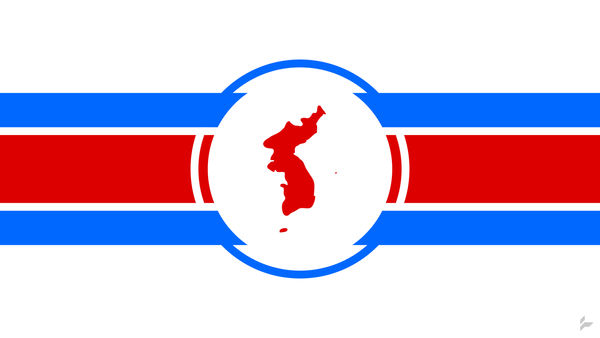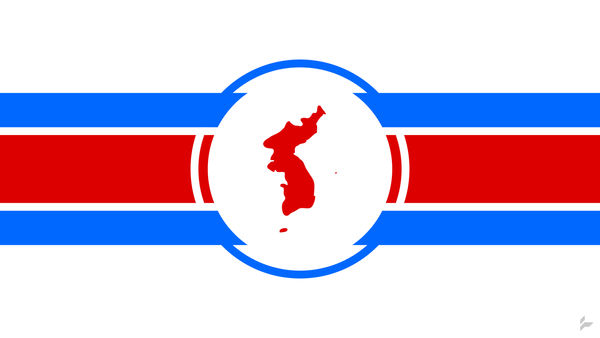 Watch
A concept flag for a united Korea.
Uses the traditional colours for both Koreas (red, white and blue), and replaces both the Communist star of the North and the Taeguk of the South with a map of Korea.
Would hypothetically be used in a Christian Korea that has found its gods in the North, and its ancestors and energies in the South, lacking in power.
///
Copyright © 2018 Tecior Ltd. All rights reserved.

Donate:
paypal.me/Tecior

Interesting and good design, but I doubt a unified Korea would keep the communist-originated style of the North Korean flag on the new flag. The only possibility of a unified Korea will arise when the Kim family is overthrown and a new North Korean government pursues negotiations for integration into South Korea following what happened with East Germany in which case the South Korean flag like the West German flag will most likely be the flag of a unified Korea.
Reply

Thanks!
Well... Technically the idea of a unified Korea is arising
now
, even with Kim still in power.
Also, the colours of both North and South Korea's flags are the same - this is similar to North Korea's design but not entirely.

Reply

I doubt there will be a unification of the two Koreas until the totalitarian regime in North Korea is dismantled. It is literally a modern example of the totalitarian regime described in George Orwell's book 1984 with the dead first leader of North Korea Kim Il Sung being a god as the "eternal" leader where to criticize him is blasphemy, the state censoring all material critical to the regime, and state propaganda media saying how everything the regime does is fine and good in the country and that all the problems are because of foreign countries imposing hardships on North Korea. North Korea is just buying time, it has made threats and then stated it would be willing to improve relations with South Korea on certain conditions including getting foreign aid for its faltering economy again and again. Indirect talks similar to these occurred in the early 1990s with media speculating on possible restoration of relations - but it was a means for North Korea to get what it wants. This is how it manipulates the international community to get foreign aid.
Reply

Eh... You're probably right that the regime will have to come down for unification.

But the rest is pretty negative. Trump believes Kim wants to do some good, and so do I.

Kim was born into that position and it's entirely possible he doesn't even want to be Supreme Leader.
I do believe he'll go eventually, but there's no telling how he will. He could even 'go' because he abandons Communism or something like that.

He's not his father and things can happen incredibly quick.
Reply

I would not place too much value in what Kim Jong Un says, I go by the track record of the government and North Korea has played this game before to gain foreign aid while not committing to real change, he has to demonstrate himself through major actions.

It is true that what I say may about North Korea is negative but that is because the country is a trainwreck by multiple standards.

I do believe that positive change is possible because I doubt such a stagnant relic of the past Stalinist-style regime in the North is going to last forever. I hold hope that external pressure on North Korea plus frustration within its military will eventually lead to the overthrow of the Kim family, and then hopefully the new government there will proceed with talks for integration with South Korea. Learning from the lesson of East Germany and the economic problems that Germany faced with unification, I hope full integration is more gradual so that the economy in the North will recover significantly before complete unification takes place so that the pressure of North's economic problems don't result in sudden deterioration of the economy in the South that an immediate unification would cause. A united Korea based on the institutions of South Korea taking over the North like West Germany did with East Germany done gradually will allow Korea to become even more economically influential in East Asia than South Korea is now.
Reply

When the Kim Jong Un regime and his family fall and this happens.
Reply

Very well done, however I think they have a unification flag picked out.
Reply

Thanks! Yeah, I know, but there's no harm in designing one. When they actually reunite there's no telling what flag they'll actually decide to use.
Reply

Well either way this is a well designed flag, and considering what the North Koreans have been through there is a possibility of spreading Christianity there.
Reply

There really are. It has even been prophecied by some, and the biggest megachurch in the world (in South Korea no less) has that specific prayer on the agenda.

Reply

I'm all for it, nicely done.

Reply