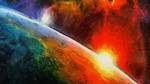 Why so much excitement in the halls of deep space science?
Because the complex branched structure of the detected cyanide molecules confirms everything Carl Sagan has told us, that the building blocks of life are widespread in our galaxy. These types of molecules are the pre-cursers to the next step toward life: the creation of amino acids. And if amino acids are this widespread throughout the universe—then there's probably some forms of life out there waiting to greet us.
Until then, first introductions with our alien neighbors will have to remain under the purview of our deviant painters' and modelers' imaginations.
So rejoice with the artists who fill DeviantArt with so many illustrations of beautiful and mind-blowing alternative galaxies and imaginative planetscapes—iso-propyl cyanide has been detected in a star-forming cloud 27,000 light-years from Earth!
Do you believe we are not alone in the universe?