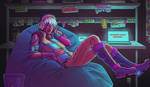 Procrastination is the practice of carrying out less urgent tasks in preference to more urgent ones, or doing more pleasurable things in place of less pleasurable ones, and thus putting off impending tasks to a later time, sometimes to the "last minute" before a deadline.
I wrote the title for this piece three weeks ago.
So, it's Friday night. Work week over. Tomorrow I get to write my own material. I'm super excited. I know exactly where I want to start…
Saturday morning
8:37 am - I go to switch my computer on but consider for a moment getting a little exercise first. That would set me up for the day. A few light exercises, some swimming… Yeah.
9:28 - I get back home. Quick shower.
9:43 - Dressed and switch my computer on. Make coffee and breakfast.
10:14 - Finished breakfast checking emails. Few people messaging on Facebook, shouldn't answer them…
11:39 - Last of my DeviantArt messages answered. On to work, finally.
11:44 - Made second cup of coffee. Snacking on some toast and Marmite.
11:56 - Open file, ready to start typing. Where did I leave my notes last night?
12:08 pm - Found my notes. Back to work. Just let me wash the breakfast things up first.
12:22 - Bathroom break. Then put laundry on.
12:39 - Re-read my notes. Make a few changes.
12:57 - Clothes in dryer.
1:09 - Typing.
1:27 - Still typing.
1:33 - Folding clothes.
1:41 - Start making lunch.
2:30 - Washing up. Floor needs a clean. Won't take 5 minutes.
3:12 - Put vacuum cleaner away.
3:18 - Made cup of tea, need a biscuit (cookie).
3:30 - Typing again.
4:15 - Need to make some long distance calls before it gets too late.
5:51 - Back to work… As soon as I've worked out a playlist to work to. Can't have any vocals or it will distract me.
6:19 - Back to work.
10:58 - Exit movie theater. Movie was fun, but my memory of it is fading already. Won't be buying the Blu-ray.
11:30 - I sit looking at my screen. My aim had been to write at least ten pages this weekend. I had all my notes, everything broken down by panel and page. I type the words "Page Three" at the top of the next page knowing full well I won't be writing any more tonight.
---
---
Sometimes it seems that the more I look forward to and prepare for time when I am free to write what I want and need to do for myself, the more I have trouble doing what I have set out for myself to do. I have a deadline, I need to get the script to the artist because if he doesn't get it on time it puts pressure on him and costs him money.
The way I try to deal with procrastination is recognize it when I'm doing it and actually say it out loud. It takes an effort of will power but I then force myself to just sit down and start. If I can do that and stay focused I usually hit a rhythm and get through it. The important thing is to realize what you are doing.
The other thing to do a create a 'To Do List' for the day and for the week.
Add in things you need to do outside of work so they don't end up all needing to be done at the weekend. Prioritize things on the list and write a new one each morning putting what you didn't do yesterday at the top and hit everything in that order rather than hard or easy. The priority is what matters as there are usually others involved and waiting for you to finish your part before they can carry on.
I often use treats to incentivise myself to finish tasks. Sometimes it is purely a second cup of coffee or a snack, other times it can be to see a movie or TV show.
It's also important to not confuse Procrastination with anything else. You may be tired or need to eat. You may not be able to work on the thing you want because there may be something else you really know you should be doing first.
I know some perfectionists who are procrastinators because they underestimate themselves and therefore feel they are unable or unsuitable to deal with the task at hand.
---
My top tips for conquering Procrastination are as follows:
Recognize when you're doing it.

Identify why you're doing it.

Deal with it. Force your way through it and just start. You'll need to experiment a little so you know what works for you.

If it is something that can be broken down into several separate tasks, do so, and mark them off as you do it.
---
Procrastination
by Jacqueline Suskin, March 2015
That tug and tangle
pulls us into pause.
That distraction that
takes away our focus
and has us fester
in nothingness.
How can we turn away,
make action take the lead
and so slip freely into motion?
Aim well and rest
often, find a rhythm and
let it be, & look deeply
into the reasons behind
this waiting game.
---
---
Your Thoughts
If you procrastinate a lot, please share how you deal with it in the comments below.