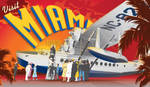 Canoeing the lagoons of Cerulean City, strolling through Wonderland, zipping to Jupiter's moons and more adventures have been promised in travel posters.
Of course these locations are exotic dream destinations, fantasy worlds, but there was a time when travel itself to very real locales in this world was a special and fantastical undertaking. Vintage travel posters take us back to the days when traveling itself was an adventure. Journeys that take hours now could easily take days and even weeks a century ago. Those with the ways and means could board the Orient Express and enter the separate world reality of being an "international tourist." For those not quite wealthy enough for such adventures, there were the beautiful landscapes promised in travel posters, accessible, unfortunately, only in one's dreams.
But where did the travel poster originate?
Back in the 1860s Jules Cheret invented the "three stone lithographic process" which is a method of printing from a stone or metal plate with a smooth surface.
This invention revolutionized the poster production process and allowed lithographers to use only 3 stones to achieve a wide variety of colors. He not only created low cost color poster printing through this process, but also changed the art form of the poster by giving artists who had been restricted to printing in black and white the ability to add a whole new colorful dimension.
Over time the designs used in posters continued to evolve through various styles. By the early 20th century the work of Italian designer Leonetto Cappiello, also known as "the father of modern advertising," catapulted the poster into a new age. He was the first poster artist to have black backgrounds with bold figures in the forefront. This was a style markedly different from the popular look established by Cheret.
By the 1930s the lithograph had waned in popularity, but the artform was rediscovered thanks to a commercial print shop, the Mourlot Studio, which encouraged artists to return to using lithography stones in their work. A resurgence of lithography had an effect outside the arts, inspiring a change in the marketing landscape. With its colorful and lavish imagery, poster art was the perfect way to promote travel and effectively convey the wonders that awaited in foreign lands.
To look back upon the unique style of the now "vintage" travel poster with its striking type fonts, eye-catching graphics and bold colors gives one a different appreciation for travel advertisements that have become works of art. A sense of nostalgia is imbued into each of these pieces and today's artist must look beyond the realm of Earth to capture the true sense of excitement and adventure the golden age of travel posters bestowed upon its viewer. How long before Richard Branson's Virgin Galactic manages to map the wormholes making vacations on Jupiter's moons a viable getaway for some? Perhaps in current Wall Street moguls' lifetimes. But for most of us? There will doubtless be the most marvelous new space travel poster art apps for our i-watches…
---
---
Your Thoughts
Where is your dream travel destination and why does physically being there in that environment hold such promise for you?

What is your favorite film, book or poem with a travel as it's centerpiece to the narrative?

Which fellow community member on DeviantArt that lives far away from you would you most like to visit?