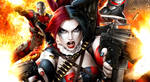 Warner Brothers has finally announced the casting of their new "Suicide Squad" movie.
The current squad of team members from the DC Comic pulls from an ignominious list of shady characters including Harley Quinn, Deadshot, Vixen, King Shark, El Diablo, Iceberg, Deathstroke, Black Manta, Cheetah, Captain Boomerang, and even the Joker's daughter.
"Amanda Waller" leads this secret "Dirty Dozen"-styled team of cons and villains whom the government can activate as mercenaries for risky missions. If caught or killed they can be completely disavowed. In return these convicts get time off of their prison sentences. This neatly explains why so many villains roam the DC Universe mere months after being captured.
Both Margot Robbie, who was hotly touted as taking the role of Harley Quinn, and Jared Leto, rumored to be in the running for the Joker, have been confirmed in both those roles. Will Smith as Deadshot and Tom Hardy as Rick Flag were also confirmed. Other names confirmed are Cara Delevingne as the magical heroine turned villainess sorceress the Enchantress and Jai Courtney as the Australian super villain Captain Boomerang. Short listed for the as yet unconfirmed role of Amanda Waller are Viola Davis, Octavia Spencer and Oprah Winfrey.
With a cast like this we're wondering if this interpretation of the Squad will be closer to Lee Marvin's Dirty Dozen, a team made or more conflicted, morally gray, characters than the cold hearted killers of the comic books. Jared Leto's transformation into the psychotic killer the Joker will be hotly anticipated. After Heath Ledger's transformation blew all the naysayers away with his performance in Chris Nolans' Dark Knight, the pressure must surely be on for the recent Oscar winner to come up with his own unique interpretation of the greatest of Batman's rogues gallery of villains.
Now we'd like your input on which other villains Warner Brothers should include and who should play them. Don't hold back! Feel free to use any villain ever! You want to include Dr. Doom? Throw him in. Maleficent? Her as well!
Post your ideas in the comments below
Warner Brothers have been actively developing a "Suicide Squad" movie for a few years, so DC Comics's publishing arm decided to re-launch the title with the property geared closer to the territory the movie is headed. DC Comics extended an opportunity to community member Jeremy Roberts to help rebrand the story's characters. Many years of hard work were beginning to pay off...
DC Comics extended an opportunity to community member JPRart to help rebrand the story's characters. Many years of hard work were beginning to pay off…

Jeremy Roberts
Q: What do you consider your first break getting into the comics industry?



I got my start working at a small studio in Toronto. They didn't need another artist, but they did need a colorist. So, I started coloring! I wanted to work in comics more than anything else, and this was my chance. That got me some published work and a few good sample pages, which eventually landed me an amazing job with Sotocolor Graphics, a virtual art & illustration studio run by Chris Sotomayor. I was a big fan of the work he was doing on Captain America with Andy Kubert. Chris is an amazing colorist, he's still one of the best in the business. So, it was an incredible opportunity. I got to learn by coloring backgrounds on titles like Noble Causes, Captain Marvel or the Avengers. Then, that lead to coloring characters, or coloring an entire book on my own like Lockjaw and the Pet Avengers. I even got to paint some covers. We did art for movies like Captain America and Thor or the Avengers Assemble cartoon show. It was an unbelievably exciting time, and the work was always fun!




After working as a colorist for about 10—15 years, I still had dreams of drawing comic books. So, when DC announced that they were holding an Open Talent Search, it was an opportunity I couldn't pass up. I sent in my Harley Quinn sample page and a few months later I get a phone call from Jim Lee telling me that I got the job. My sample page was published in Harley Quinn #0, alongside a dozen legendary comic creators. A couple months later, I got to draw the final issue of Stormwatch, and as a long time Wildstorm fan, that was a dream come true! Then they offered me the chance to relaunch Suicide Squad, and I was thrilled."



Q: You seem equally at home doing Pixar styled artwork as well as Suicide Squad, do you have a preference to draw stylistically?



That's interesting, because I've never really felt like I have a particular style. Personally, I enjoy experimenting with a lot of different art styles and techniques. I think that its also very important to be able to adapt your art to the needs of a specific project. The work that I do on a comic book like Suicide Squad requires a completely different set of skills than the work I've done for Disney. I feel very fortunate to have worked on a lot of different things, because its really helped me to learn and grow as an artist."



Q: Do you work completely digital or are you still doing some level of the work traditionally?



I actually started out working traditionally. I didn't really have any computer experience before I started working as a professional. But, these days my art is entirely digital. I use a Wacom Cintiq 21UX and I mostly work in Photoshop and Manga Studio. I use 3ds max and Zbrush for 3d work and some illustration."



Q: Now you've finished your run on Suicide Squad what's up next? DC or Marvel?



Right now, I'm finishing up a series of books for Warner Bros. I haven't decided what my next comic book project will be, but I'm eager to get back to monthly comic work. I'm not sure if it will be DC or Marvel, I am just keeping my options open at the moment."



Q: Do you have plans to do a project of your own at some point?



That's something that I have seriously considered over the years. I actually have a couple sketches in my gallery of things that I've created, and there is a huge backlog of ideas stored on my hard drive. I just don't know if I'll ever actually publish any of it."



Q: Do you get the time to explore other forms of art? If money was no object would you be painting landscapes or taking photographs?



I usually use my free time to try and improve my art or learn a some new skill. But, if I had unlimited time and resources, I'd probably be creating animation. It's something that has always fascinated me."



Q: What was the biggest experience or event that set you on the path to want to work in this field?



There wasn't really one event that lead me to this career. It was a lot of little things over many years. I've been drawing for as long as I can remember. I grew up on 80's cartoons, Disney movies, and action figures. In the 90's it was X–Men, Tim Burton's Batman, Image Comics and computer animation. When I was in high school, there was an art club that would meet after school on Wednesdays. We'd look at comics, draw, watch anime, or just talk, and that was incredibly important. But, the most influential thing was probably Gen 13, it was a hugely popular comic that came around at exactly the right moment, it basically changed everything for me. That was when I realized that THIS is what I want to do with the rest of my life!"



Q: Is there a particular inspirational piece of advice you have for aspiring artists who aspire to work in comics?



For me, it took 15 years, a lot of hard work, and determination. But, I'm proof that anyone can achieve their dreams, it just might take a while."



Now is the time for you to play Hollywood producer, so tell us your character and casting choices for Suicide Squad!