In this season of deceits deceptions & witcheries
I am wary of my following message not being received with the full gravity it deserves. It is not my intention to unduly alarm the deviantART community, but... TheLaurenVerse is at this time unaccounted for. All attempts on our part to contact her have failed. It is my hope that she has simply taken a much deserved unscheduled pre-Halloween "vacation" and will be back in online communication soon.
Before going dark, TheLaurenVerse was good enough to write and transmit a report on the Slender Man phenomenon sweeping the Internet. That report is published here for readers' perusal and commentary.
However...
As TheLaurenVerse's article was being set up for depthRADIUS publication, a so far unexplainable glitch occurred and an alien series of e-mail communications "infected" the e-copy, melding itself at intervals throughout the document. Our technicians have been unable to separate out this "corruptive parasite."
And so we have no choice but to present LaurenKitsune's article, with appended corruption intact, and we ask that anyone out there with any ideas on what exactly is going on to please send their comments post haste. A life—or lives—may depend upon it.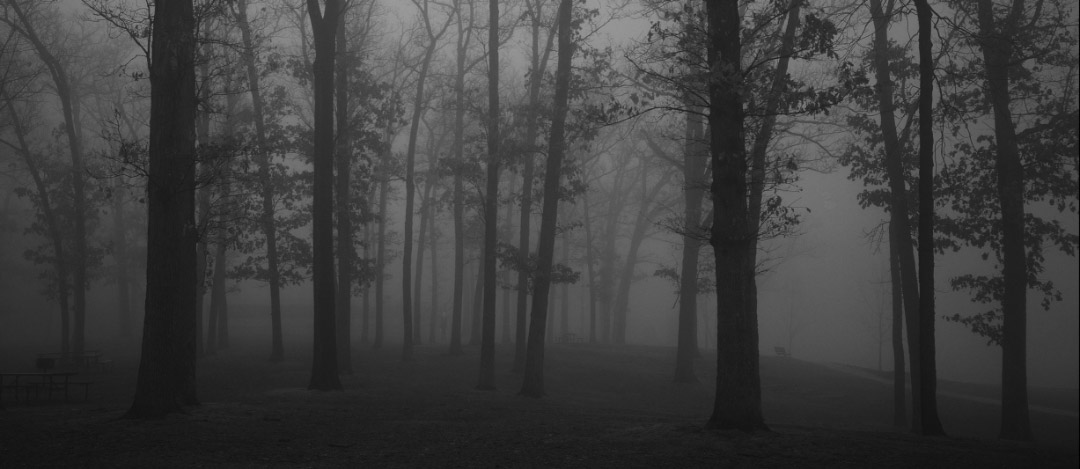 A New Fan-Created Character for The Transmedia Generation
You might think being at the very conception of a horror story, watching a terror meme being born, and witnessing writers, artists, and gamemasters contribute to the lore and world-building of the Slender Man mythos would leave you impervious to the dread it inspires in your very soul. You would be wrong.
In June 2009, I was lucky enough to witness firsthand the "Create Paranormal Images" Thread in the Something Awful Forums where the "Slender Man" was born.
A PhotoShop challenge after deviantART's own heart, forum dwellers were encouraged to digitally manipulate innocuous photographs into something much more creepy and sinister. As the thread lit up with popularity, those who participated began creating elaborate backstories for these images, which ranged from hasty cut-and-paste layers at 50% opacity to truly spine-tingling works of artistic mastery. Then Something Awful goon "Victor Surge" created the original images with the following backstories:
Something about that sinister being hidden in the shadows, innocent victims in the foreground seemingly unable to see it, and the suggestion that those who came in contact with the photographic evidence met an untimely end lit a creative spark through the online community that shows no sign of extinguishing anytime soon. DeviantART users immediately latched onto the primal fear his visage elicited, uploading terrifying and sometimes hilarious images to add to the growing lore. Users headed to 4chan to creep out anonymous strangers with sightings.
Then, possibly the most well-known piece of Slender media to date was produced: the YouTube film series "Marble Hornets."
Members of Something Awful themselves, "Ce gars" and "KicksYouInHalf," also known as Troy Wagner and Joseph DeLage, created a channel of mockumentary style videos that reported their amateur findings and slowly unveiled a layered and horrifying narrative. News and updates were provided by supplementary Twitter reports run by the main character, which were sometimes taken "hacked" by a mysterious source. This source also occasionally replied to the YouTube entries with...
...terrifying, glitchy, and coded video responses.

To: laurenn****@gmail.com
From: kam***@gmail.com
Subject: y0
Okay, so I figured out the reason you don't get half my emails. I can NEVER remember there's an extra N in your email address. I swear, lauren***@gmail.com must just have a folder of people trying to email you. I almost want to email her ON PURPOSE just to apologize to her, but it's too awkward at this point.
School has been crazy. That guy I told you about has been sitting at my cubby in the library stacks, and it's been a silent war since the beginning of the semester. I walk there IMMEDIATELY after Lit class, but he must have a lab that gets out at 1:55 or something. Freshmen…
Mmm, let's see. My neighbors have not stopped playing their gospel music on loop in seemingly a week. Does Jesus really need that much bass? I don't think so.
Yay, off-campus housing.
Oh, I got a new phone! Kind of… I need to figure out how to get my number connected and everything and get all my contacts off my old one (yes, ha, ha, my BlackBerry, very funny). This girl who lives upstairs starts pounding on my door at like 5:00 AM a few days ago, and I was about to rip her a new one, but her eyes were all bloodshot, and she thrusts this iPhone into my hand.
We've hung out a few times, and I didn't really take her for a partier, but girlfriend looked like she hadn't slept in a week.
She goes, "I don't want this anymore. I didn't ask for this." Or something like that, and I'm just standing there like an idiot as she scampers back up the stairs. Honestly, I didn't even remember I had the phone until this morning when I found it on the counter next to the coffee machine, heh.
Anyway, RANDOM, but I will be playing Words With Candy Crush with you soon or whatever you kids are playing now.
Talk to you soon, Laurennnnnnnnnn
—Kammy
---
To: laurenn****@gmail.com
From: kam***@gmail.com
Subject: hey there
Two emails in one month?! Boy, are you lucky!
I actually wanted to let you know that it's your turn in Draw Something. IT'S STILL RELEVANT, DAMN IT. Just because I was late to the world of iPhones doesn't mean I shouldn't get to catch up on all the fun!
Oh, and that girl moved out. The generous iPhone Benefactor. How awesome is this? I'm in the elevator with the landlord while he's on the phone with someone, and he's REAL mad because I guess she left all her furniture behind. (Calm down, CSI Miami. She took all her clothes and computer and stuff. I guess sometimes you just need to get out of Dodge.) He was all pissed because it's apparently hard to rent out "furnished" apartments when the furnishings are super crappy.
So I told him I'd happily take the apartment off his hands NO problem. Milk-crate sofa NO MORE. Better view of the reservoir AND getting away from the Gospel Headbangers? Hallelujah!
Movin' on up!
—Kammy
P.S. To answer your question, YES, I broke down and looked at her Photos. Girlfriend likes to take a lot of selfies. Lots to delete to make room for new appssssssss.
---
To: laurenn****@gmail.com
From: kam***@gmail.com
Subject: ummmm…
So, I figured out why this phone has NO space on it. This girl has a TON of videos saved. My voyeurism got the better of me, so I started checking them out, and it's just…weird.
The selfies were pretty much what you'd expect. Duckface is still in, by the way. I know, I was shocked too.
The first videos were pretty standard – panoramas of a field (I think the one by Sutter's Lake?), a few seconds of her having a picnic there with some friends, a classy toast with solo cups. In the last couple, there was this weird glitch where the video got all wiggly and the colors inverted, and there was a really loud sound – like the feedback you get if you don't plug your headphones into the speaker jack correctly. Scared me to death, but I guess I'm jumpy anyway.
The next video was, like, a shot of the grass and then gravel, like she's running out to her car? Then there are shots out the window as she's driving away, shots of the rearview mirror, and the backseat. Just gave me the chills.
I will bore you with more details shortly, but there's something interesting about watching someone else's life. I know, I'm weird.
—Kam
Slender Man:A New Fan-Created Character for the Transmedia Generation
Inspired by Slender Man—and the "Marble Hornets" series specifically — several other filmmakers followed suit, creating more YouTube channels with our slender friend hiding in the backgrounds of seemingly unrelated health videos and school projects. Video games were spawned, including the very popular free-to-play indie title "Slender: The Eight Pages," its sequel "Slender: The Arrival" (worked on by the Marble Hornets producers themselves), and a full-length movie was Kickstarted.
---




Why are these projects so important and inspirational?

---



A big buzzword in Hollywood right now is "transmedia," and those Suits—equally terrifying as the well-dressed Slender Man, but in a different way—are forever chasing the dragon of cross-platform storytelling with varying levels of success. There are a few who have made waves without looking cold, corporate, and like they were trying too hard.
Forget watching three full films, true die-hard fans of "The Matrix" are treated to a much deeper understanding of the universe by cobbling together information contained in two comic book collections, an animated series, and a handful of video games. J.K. Rowling continues to release snippets of the "Harry Potter" universe by way of her wildly successful website Pottermore.com, enabling millions of fans to participate in the magical world long after the last movie left theaters. The Alternate Reality Game "i love bees" used puzzles and codes on a fake-hacked website to reveal clues, and it was all viral marketing for the "Halo 2" release in 2004. Those who cracked the code were treated to the chance of playing the game at a theater before its release and taking home a commemorative DVD.
Sadly, these examples of transmedia successes are much more rare than the ubiquitous cringe-worthy ones. Now you can learn more about your favorite superhero by following its movie's production company on Facebook. You can tweet a joke to your favorite fast food restaurant for the chance to win free food. This is what the big-wigs have come up with after hours of brainstorming on how to engage users and communicate stories and brands across platforms.

To: laurenn****@gmail.com
From: kam***@gmail.com
Subject: ummmm…
I just called. A few times. You're not picking up, but I just really need to talk to someone.
I watched all the videos on this girl's phone. Yes, I'm obsessed. Most of them were boring, like, turning lights on in the middle of the night and walking across the room. But there was something I couldn't put my finger on, so I watched them all again.
In that first one with the audio glitch and weird lines, she's sitting at a picnic, and that forest is behind her. I watch it over and over, and right before the video messes up, there's this figure way off in the background. I thought it was a random tree at first, but it's definitely a guy in a suit with… I don't know, his arms are out of proportion. They're really long, and he's just standing there, staring at them. I can't really see his face, and it almost looks like he moves forward the instant the video jumps, but it's just the glitch, and when the video evens out, he's not there anymore.
So, I'm sitting there terrified, and I don't know why I did it, but I checked the next video – the one of the toast – and it pans past everyone's face saying "cheers," but it's at a weird angle, pointing upwards so everyone can fit in the frame, and…this is giving me goosebumps to type this out. There's a face behind all her friends that I didn't see before. It's a little lost in the overcast sky, but it's definitely there. It's pale white with no features. None. Just a blank face looming right there, right behind all of them, and it's like they don't see it.
That's when I called you the first time.
When you didn't pick up, I paced the room a few hundred times, and eventually, I worked myself up to watching the rest of the videos. I'm happy to report they're mostly boring, like I said. But I get this really eerie realization that I'm, like, sitting in this girl's old apartment and I'm STARING at the room where most of the last videos were shot.
Then it hits me. In the last few videos, she was walking across the room towards this old dresser, across from where the bed is. I can't get any more freaked out, so go check it out. (I'm still living out of my boxes. Shut up.) The top drawer is FILLED with tapes and a camcorder.
I watch on the machine, and they're all of her just sleeping or doing regular things around the house. Almost all. It's like…she put the camera on to record her sleeping, and when the tape ended or whatever, she used her iPhone to record her walking over to the machine to put a new tape in? Huge waste of tape.
I get to this one of her sleeping, and there's another video glitch – just a line across the screen and inverted colors on the lower half. I don't have the sound turned on, thank GOD, but I'm sure there was some weird audio static, too.
Like I said, I didn't see anything with that guy on this tape, but it just creeps me out.
Call me when you get this.
—Kam
Slender Man:A New Fan-Created Character for the Transmedia Generation
And in the midst of it all, a few college kids uploaded a few hours of low-budget creepypasta on their own dime and for fun, tweeted it out and posted in a few forums, and they became Internet Superstars and Masters of Storytelling.
IMAGINE:
You're at work, scrolling past Instagrams of your friends' dogs, and suddenly you stumble upon a tweet from a fictional YouTube character saying he's finally going to check out the terrifying red tower in the middle of the woods. But there's a code he received via text that he doesn't understand—is it GPS coordinates? Time of day?
You can tweet back at him or just watch the tale unfold as he live-tweets his creepy approach to the red tower. The Twitter feed is hacked and starts spouting glitchy nonsense a few minutes later—is our hero in danger?
You'll have to wait until tonight, when a new entry will be uploaded with video footage from the excursion. You truly feel, scrolling past these updates in your feed, that you're a part of this brilliant and engaging story as it happens.

To: laurenn****@gmail.com
From: kam***@gmail.com
Subject: sorry
I didn't want to call this late or early or whatever and wake you up, but on the off-chance you're still awake, could you give me a call? The police just left my place, and I'm really amped up, and I just want someone to tell me I'm not crazy.
Like I mentioned on the phone, I've been filming myself for the past couple days. I couldn't tell you why. It makes me feel safe? It's easy enough to record over all this girl's old tapes. She has like 50 of them, and I've just about used them all up.
To keep myself alert until you call, let me just recap the night for you.
I was on the second-to-last tape recording myself, and I was trying to get some sleep, which is a huge joke because I've probably netted 4 hours in the last 2 days. I DID fall asleep, though, because at some point I jerked awake, absolutely freezing. I reached over to close the window next to the bed, and that's when I noticed these papers all over the floor. I picked one up... Lauren, it's just words that don't make sense, like random fragments of sentences, done furiously in a black crayon or something. On another paper, there's a picture of an O with an X crossed out in the middle of it, just over and over and over in different sizes in this crazy manic handwriting.
I ran outside in my pajamas and called the police. They came fast enough, but when I showed them my room, they just kind of looked at me like they weren't sure what I wanted them to do. There were no signs of entry, and I live on the fourth floor. One officer looked like he felt bad for me and just started writing stuff in a notebook and said he would "look into it." But I just felt like an idiot standing there in sushi pajamas ranting about scary pictures.
Now I'm back in my room and I can't sleep, and I don't know, I guess I'm a masochist, because I just remembered the tape was recording the whole thing. It was aimed at me, so I can't see anything that's happening on the ground… but I just watched it, and there is definitely a huge shadow coming from the hallway, and it was moving toward my room.
Then it has everything from me waking up, running out, and the police coming in. And up until I started typing this email… I didn't realize the shadow doesn't happen again. Like it doesn't leave. Whatever it is is still here. And now I don't know what to do because it might be in the hallway or in the other room, and I can't call the cops again, but I don't know what to do.
I don't know. I'm having trouble concentrating, and I can't tell if I'm terrified or just being paranoid. I guess I should go. I have one tape left. I'm going to put it in and keep all the lights on, and we can laugh about it tomorrow. Or tonight. When you call me.
—K
Slender Man:A New Fan-Created Character for the Transmedia Generation
This is no "Paranormal Activity," and it's not even "The Blair Witch Project."
It's genuine, it's effective, and it's entertaining. Hollywood and beyond should take notice.
Storytellers and content creators are changing the way people consume media, and not just for horror stories, although they're sure a tasty horrifying treat. New possibilities for narrative flows are revealing themselves all the time, and the world is about to become a much more interactive and awesome place.

To: laurenn****@gmail.com
From: lauren***@gmail.com
Subject: Fwd: 000110001010001
Forwarded message from: kam***@gmail.com
On Saturday, Kam <kam***@gmail.com> wrote:
1 attachment: 000110001010001.mp4
View Download (File corrupt)
Hi, Lauren(n),
I keep getting emails to your address, and I don't want to sound rude, but it would really help me out if you could correct your friends on your actual address.
I got this email early this morning, and I didn't notice who it was from before I watched it – sorry for intruding. I thought it was for me, but then I saw it was from your friend.
It's weird, though. It played once on my computer, and it won't seem to play again. I don't know if they saved it from a YouTube or something, but I don't really want to look for it, because I'm not into that scary stuff.
If you want to search for it yourself, it's a video of a girl sitting on the ground wearing pajamas with little square designs all over it. She's looking a camcorder in her lap or something, and you can kind of see the image in the viewfinder – it's a video of her in her pajamas looking into the camcorder, like she's watching the video of herself in real time. If that makes sense.
The person filming starts walking towards her, and she just looks up with this horrible expression. Then there's a loud blast of static white noise and the camera jerks toward her really fast. You could still hear this distorted screaming like crazy after the video goes to black.
Anyway, you should ask your friend to resend, because this file here just has weird pixelated lines whenever I try to replay it.
Thanks.
—Lauren
Slender Man:
Timeline of Events
Slender Man's first appearance in the Something Awful "Create Paranormal Images" Thread by user "Victor Surge."
In the days that followed, several other users added to the lore with additional images and stories being spawned.
Images of Slender Man began appearing on deviantART.
Images of Slender Man began appearing on 4chan.
An homage video is released suggesting Slender Man only chases people because he wants 20 dollars. (Writer's note: It is still funny.)
"The Slender Man" full-length movie Kickstarter is launched and subsequently funded.
Questions
For The Reader
Has anything supernatural or other worldly shown up unexpectedly in a photograph that you have taken?
Do you believe that other "energies" can manifest themselves in audio recordings or photographic imagery? If so. can you share your experience?
If Slender Man had a poem associated with his existence, what might it be?
Innocent souls for the taking. Is it really that simple? Why do you think Slender Man manifested himself in our dimension?