Felipe Cagno's Long Journey to "The Lost Kids: Seeking Samarkang."
Many deviants know well…
…"The Lost Kids: Seeking Samarkand", the 200+ pages graphic novel written and created by Brazilian storyteller FelipeCagno.
What few know is the story of how it took him almost a decade to bring this story to the public between script re–writes, production setbacks and more than three years of working with a team of artists spread across the globe.
Although "The Lost Kids" started as a feature length screenplay developed during Felipe's Master's program in film production back in 2007, the initial idea came to Felipe years earlier—in the darkened back of a school bus speeding home through the night after a field trip to the planetarium. Alone in the dark and lost in thought, Felipe imagined the bus suddenly vanishing from this world and showing up in a Final Fantasy sort of world filled with magic, airships and a sense of wonder.
For many creators ideas hatched in childhood can steer many of their creative storytelling endeavors for years to come.
For Felipe this particular idea stuck with him all the way through film school and his graduate program where he finally put it down on paper. He believed that this particular story stuck with him so long because he never grew out of it creatively, for if it would stick with him it should hopefully stick with others.
Felipe's Teachers took interest in his tale, encouraging and shepherding him. The screenplay placed in several competitions. Now he knew he had something special.
After graduating Felipe reached out to several producers and creative executives he interned for. Taking their advice, Felipe began adapting his "Lost Kids" into both a new foreign format and a new medium: the Graphic Novel. But where to start?
It was then that Felipe discovered the deviantART community and started a new journey with his project.
Having a warm welcome from the community gave him the confidence to follow down this new path. Knowing little about making comic books, and being a writer not an artist, Felipe had to go back to studying. By observing and reaching out to other dA members who have successfully established their original characters, like DJ Shwann, Artgerm, and Dan Luvisi with LMS and many others, Felipe began to navigate the same waters. First came the "Lost Kids" art book and partnership with Ben & Joey Vazquez, followed closely by an Art Contest open to all artists. Soon after, it was time to start production on the actual Graphic Novel.
Everything was done within deviantART and alongside the community. Every artist that collaborated on the Lost Kids, from all over the world, came from relationships made possible through the DeviantArt community. Felipe gathered together artists and members from the US, Argentina, Brazil, El Salvador, Mexico, Scotland, Italy, Portugal, Singapore, Philippines, South Africa, China, Japan and many other countries to work on this single project, which spanned over three years.



"There were many moments of deep despair, several setbacks along the way. This was still an independent project put together by a single person behind it, organizing and streamlining all the creativity every artist was bringing to the table. I found the best artists to work on the 'Lost Kids' and was keen to take in their creativity to better the project, even if it meant the project might have to adjust to accommodate the new ideas. And that's the beauty of it, when you welcome constructive criticism and good ideas, the original project evolves into something better. It's important to absorb the set backs, the challenges and failures, and then turn them into something positive."



A lot of authentic citizens in the deviantART community became aware of Felipe's effort and passion for the "Lost Kids" and what he was trying to build…
…and decided to lend a hand with a cover or illustration. Artists like Stanley "Artgerm" Lau, Genzoman, Sayagina, ElGrimlock, Todd Nauck, Liol, Loish and many others all played a part in setting up the "Lost Kids" as a viable graphic novel series.
"Lost Kids" finally became the successful comic book series it is today: a sold out hardcover edition kickstarted in Brazil to much acclaim and digitally distributed in the US and Europe through Comixology, the leading digital comic book distributor.
Felipe Cagno's Advice to Serious Dreamers



It's important you take yourself seriously before anybody else. You must invest in yourself and in your work both the time and money it demands because if you don't do it first, how can you expect someone else to do it for you?"






Put yourself on the line and people will take you seriously. Take risks. Learn from others as much as you can. That's what the dA community is for, to support each other in the betterment of everyone's art."






There are no shortcuts in life and either you work harder and better than the next guy or you will be just another struggling artist with a hobby."






Nothing beats that sense of wonder when a professional you admire sees your work, compliments it and eventually reaches out to collaborate. Publishing the Lost Kids gave me a new career which I was at first only passionate about as a fan."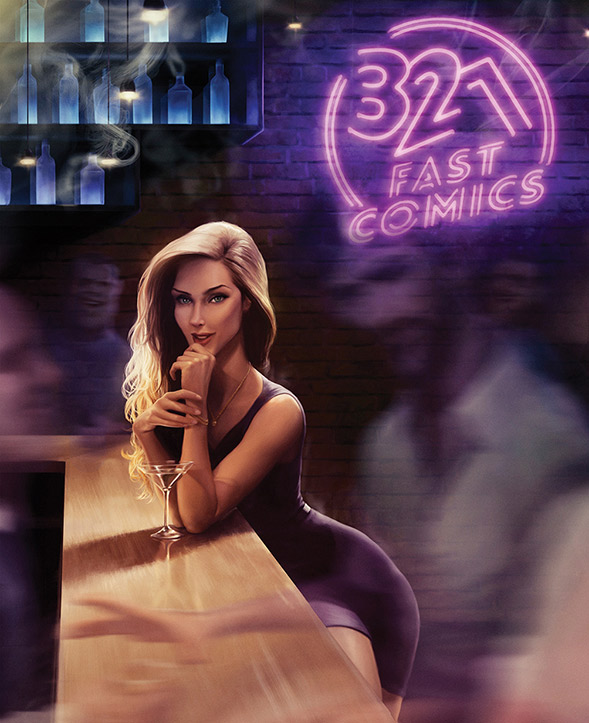 Following up on the Lost Kids, Felipe is working on a new comic book project called "321: Fast Comics",
A collection of short stories illustrated by top comic book professionals and dA members which must always follow the same formula: three (3) pages, two (2) characters, one (1) twist ending, hence the title. With those rules in place, anything goes.
Below is a FREE preview for the book that is available now on MadeFire:
"The Lost Kids: Seeking Samarkand" single issues can be found in digital format on Comixology under Felipe's banner Timberwolf Entertainment, a publishing label created to distribute this first graphic novel but is now moving to his second title 321: Fast Comics—and three more to be released in 2015.
Felipe is also running a comic book contest on his DeviantArt page that represents a fantastic opportunity for all of the storytellers in the community.

321 Contest: THE ULTIMATE NARRATIVE CHALLENGE

Your Thoughts
How many years do you think should be budgeted to working on a single project before maybe calling it "completed"?

Do you have an artistic idea you're so passionate about that you keep returning to it over and over again?

Have you ever reached out for help to an artist you admire and received real help with your work?

How many other artists are you now in collaboration with or have you collaborated with in the past?