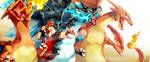 |
Archive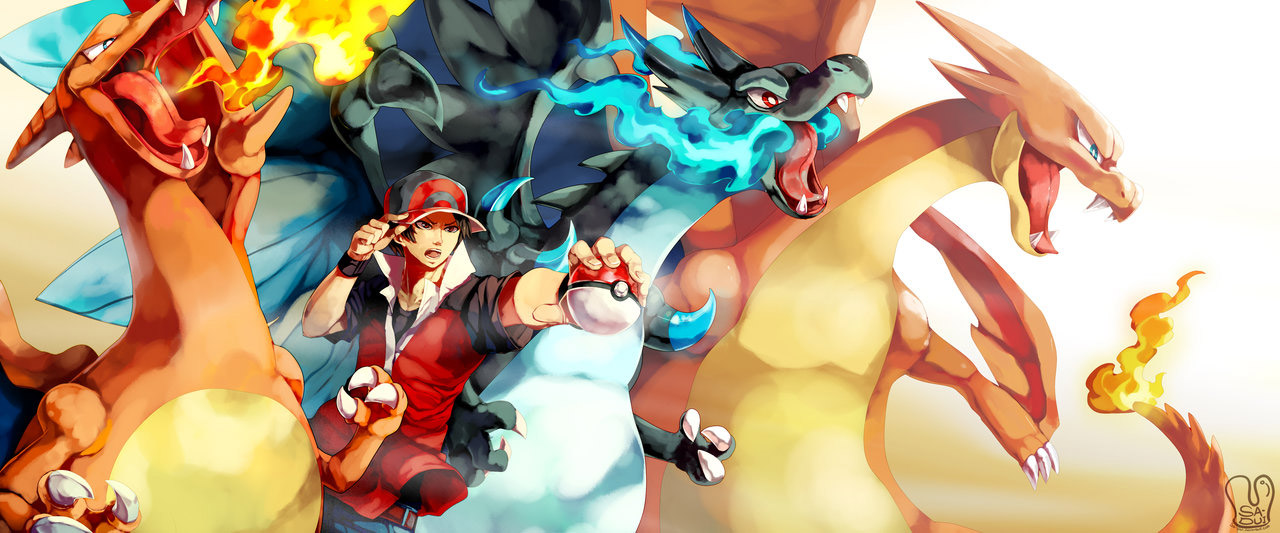 Kay (aka damphyr) is DeviantArt's go-to expert on everything "Pokémon." She also occupies the adventurous position of being one of DeviantArt's main enforcers of standards and practices. We thank her for being a guardian of artistic erotica and especially, for being able to answer every question we get asked about Pokémon and just about anything else for that matter. Supreme Keeper of all pop culture knowledge, Kay must be protected in case of global disaster.
An incongruous collection of people lined the sidewalk outside the local video game retailer just before opening on March 6th, 2011. The first in line were a pair of teenage boys in baggy jeans and band shirts, skateboards tucked under their arms. Next was a 9-year-old boy and his mother, followed by a 20-something female with spiky purple hair, a skull and crossbones on her belt. Then there was a young teenage girl, dressed all in yellow, red circles painted on her cheeks and a stuffed Pikachu tied to the handlebars of her scooter. Then a pair of young twins, a boy and a girl, with their mother, and three preorder tickets between them. Two college boys waited impatiently while talking too loudly about their strategy for the upcoming game. There was the 20-something couple, arms tangled about each other, their female friend eyeing the mid-thirties man behind her, who typed a business email on his cellphone.
The line continued to grow…
---
This is the magic of Pokémon
There is no one demographic, no one type of Pokémon player. The 12-year-old who started playing "Red" and "Blue" is now the nostalgic 30-year-old who still has his original Red and refuses to let his collection fall behind. At the same time, the magic of the world of Pokémon has not been lost on the new generation, as wireless gameplay, charming mini games and tantalizing secrets draw in new players.
Fans around the globe are once again eagerly awaiting the release of the newest Pokémon games, "Alpha Sapphire" and "Omega Ruby." Nintendo has been gearing up fans for the new releases and encouraging preorders for months, offering players who make the trek to a local gaming store the codes that can be redeemed for rare Pokémon and game items, including the new "Megastones" and the previously unreleased legendary Pokémon Diancie. The promotions appear to have been effective, with over one million copies preordered in Japan alone. Pokémaniacs are clearly eager to return to the Hoenn Region once again.
Eighteen years after the release of Pokémon "Red" and "Green" in Japan, the franchise is still going strong, thanks largely to easy yet addictive gameplay, storytelling and adaptability. While "Alpha Sapphire" and "Omega Ruby" are not, strictly speaking, new games (the original games were titled "Pokémon Ruby" and "Pokémon Sapphire" and were released in 2002 and 2003) these remakes offer players a much more immersive world, with radically different graphics, more monsters to catch, more items to collect, easier social interaction with other Pokémon players, as well as minigames and activities to lose themselves in. Pokémon, like its monsters, continues to evolve, and in so doing, has deftly managed to keep the interest of veteran players and attracted a whole new generation of gamers.
Ever embracing of pop culture, Pokémon is combining the cosplay trend with their most famous monster.
"Alpha Sapphire" and "Omega Ruby" will be the first games to offer the Cosplay Pikachu! This adorable Pikachu is sure to be the star of the returning Talent Show, and will have a variety of outfits. Cosplay Pikachu will acquire special moves based upon which costumes they wear, and, like any truly dedicated cosplayer, will appear in costume even in battle.
GOTTA CATCH 'EM ALL
Pokémon could not have chosen a better slogan to promote their game, as there is no question that the obsessive desire to catch them all is a major drive for many players. Pokémon games are released in paired versions, and some Pokémon are version exclusives, found in one version of the game, but not the other.
Some Pokémon have forms which cannot be found naturally in game and can only be unlocked if they are traded from one player to another.
Some Pokémon have unique appearances which change depending on the season, sometimes the same Pokémon will have a different appearance depending on its gender, while still other Pokémon have a different appearance depending on the region your game originates from.
Some Pokémon will only evolve if the player has raised the friendship of their monster, by traveling with it in their team, or spending time in the Amie mini-game, where players pet their Pokémon and hand-feed them Poke Puff pastries.
Legendary Pokémon
Then there are the legendary Pokémon, which are rare and difficult to find, often version exclusive with only one monster found per game. Some Pokémon are event exclusives, where gamers must bring their 3DS and Pokémon game to a certain real-world location within the correct time frame order to download a special Pokémon. Some Pokémon are distributed via the Wireless feature on the Nintendo 3DS and are offered in celebration of a holiday or special event. For the hardcore collectors, the game does not end when the credits roll, not even when the Pokedex is complete, and all 719 Pokémon have been recorded. For the truly dedicated, the game is not over until every Pokémon, every color variation, every gender variation, every shiny variation and every special event Pokémon has been acquired.
While Pokémon may be a one-player game, the game play is anything but isolating. Through the wireless connection of the 3DS, players can, at any time, see the icons of their friends and random online passersby, battle or trade with just a few clicks, or even offer a player a stat boost to help them in their game. Voice chat enables friends to connect over long distances, groups of players can trade unhatched eggs, and even those who are offline can still impact those actively playing by offering to trade a Pokémon via the Global Trade Station.
Across the Internet, Pokémon communities have become common, from groups here on DeviantArt, to Reddit and Tumblr and dedicated Pokémon fan sites. Players swap friend codes in order to explore Friend Safaris, where rare Pokémon with boosted stats wait to be found. Trades for Pokémon, both legendary and common are negotiated and breeding extras are given away to help out future breeders. The days of needing a link cable, a wish and a prayer in order to trade are long gone. It has never been easier to interact and trade with other Pokémon players.
Even battle is a social event in Pokémon.
Wireless competitions are held regularly, with different rules dictating which Pokémon and which Pokémon teams can be entered. Gaming stores and individual groups often organize in-person Pokémon tournaments so gamers can see how their Pokémon teams stand up against other local trainers. The annual Pokémon World Championship is a televised, narrated global competition where Pokémon awards over $100,000 in scholarships to video gamers and card players. The 2014 tournament featured over 500 players from 30 countries, and the tournament winner, Se Jun Park, won a surprising victory with his Pachirisu, spawning a flurry of art featuring the adorable electric rodent.
Even if you are not inclined to catch them all, Pokémon has worked hard to offer something of interest to every kind of player. Pokémon has a whole host of games, features, minigames, strategies and events beyond those featured in this article. Whether you are picking out your very first starter or if you are a master with a completed Pokedex, join us in a return to the world of Pokémon!
A new adventure and new evolutions await us all in Hoenn, and it looks like Team Magma and Team Aqua are up to no good once more, so let's go defend the world once more!
---
This article was edited for space considerations. If you would like to read the full text of Kay's original extended submission, click here.
---
Questions for The Reader
What is your favorite Pokémon?
What attributes of either the Pokemon Universe or Game Play draw you in the most to keep you playing Pokémon games?
If you battle, is this due to a competitive urge, or is it more about the social bonding with your teammates?
Do you have any strong years-ago memories tied to Pokémon?
Can you think of any more improvements or options that would make the Pokémon experience even better?
Someday will you encourage your children to play Pokémon? Do you think you will be able to explain your passion for this massively time-consuming "hobby?"