<da:thumb id="336970921"/>
Most denizens of the West think of New Zealand as a little known outpost of civilization somewhere beyond Australia at the ends of the Earth.
Could any land be any farther from the European motherland, birthplace of the Renaissance that is the Genesis-point of the visual arts narrative we continue expanding and evolving today? And yet this remote country of islands in the Pacific has suddenly become a cinematic storytelling powerhouse, a film-friendly factory for the creation of some of the most important touchstone mass entertainment experiences to influence our popular culture in recent years.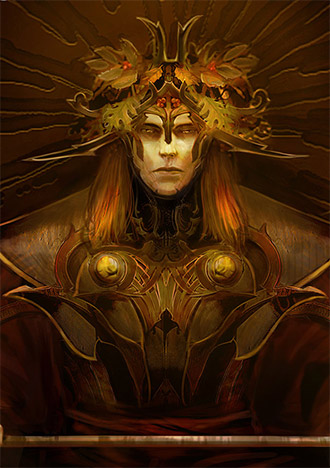 The digital revolution has liberated the "casts of thousands" from the Hollywood studio back-lots once needed to populate action-adventure epics, and the Internet is changing financing, production and distribution models so drastically as to forever diminish Hollywood's hegemony over the movie business, with hundreds of smaller, but just as productive hubs becoming new centers of filmed story creation worldwide.
New Zealand is one such center, exemplified by Weta Workshop's role in changing the film-making landscape there, taking advantage of its wonderfully diverse landscape offering several completely different terrains to film in as well as its artistically talented inhabitants.
For over twenty years this creative powerhouse has been at the forefront of conceptualizing and then bringing to reality imaginary worlds. Beyond Lord of the Rings and The Hobbit, their work has guided the cinematic visions of films such as King Kong, District 9, Elysium, The Adventures of Tintin, Avatar, and most recently The Amazing Spider-man 2, and Godzilla.
Perhaps Weta Workshop's greatest contribution has been its ability to instill passion and inspiration to all those who follow their creative dreams. One such artist was so inspired eleven years ago through his love of Lord of the Rings and is now a senior concept designer at Weta Workshop.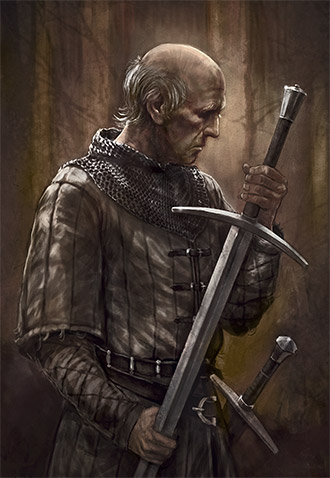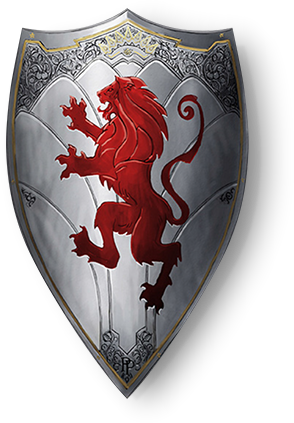 Paul is a conceptual designer, illustrator & graphic designer who has been working at Weta Workshop since graduating from Wellington's Massey school of Art and Design in 2003.
He has worked on films such as Andrew Adamson's The Lion, The Witch and the Wardrobe, Prince Caspian, Peter Jackson's King Kong and James Cameron's Avatar and most recently The Hobbit. An artist and concept designer who has had gallery showings of his own original fantasy artwork, he has taken it upon himself to become an advocate for other New Zealand fantasy and sci-fi artists.
"Weta Workshop..." says Paul,



...was the starting point of my journey and my 11 years of adventuring in Imaginary lands with a host of very talented artists. It was an experience that I would never have attained otherwise. Like everyone on a quest, sometimes the challenges can wear you down and that's where your companions can help you onwards and help support you. For me this was the community that I discovered first at Weta, and then later through a broadening range of artists in NZ and eventually overseas at events like Spectrum Fantastic Art Live and on line like DeviantArt. White Cloud Worlds was me setting out on my own self determined quest to reignite my own creative interest and fan the flames in other like-minded artists."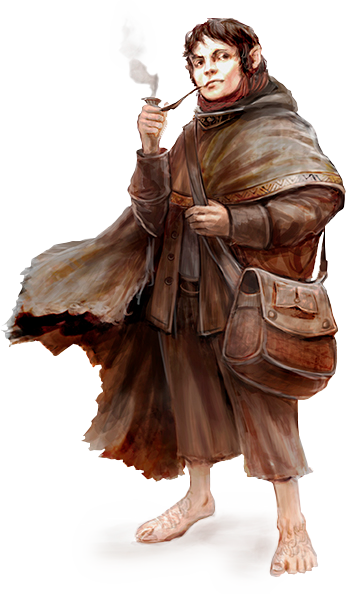 ---
The publication of White Cloud Worlds was a major statement demanding original digital fantasy art be considered collectible "fine art" rather than mere disposable commercial illustration.
In the volume's foreward, Guillermo Del Toro shreds the stale bromide that illustration cannot be fine art because it relies on another narrative rather than standing alone as a singular expression. The best illustration "…pre-empt(s) the literary elements which it is meant to serve. In other words, the image becomes the tale. This is true of the best illustrators of all time: Pyle, Frazetta, St. John, Rackham, Tenniel, Quentin Blake, etc. They all become part of the essence of the book they illustrate and, in some cases, seem to reinvent them entirely."
Of outside interests informing his art, Paul responds:



If I look at my career in design (I am more designer than illustrator) and my life interests outside of work they tend to revolve around exploration of cultures and archaeology and narrative "quests" in film, like Bilbo and his quest to the Lonely Mountain, the kids in Narnia and their journey to rid Narnia of winter. Even Avatar follows this 'hero's journey'."



Asked about his own "hero" status amongst fans and fellow artists, Paul replies:



Just a note on the 'Hero' thing. I am keen not to be portrayed as a hero in the context of a modern day meaning of the word. It's more in context of the film meaning of the word where an ordinary person goes on an extraordinary adventure. Luke Skywalker the farm boy, Bilbo the ordinary Hobbit, a bunch of displaced kids in war-torn England for the kids in Narnia. I was quite an ordinary artist technically when I started out, but it was the journey and dedication that pushed me well beyond my humble beginnings."



And we are all the richer for Paul's dedication to his continuing journey as master and advocate of the arts. His peers and admirers will continue to affirm his "hero" standing in fantasy and science fiction art.
More of Paul's work can be perused at on his profile page.

---
1.What's your opinion on the continuing resistance to the acceptance of digital art as a "legitimate" art form? Is it just a general anti-technology impulse or an actual fear of the future and new realities?
PaulTobin
I think within the commercial and wider art community the digital medium has become accepted as just another tool for an artist to employ and enjoy.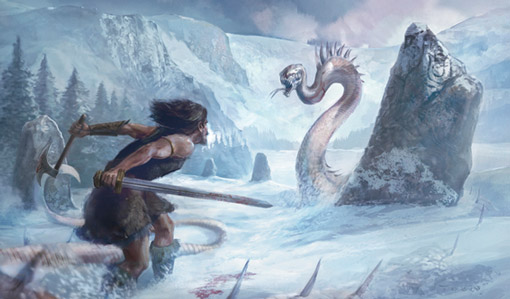 I think the primary resistance lies more in the monetary institutions that trade in "fine" art. Much of the fine art market is defined by the exclusivity of having an "original" and "physical" representative art form and this financial tradition spans centuries. Art is like any long-term investment, you need to protect it and control the criteria by which it grows in value. Digital art is problematic in that there is no "original" or physical representation and duplication is easy, so it's harder to assign value within the existing art order.
Ironically with the proliferation of digital art many artists are rediscovering and pursuing traditional methods as there is greater value now being placed upon producing art the "old fashioned way".
2.What was the popular reception of "White Cloud Worlds" like amongst fans and fellow fantasy artists, and what was the critical response to your achievement?
PaulTobin
White Cloud Worlds had a fantastic reception amongst fans and artists alike. I always assumed that it would be well received in NZ, but I was really pleased and surprised at the level of interest we got from abroad. We were always keen to offer up a book that treated genre art with the respect it deserves, but as kiwi artists not take ourselves too seriously. I think this combination of really high level art and informality and fun struck a cord with many readers. I also think the level of professionalism we brought to the project which was in large part due to Kate Jorgensen's production management skills (I like to think of her as a master artist wrangler) that really helped lift our game and give the artists confidence in what we were promising to produce.
One thing I did feel we improved upon with the second volume was seeking out artists that had less connection to the film industry and a greater number of women genre artists. Ironically, I found many of these new artists here on DeviantArt!


Susan's Horn, Bow & Arrow
©Narnia, LWW, Disney Enterprises, Inc. &
Walden Media, LCC.




3.What do you see as the next level for digital art in movies, video games, etc? what's the next big thing that few see coming?
PaulTobin
I think the trend thats become very evident in film and games is the gradual removal of 2D artwork and design in favour of designing and rendering in 3D. As a 2D artist I hope there will always be a place for 2D design, but 3D has the advantage of being one step closer to the final product whether its a in game model or digital effects asset or a prop that can be rapid prototyped for physical use. Programs like ZBrush that work much more intuitively to painting and drawing have really accelerated this process and with the ever increasing demand for digital worlds and the convergence of film and games designing directly into a 3D space is going to become the norm I suspect.
4."White Cloud Worlds", your coffee table volumes of New Zealand fantasy artists, has been out for several years now. Do you feel it has made a real impact in how you and your fellow artists are regarded in the fine arts milieu? Is real respect growing for what you do?
PaulTobin
I think the books in combination with the travelling art exhibition (which was seen by over a 100,000 people nationwide) had a huge impact in raising awareness that NZ produces world class fantasy artists. This was especially true of school kids who flocked to the exhibition and became big fans of the books. For many of these young artists it was a revelation that you could make a living producing fantasy art from New Zealand. I think for all of us this generational influence was one of the greatest outcomes from the whole endeavour.
5.What comments have other artists included in the volume reported back to you? Has the book's publication changed the lives of some of these talented working artists?
PaulTobin
I think the greatest endorsement from the artists has been there incredible level of enthusiasm and support that spilled over in creating volume 2 and the desire to now do a volume 3 (hey we always wanted to do a trilogy.) I think the community that we have created around WCW has really had an impact, especially around events like San Diego Comic Con and Spectrum Fantastic Art Live. White Cloud Worlds gave us all a product and purpose to take to the international stage and its still unbelievable to me that many of these artists have poured their savings into traveling half way across the world to share in our artist adventures at these events.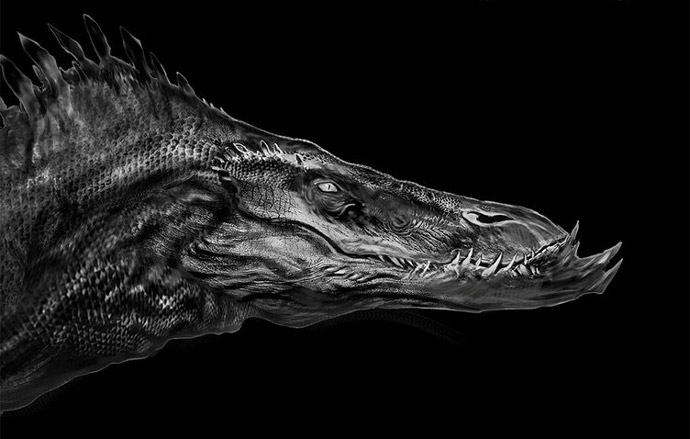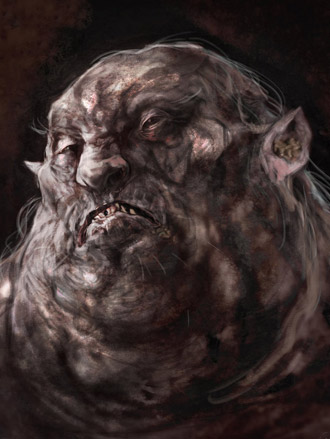 6.With the continuing production of Peter Jackson's "Hobbit" movies coming out of New Zealand, can this "Land of the 'LOTR/Hobbit' Giants" sustain as the center of all such epic fantasy filmmaking? Or is the Jackson phenomenon sui generis and a gradual dispersal of digital fantasy adventure movie production inevitable? Is the model that has been built in NZ being adopted in other parts of the production world?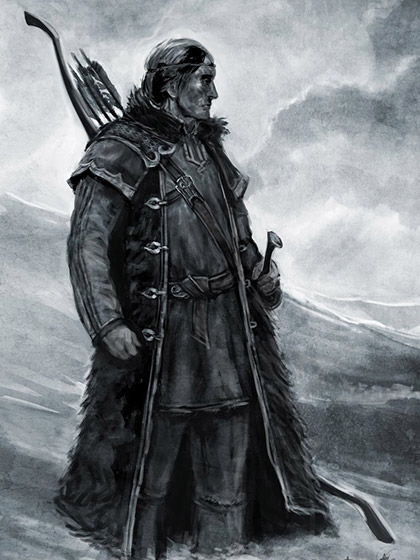 PaulTobin
Whew thats a big question! I think that New Zealand has certainly generated a convincing legacy around fantasy based projects that certainly had its genesis with Peter Jackson. However, it's long been acknowledged in the NZ industry that we have need to form new creative partnerships with other giants in the fantasy and science fiction industry to stay relevant and viable. When a director like James Cameron actually shoots in NZ then that really helps a much larger part of the industry. At Weta Workshop there has always been a huge focus on diversifying and not limiting ourselves to just working on fantasy project being brought to NZ. A good example of this is the work we do for Neill Blomkamp who shot in South Africa for District 9 and Mexico forElysium but we provided principle design and physical manufacture on.
As for this model being adopted abroad? Well I certainly saw signs of this in Belfast Ireland when I visited the Game of Thrones studio and taught some workshops. They very much reminded me of where NZ was at after LOTR became a global phenomenon. There was the same determination and sense of pride to build a industry from the ground up and to foster local talent while still embracing the expertise of folks from abroad.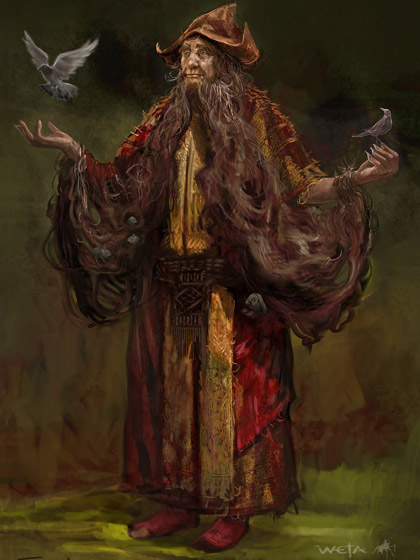 7.What projects are you working on currently?
PaulTobin
If only I could say… It's the hardest part of working in the film industry, you get to work on the coolest projects but can't say anything about it. I just did a fun stint of design work on the new Hercules film starring The Rock and a cool Chinese fantasy film called Zhong Kui: Snow Girl And The Dark Crystal. Then of course there is the final Hobbit: Battle of Five Armies coming out in December.
8.Is there a "dream" project (like your "Atlantis" story) that you hope to one day put into production?
PaulTobin
I have no shortage of dream projects but a serious shortage of time Even with the help I receive from my small team on White Cloud Worlds working and working the full time job at Weta Workshop there seems little time to work on my own projects.
However, things are freeing up a bit and after reconnecting with all my new friends in the US and abroad I am all fired up to tackle some new projects. I guess after helping to build worlds for clients I am really excited to embark on creating my own world and I am at work on a Reimagined Atlantis that I want to produce as both a story and concept design book. So hopefully it will hit Kickstarter later this year, so watch this space!
9.Could you speak about the importance of community in an artist's life artistically, professionally and personally?
PaulTobin
I think with art there's really no right or wrong way about how you learn and thats where community is hugely beneficial. Getting involved with a wider circle of artists exposes you to a diverse range of approaches and helps you find your own path. At a professionally level it's really important step in building up a network of friends and peers that can help you navigate the the challenges of making a living in art. When I first started out as a freelance illustrator I never knew what to charge and so I reached out to other artists for advice as just one example. Now as I get further down the professional road it's more about passing on what you have learnt from hard work and experience to a new generation of artists.
With online communities like DeviantArt it's never been easier to share and at the same time keep learning as well.
At a personal level it's simply about FUN! I love discovering new art and artists and working collaboratively whether it's at work like Weta, a personal project like White Cloud Worlds or talking to someone at a convention or online!
---
"I really enjoy Even's bold use of shape language and attention to detail. He also presents his work really well, often giving additional information about the design through graphic design elements."
—
PaulTobin
"Yip-Lee was a student at my old design school and I am really impressed with his use of lighting and stylish rendering and design coming through in his more recent work. I hope he keeps cranking out pieces like these as he would make a great addition for White Cloud Worlds 3!"
—
PaulTobin
"Mallie does great costume design! I love the huge variety of designs communicated with a simple and very effective rendering style. Each round of design is frequently accompanied with a great write up explaining the culture and history behind the costumes. Fantastic stuff."
—
PaulTobin
"Stu had the honor of introducing me to all the awesome that is DeviantArt. He's a colleague at Weta Workshop and in his spare time he produces what I think is some of the finest anthropomorphic art anywhere. Not only is it technically mind-boggling, its also damn funny!"
—
PaulTobin
"Unbelievably awesome work. Enough said!"
—
PaulTobin
Before reading this article, were you aware of New Zealand becoming such an important hub of fantasy adventure filmmaking, even beyond Peter Jackson making LOTR there?

Do you agree with Guillermo del Toro and Paul Tobin that fantasy "illustration" should be considered as a fine art when the quality warrants that assessment? Are you tired of college professors, art magazine critics and art galleries deciding what's "real" art and what's just "advertising?"

Paul Tobin has an "Atlantis" dream project. Is there a book, historical episode, children's fable, childhood favorite TV show, movie, cartoon or comic book that would be your dream of seeing on the screen in full LOTR digital glory?