Movie Poster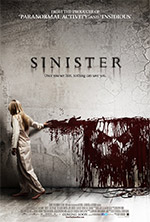 About
It's October and the sacred 31 days of Halloween are upon us-time to get your gore on! The chill is in the air, the leaves are on the ground, and Halloween candy has been out since Labor Day. So while you're waiting in the Starbucks line for an overpriced double pumpkin spice whatever, pass the time with this year's scary movies reviews!
Sinister
(2012)
Babylonian demon who looks like an escapee from a Norwegian black metal band and has a penchant for making snuff films, becomes an obsession for a washed up crime writer. Seems as if the writers just devised a bunch of individually scary scenes but then strung them together with a poorly developed story. Bughuul the demon doesn't get nearly enough screen time for a creature who's supposed to inhabit the celluloid itself. But the film is still creepy as all hell and Christopher Young's score is a homerun.
Good fun for a chilly October weekend.