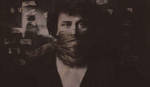 "Some use Ink, I confide in Silver"
—
Lauren E. Simonutti



Quote by Lauren E. Simonutti

" The misfirings of my beloved/despised mind that conspire to convince me to destroy all have rendered me housebound and led to a solitary life. A creature of past, proof, memory and imaginary friends, I am aware enough to know the things I see and hear are not real, but that does not mean I do not still see and hear them."



For a very long time Lauren Simonutti's haunting photographs were a spectral presence amongst the deviantART community, as emulators sought to discover and replicate the mysterious processes of the uncommunicative artist. They could not have known that an unceasing physical and mental anguish was the key engine driving her artistic achievement, an inner pain that could never be duplicated.
It was shortly after she had agreed to be interviewed by techgnotic about her life and her art that she passed away, her unbroken silence proceeding with her onto her next plane of existence.
Ellen Herbert, owner of NEAT Production, a company specializing in all aspects of art production services and tools, is a longtime admirer of the work of Lauren E. Simonutti, a.k.a. lauren-rabbit. Ellen has written this appreciation of the artist as a special guest correspondent for depthRADIUS. She has worked on the deviantART Stock Project and is a lecturer at Art Institute and ACCD. A bit of a different career in photography, her creative guidance has allowed her to work on everything from ad campaigns to Academy Award winning documentaries. Let's welcome her to the depthRADIUS.
What made Lauren Simonutti spend three and a half years, withdrawn from society, working alone in an initially dilapidated house that she converted—every corner, every nook, every stairway, used to stage frightening and preposterous and wonderful events—into a series of photographic tableaux?
These darkly configured dreamscapes contain phantoms of her own making—clocks frozen, sometimes double exposed, glass eyeballs, bedsheets stung with the sun, mini-ziggurats of prescription pill bottles—and, in most, she becomes her own phantom, the subject at the center of this seemingly supernatural world.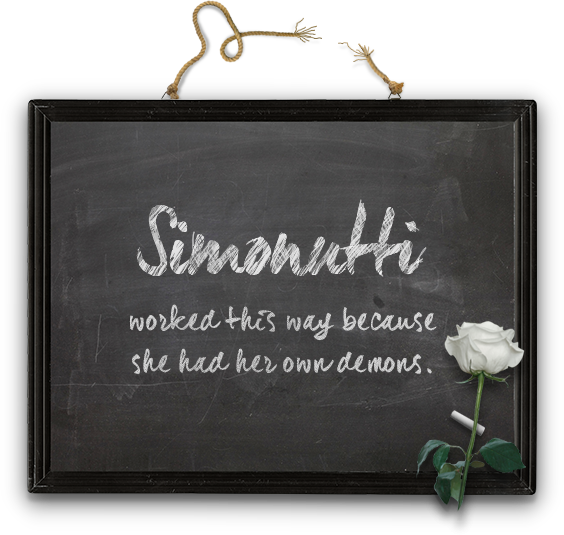 By her own account, it seems to have been a way to try and introduce some sense of "silence" into her life, some measure of artistic control over the voices that continually echoed through her head.




" I began to hear voices. Three of them, quite distinct. Two are taunting and the third voice is mine, as I have heard it externally, on a tape recording or answering machine. That voice has some reserve, it seldom makes itself heard. The others are a constant. They all live in my right ear which rather makes sense as I spontaneously went deaf in that ear a decade ago and it has been vacant ever since. As time and treatment progressed they have stopped screaming and contribute only a dull murmur. Except at bedtime, at bedtime they like to sing."



Before her death in 2012, Simonutti suffered from bipolar and schizoaffective disorder, and in a short period of time from 2006 produced an incredible array of haunting photographs that reflected (and shattered into different reflections, like the mirrors that she sometime used) the mind of a woman who tried to balance the chaos of creativity with the chaos of her thoughts, and try to seemingly find a defining organizational coping mechanism in both.
Simonutti's process was to stage still-lives and memento moris for her camera, often appearing as the disembodied subject within her own mindscapes. Colluding with her own visions, externalizing them into negatives, she danced with herself in the ghostly double-exposures of her set-pieces. Her process, though, wasn't yet finished; these were just the first iterations of her compulsions. Working both in camera, and then in darkroom, Simonutti re-manipulated her photographs by individually toning them, obsessively (which she acknowledged, with a wry sense of humor and self-awareness that she was maybe being a bit "obsessive"), until she had images that she could collate into a small series of extremely limited-edition hand-bound books.
The three books that Simonutti produced are more tactile than even the misleadingly dense surfaces of the prints. Inlaid with delicate papers suffused with rose petals—symbols of both joy and memorializing—her prints sit, glued to the surface, and adopt the mien of a kind of psychic scrapbook; chaotic but beautiful, intimate but sometimes incomprehensible. Each book was color-coded: one blue for "memory"; one rose petals red for "passion"; the third yellow for "hope and promise."
That Simonutti, in collaboration with the Catherine Edelman Gallery (who first discovered her work, and wanted to bring it to a wider audience), invested in books with print runs of, sometimes no more than 43 copies, is a production process that contains its own internal logic: after all, here was a woman whose mental illness catalyzed her alienation of most of her close friends and family, so such small runs seem, somehow, appropriate.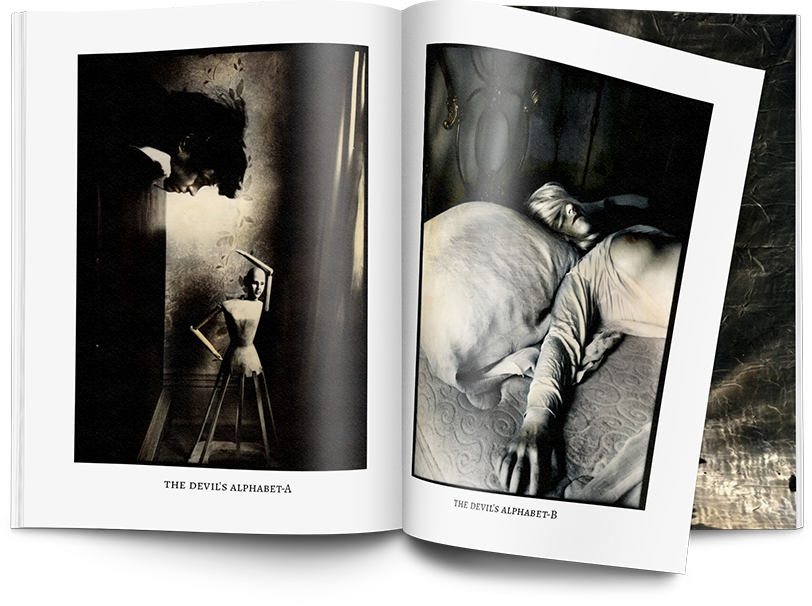 Inner Pages

Instead, discretely sending out her books that she punched and combed-bound herself—via outlets such as deviantART—she might, perhaps, have preferred that unknowable intimate connection with a mail order stranger; opening her book, feeling the infused paper on their fingertips, the lovely binding, ringing the tiny bells, attached, so that the buyer, like her, would not know what silence is. Dark feathers allude to her compulsion with, unsurprisingly, Edgar Allan Poe.
The final touch, again demonstrating her self-awareness and fortitude with her condition, was a spare book band, labeled, as she put it, "...should the first one break." Fragility within strength.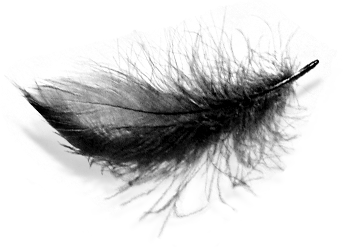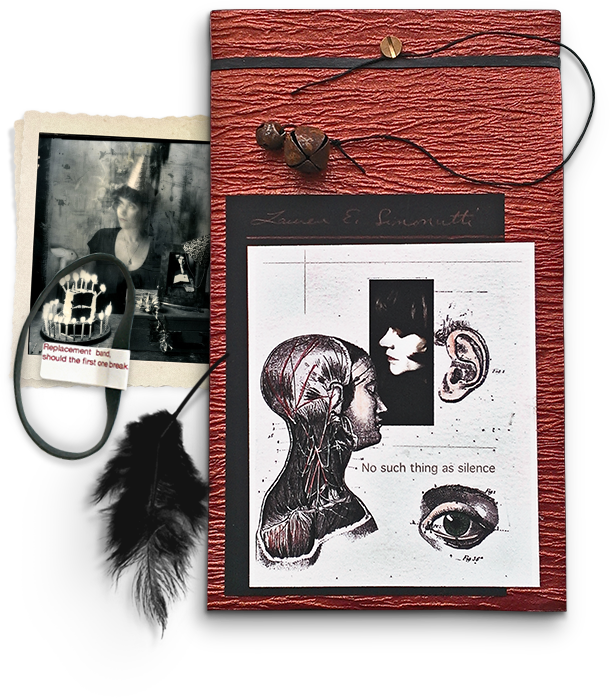 Luckily, for the rest of us who are unlikely to ever see these rare editions, Simonutti's prints are just as visceral as her books.
Her inventory covers more than what was printed in her volumes (and, prior to her death, she was planning a new spirit series of images). Overall, it's a stunning and compulsive series of suites that are protean, and disturbing, and mesmerizing. Certain images of Simonutti, as subject, elicit a Victorian-era milieu, of bourgeoise seances (and certainly her double-exposed ghost figures hover within home-scale proscenium arches); but also of those staged scientific photographs in which male doctors dressed troubled women in white robes so as to better 'prove' their hysteria. Simonutti, whilst playing with such references, also has a much clearer sense that she is the one, this time, doing the manipulating; she is the one exploring her own sense of her fractured self. She is the enabler that exerts control and makes the decisions, in her images; not some third party quack, or caregiver, or a frustrated relative disappearing into silent disapproval.
Simonutti's legacy lives on, after her death; but amidst the terror (because there is terror), and the magic, and the wonder of her images, it's important to understand how pure her photographs truly are.
In a world where, for more than a century, artists have purposefully played with their own manufactured personas as an integral part of their artwork—from the provocations of Dali, the cold winking contempt of Koons, and even the distancing ironic refractions of Cindy Sherman—Simonutti never had this arms' length luxury, this freedom to posture outside of herself. She was always inside herself, even when she wanted to get out.
Maybe this is one reason why Simonutti has struck such a chord within the community of deviantART artists. Her account page lauren-rabbit is filled with comments on her passing. One in particular stands out:
" I really hope you find a way as a spirit into images visible to us given your late interest in that subject! Would be so wonderful."
The tragedy of Simonutti is not her art (that is her triumph); but that she sometimes seemed to have endured a solitude that, as much as it drove her art, maybe also contributed to her feelings of alienation, (as much as she also seems to have needed it). Maybe the truth is also that, without those voices in her ear, she would not have been able to access her inner spirit to produce works of such resonance. All artists, after all, like to think that there is a little madness in them, a sense that they are swimming against a stream of conformity, and find themselves, thankfully, alone in the blank canvas of their studio...
The only certainty is that Simonutti used her own conditions to make work of lasting inspirational value to many others. Maybe she was happy to be isolated in her workshop/sanctuary; not least because she had enough voices in her head already, and assistants and sycophants might have gotten in the way of her art. Simonuti remained alone in her dilapidated house, restoring it, and herself, one room of the mind at a time.
Artist Talk with Lauren E. Simonutti (2010)from Catherine Edelman Gallery
What feelings are provoked within you when viewing Lauren's art? Mystic wonder? Sadness? Alienation and loneliness? A sense of reconciliation with the physical corruption of death? Claustrophobia and release?
Lauren worked almost entirely in a traditional process – no photoshop or other digital trickery. Just camera and darkroom. Does this add value or a greater "validity" to her work as fine art? Why or why not?
Have you personally ever been an artist in crisis or sought to help an artist who was suffering with overwhelming personal demons? What do you think is the best advice for artists on the edge, and for those trying to pull them back from that edge?
Do you think there is a danger in being too isolated with your art and letting no one else be a part of the process of your creativity and execution of your art? Do you find you need the community of other artists or supporters to be able to face your daily duties as a struggling artist and functioning human?