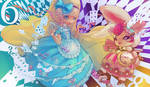 The more one is denied something, the more one desires it.
The more oppressive the strictures circumscribing one's life, the more delirious become that person's dreams. The more prohibitions and sacrifices one accepts as a life's duty, the more ingenious must become the approved "escapes." Lewis Carroll chose the life of a deacon dedicated to God. He escaped into the company of three little girls and their brother and a form of fairy tale–writing that was "perfect nonsense." His was a life of perfectly ordered madness.
The Reverend Charles Lutwidge Dodgson was born in Cheshire, England, on January 27th, 1832, but he will be remembered forever by his pen name, Lewis Carroll. Author of Alice in Wonderland, Alice Through The Looking Glass, The Jabberwocky and The Hunting of the Snark, his books are the undisputed greatest works of "literary nonsense," that most marvelous category of fiction.
Dodgson was a math tutor at Oxford University as well as a deacon of the Anglican Church.
His position at the university afforded him lodgings on the campus where he had an excellent view of the wonderful walled–in garden in the center of the grounds. It may well have been from that window in 1855 that the then twenty three year old tutor first saw the three daughters of the new dean Henry Liddell and his wife Lorina; Ina, Alice and Edith were their names. They also had a son, Harry, and would later have five more children, but it was the three girls who eventually caught the deacon's eye. Having recently become a photographer, Dodgson immediately set about photographing the girls. After initially proving too fidgety to have their pictures taken, they soon took to it as they got to know the somewhat reclusive man who would often speak with a stammer.
The Reverend adored all three girls and through his growing friendship with dean Liddell himself was encouraged to continue taking photographs of the children. But it was six–year–old Alice Liddell who became his favorite. Liddell's nine–year–old son Harry adopted Dodgson as a father figure. Dodgson taught Harry math and rowing and took him on outings around the city.
As Dodgson's reputation as a photographer grew, so too did the number of requests by parents wanting him to photograph their children. He took over 3000 photographs during his life, no mean feat in that age of glass negatives. Over half his subjects were children. In some of these pictures the children were naked or semi–naked, including the Liddell children, Dodgson always having sought and been granted permission for the nudity beforehand. While this may shock people today, in Victorian England it was even acceptable to put semi–naked children on postcards; after all, this was about capturing their innocence as art. The average Victorian could go a lifetime without it ever occurring to him that a child might be the object of sexual abuse.
In 1862, Dodgson took the three Liddell girls on a boating trip.
By this time they knew each other very well and the young math tutor had a surprise for them. He told them the story of a young girl called Alice who fell down a rabbit hole and found herself in Wonderland. The ideas for Carroll's first book about "Alice" may have come from his photographic compositions of children posed in whimsical attitudes and fantasy settings. It has even been suggested his visions were a result of migraine headaches. But there is no doubt the main inspiration was the Liddell children and Alice in particular.
His relationship with the children ended the following year when an undisclosed event caused him to break ties with the Liddells. While he started socializing with the dean and his wife again a few months later, his relationship with the children had changed. He did present young Alice with a bound copy of his "Alice" story in 1864, then entitled Alice's Adventures Underground.
In 1865, Alice's Adventures in Wonderland saw publication in an expanded format.
The author was Lewis Carroll although Dodgson went to no effort to hide his identity and the book made him immensely popular with parents and their children. He was even called upon to entertain Queen Victoria's grandchildren.
Carroll went on to write a sequel to Alice In Wonderland, called Alice Through The Looking Glass which included the story The Jabberwocky. The Hunting Of The Snark was a long form poem and a sequel of sorts to The Jabberwocky that shares many of the nonsensical beats that made Alice so unique.
Lewis Carroll who so loved the company of children never had any of his own.
Being a deacon he remained at Oxford unmarried until his death in 1898. A visit to his sisters living outside of London resulted in the pneumonia that would transport him out of this world and into the next. The man who taught so many the joy of indulging their maddest daydreams lives on in the hearts of every child who meets his "Alice" and joins her in her adventures.
Your Thoughts
Do you know Alice? If you have never had the pleasure, don't you think it's time you got to know each other?
What novel or book series would you suggest to others who might wish to get lost down a rabbit hole?