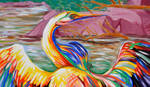 He was the leader of the "fauve" (wild beast) artists, whose style of painting made a brief but indelible impact on the art world in 1904—08 with only three exhibitions.
The "fauves" sought to elicit emotions from their art by employing bright, often dissonant colors in depicting their subjects, even where no such natural color was to be found. Emotion was desired more than descriptive accuracy. Most critics were outraged. A few were delighted. Matisse would go on to join with his lifelong friend and artistic rival Pablo Picasso in spearheading the "plastics" movement. Matisse and Picasso first met in Paris through Gertrude Stein and Alice B. Toklas. Sarah Stein became a champion of Matisse's art and he and Pablo became regulars at Gertrude and Alice's Saturday evening salons.
During the World War II years, Matisse's health began failing and he began experimenting with collage, calling it "painting with scissors." In 1951, Matisse completed what would be his final contribution in art to the world, a four–year project designing the interior, glass windows and decorations of the Chapelle du Rosaire de Vence, forever after known as the "Matisse Chapel." The chapel was a labor of love for a dear friend, despite Matisse being an atheist. A befitting final irony for an artist with such a variegated and star–crossed presence in the art world.
Your Thoughts
Most Matisse paintings are cheerfully colorful. Is there one you would hang in your home and why?
As an artist, are you or have you ever been a regular attendee of a weekly or monthly "salon" of other supportive artists?