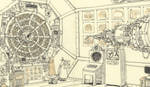 A funny thing happened at the Large Hadron Collider near Geneva, Switzerland.
The world's most powerful particle accelerator was engineered to prove or disprove the existence of the Higgs boson – the so-called "God particle" that could unlock the secrets of several major conundrums of modern physics. But along the way, whilst smashing atoms together in their collider, the scientists have come up with something else. A new color.
But wait a minute, you say.
Color has to do with spectrums of light interacting with our eyes. For a "new color" to exist, a new spectrum of light would have to exist, which makes no sense. Unless … your eyes are glued to the split second of impacting sub-atomic particles smashing into each other in the Hadron Collider. That's when the unique light spectrum briefly exists and the new color can be seen. The sight of the new color has sent observing scientists into spastic fits followed by weeks-long comatose states. But upon waking the scientists describe the experience as "euphoric" and "epiphanous" and pleasurable beyond any sensation in their former lives. A noticeable increase in the affected scientists' intellectual output led to their being given I.Q. tests. Their test scores came out substantially higher than tests administered over years before.
When asked to describe the new color, the scientists cannot place it any section of the standard light-color spectrum, nor find descriptive words for it. They have given their new color a name. It is Bjork, named after the idiosyncratic Icelandic singer. None of the scientists know how the name was adopted, some swearing the color told them it's name. The international supervisory board of the Collider must now make a decision as to the importance of the "new color" discovery, and how much of its resources should be shifted to adequately research the phenomenon.
---
---
Your Thoughts
Do you want to see the new color, even though there are health risks – as well as substantial personality alteration involved?

Do you think there will be an effort to profit from "Bjork?" even though its existence is a fleeting thing of the moment, not unlike the actual singer herself.

Might this new color that opens the perceptions of the mind's inner eye have some mystical or religious significance? Is a new color that heightens IQ like the Tree of Knowledge from which Eve plucked that apple? In looking for the God Particle, did we find the Satan Particle?