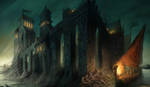 Disclaimer:
The following is a revised travel guide intended for those tourists who are up-to-date on all the latest happenings in Westeros (read: people who've watched seasons one through four of Game of Thrones, or have read the books at least through A Storm of Swords). If you've been living under a rock, we recommend you get caught up before reading, lest your experience be spoiled.
So you're thinking of visiting Westeros. You should know up front that any visit to The Seven Kingdoms comes with a reasonably high chance of being abducted, stabbed, beheaded or otherwise maimed and mortally wounded. With that general caveat out of the way, some places are still worse than others. Everywhere you look are fine examples of masonry or breathtaking vistas, but even some of the places that offer fine examples of both are just generally not places that the average traveler should visit. So, for your consideration, we present nine places you should absolutely not plan to visit during your stay in Westeros.
---
Here are the 9 worst destinations in Westeros
9. Winterfell
The north wasn't exactly a tourism hotspot before Winterfell was reduced to a pile of ashes, and it certainly hasn't gotten any more hospitable in the mean time. There are those people who romanticize the stoic beauty of the northern reaches of Winterfell, but as even an amateur meteorologist can tell you, Winter Is Coming, and it's only going to get colder. Plus, noted sociopath Ramsay Bolton (née Snow) was just given control of the former Stark stronghold, making the chances that you'll be randomly assassinated or tortured during a visit there even higher than usual.
8. The Iron Islands
People from the Iron Islands, known as the Ironborn, are always going around pillaging and slaughtering the innocent. Sounds pleasant, right? Plus, they make you pay for everything using the iron price, and the conversion rates on standard currency are not very favorable. If you're in the mood for seafood or just want an excuse to sail on a ship, we'd recommend Dorne. Even Dragonstone would be a better place to spend some days relaxing by the sea than these islands.
7. King's Landing
Two words about King's Landing: tourist trap. Four more words: smells like a sewer. Seriously. Unless you're planning on taking The Iron Throne for yourself, or you're the actual king or queen, there is absolutely no reason to visit King's Landing. They've got better castles in Highgarden or Casterly Rock, plus you're a hell of a lot less likely to die and/or get wrapped up in someone's devious political machinations. If you do find yourself in King's Landing, remember that when you play the Game of Thrones you either win or you die. And historically speaking you're way more likely to wind up doing the second one.
6. Dreadfort
Why anyone who hasn't been taken into captivity or whose last name isn't Bolton would ever go to the Dreadfort is, frankly, beyond me. And it should be beyond you as well. There is an actual flag flying over the keep whose symbol is known as "the flayed man." Quaint.
5. Castle Black
We get it. You want to see the Wall. Perhaps you even want to throw something over or spit off the side of it. It's a perfectly normal human impulse. But Castle Black is the wrong place to fulfill this aspiration. It's full of sexually-frustrated, freezing-cold ex convicts who wear all black, all the time. And recently, it has come under the stewardship of the poutiest boy in all the land, one Jon Snow. So if the smell and the company you're in don't bring you down, his constant, unmitigated whining ought to. If you go to Eastwatch by the Sea at least you get an ocean view.
4. Harrenhal
Haunted as hell and routinely the site of large-scale human suffering, like that time all of its inhabitants were burned alive by a dragon. Skip it.
3. Literally Anywhere North of the Wall
It does not matter where. The Fist of the First Men, Craster's Keep, a Wildling camp; everywhere you go north of The Wall you're just a moment away from getting killed by a frozen zombie or attacked by birds. If you're just trying to prove you're comfortable roughing it, might we recommend a night's stay in the sky cells at The Eyrie?
2. Castamere
Okay so full disclosure, none of us have actually been to Castamere. But we've heard it's full of cats and it rains all the time there. No thanks.
1. A Wedding
One does not simply attend a Westerosi wedding. It's as dangerous as any battlefield and worse, as at least on a battlefield you can see your enemies coming. Time to tell second-cousin Brent that you'll be out of town on his special day.
---
---
Your Thoughts
What's the one place in Westeros, or in the Game of Thrones world more generally, that you would want to visit, and why?

Have you visited anywhere on earth that made you feel as if you had stepped into a dangerous and unknowable realm of fantasy?

Have you ever actually been so duped by a hyperbolic travel guide that you had thoughts of suing the publisher?

Has any tourist location you've ever visited made you feel your life is actually in danger?