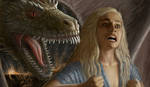 Game of Thrones spearheads resurgence in sword & sorcery fantasy art of Warrior Kings & Queens.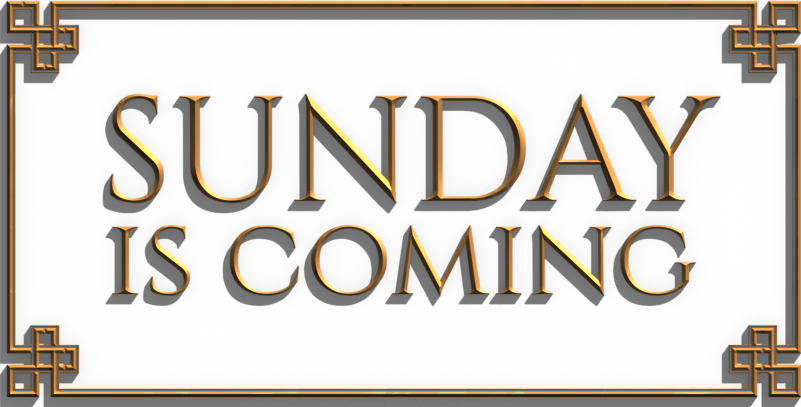 The current popularity of the bloody and salacious Game of Thrones and a host of paler imitators may have roots in Cate Blanchett's Oscar-worthy performance as the historical Elizabeth (1998), the Queen who was perhaps the most important ruling Royal, King or Queen, in British history.
The politics and imputed romances of her reign embroiled both her throne and bedchambers. Released from her half-sister's dungeon to go on to successfully stabilize a country wracked by religious war, all the while being threatened by Spanish invasion from without and overthrow by the plots of her male "suitors" from within, her life was epic and an intimate human drama rarely captured in fiction.
Then the British import The Tudors (2007–10), brought us an updated lusty beautiful/horrifying portrayal of King Henry VIII, this time focusing on the athleticism of his youth—before he was gravely injured (crushed under a horse while jousting) and became the iconic morbidly obese figure we're more familiar with.
The Tudors casting of the svelte and smolderingly sexual Jonathan Rhys Meyers (as well as the alluring Natalie Dormer as Anne Boleyn) marks one of those important departures from the collective story we all carry in our heads, created from childhood on through college and beyond. We call this general narrative "history." We become incensed over what we feel are profane depictions of our heroes and their beliefs and intentions—as if we could ever know what roiled the mind of a monarch in 1532. Protestants are understandably upset when the Reformation is de-emphasized as "back story," the better to focus on a King maneuvering wickedly and recklessly in order to secure a divorce both secularly legal and religiously Hell-free, the better to pursue the super hot girl of his dreams.
There is Jeremy Irons in The Borgias as Pope Alexander VI in the late 15th Century committing every possible sin and debauchery that moderns minds could project or imagine for any man of power, much less a Pope surrounded by a family and College of Cardinals just as ruthless with privilege and wealth. Watching this re-casting of the past you need to pinch yourself to remember that the action is set within the Roman Catholic Church which was then and apparently still may be a political and social quagmire. The critics favor a modern French production of this story, Borgias, where they cavort and garrote in the same fashion. This version's episodes are still in production.
The Nixon Presidency (1969-74) has long been held in the collective American consciousness as the high-level mark in Presidential criminality. But only fringe conspiracy theorists believe that the Nixon ninjas actually murdered political opponents and witnesses. Yet that's currently accepted as "believable" plotting in popular dramas like Scandal and especially the American remake of House of Cards, in which Kevin Spacey's deranged politician, Frank Underwood, has no problem with assassination as a method to attain his vengeance and promote his personal advance.
And that's what it is all about on these current shows: politics as a means to personal revenge, enrichment, and power for sheer power's sake. The good ol' days of Henry's romancing of Anne, let the world burn, seem naïve now.
Do viewers really accept this current storytelling as credible, that this stuff is really going on in the White House, in the royal court of the Tudors or at the Vatican or is this just "political science fiction" grounded in reality but played out into another world altogether?
Game of Thrones, adapted from a series of novels still being completed by fantasy writer George R.R. Martin, might just be the craziest-ever mash-up of wildly divergent time periods, some actual historical events, dragons, mysticism, warring Kingdoms of tangled bloodlines, political marriages, incest among the nobles all soaked in the blood of a thousand traitorous sword-thrusts and festooned with heaving bosoms in (and often out of) designer silks and satins. The interior and architectural decoration of the times of this tale seems to have been informed equally by combinations of ancient Babylon, Egyptian archeology, Conan the Barbarian and Victoria's Secret. Ruminations by grizzled older warriors trudging toward the next battle touch upon the great themes of crime & punishment, political corruption, religion, loyalty and true brotherhood—but never rise above standard wooly maxims. Never has so much superlative acting and massive production value been expended on comic book level human drama.
"Thrones" is a new extension of Hollywood storytelling nonsense with every scene crafted to push my buttons in some pleasurably cathartic manner.
Worries over what conservative or liberal or sexist or pro—or anti-gay messaging is going on here must be laid aside as there is no algorithm detailed enough to explain what any of this story really "means." It really is just a "game" to be won or lost by its ever-shifting rules. Being naked in its intent to be no more than sheer entertainment makes the series immune from serious academic, philosophic, historical or literary criticism. Game of Thrones frees us to enjoy it for what it is: a feast for the senses on the way to the next big lunatic lunge on the narrative rollercoaster. A sampling of tributes to the show as imagined by its many deviant fans is a testament to what will go down as one of the most marvelous box of chocolates one could ever hope to have opened. It's undoubtedly not good for us—but it's just oh, so good.
I wait every Sunday here in Los Angeles, attending screening parties when I can, for this glorious, masterfully crafted, and richly creative tour de force which acts as a deliciously sweet nightcap after another in an endless series of 80 hour work weeks.
How about you?

For The Reader
1.
Would you assign world class literary and philosophical value to Game of Thrones? If so, why?
2.
Is there an unspoken "agreement" between film producer and film consumer as to the intended "pure entertainment" vs. "think" purpose of a film experience?
3.
Are you annoyed when historical figures are portrayed in ways that greatly diverge from the picture of them you have always had in your head? Or do you find this refreshing and creative, even if involving massive "poetic license?"
4.
Do you think moviemakers have a duty to portray historical figures as they were, or is it enough that their life events are accurately recorded, as well as their beliefs and words. Is it OK to cast Peter O'Toole as Lawrence of Arabia when the real Lawrence was only 5 feet tall? Is it OK to give the young Henry VIII six-pack abs?
5.
Do you think fantasy and science fiction stories should steer clear of politics generally and stick to common human questions of love, loyalty, valor as motivators for characters? Does the feeling that the author is subtly pushing his or her political or social beliefs on the reader, no matter how delicately, a turn-off for you? Or is this something writers should never hide in their art?
6.
Do you think all the elements of Game of Thrones that could be found by individual viewers to be offensive, sexist, racist, homophobic, pro-violence, are "forgiven" by the utter outrageousness of the story in general? Should there always be a place for politically incorrect fun?