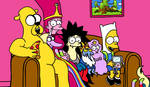 Happy 25th Anniversary Simpsons Family!
With over 500 episodes under their belt, countless awards, and a star on the Hollywood Walk of Fame, The Simpsons was a pioneer in the adult animated sitcom space and is now a television institution that has featured an extensive list of celebrity guest stars including Hollywood royalty (Elizabeth Taylor), pop stars (Michael Jackson), and even world renowned scientists (Stephen Hawking) to name a few.
The pop culture impact of this fictional and dysfunctional middle American family is undeniable and far reaching. They have even altered the English language with catch phrases from the show became so popular (Okily Dokily anyone?) that the Oxford English Dictionary added "D'oh!" to their stately database.
Politically and pop culturally relevant storylines laden with satirical commentary keep fans tuning in every week. It's a cultural phenomenon that is not going anywhere any time soon and continues to inspire Deviants to proclaim their love of the show by creating highly radioactive fan art. That's something we call "Woo Hoo!" about.