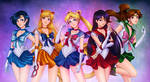 Sailor Moon is back!
The superhero girl–powered team of BFFs has returned to the small screen in a big way.
Celebrating its 20th Anniversary, this beloved anime series is inspiring a whole new generation of fans with the recently released Sailor Moon Crystal. Unlike its earlier predecessor, this version of the anime stays true to Takeuchi's original manga in both story and art style. Takeuchi was ahead of her time in providing a solid female dominated storyline in a male superhero dominated world. The Scouts saved the day and the Prince while providing young women strong relatable female characters they can look up to.
Whether you prefer the 90's anime or love the original manga/new anime, these DeviantArtists have created inspired fan art that's sure to thrill your inner Sailor Scout.