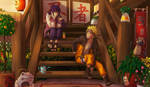 うずまきナルト連弾!
U-ZU-MA-KI Naruto Rendan!
Consistently finding itself at the top of the best-selling manga lists or top anime lists, Naruto is the story of a young ninja who dreams of becoming the leader and protector of his village. Created by Masashi Kishimoto in 1999 it premiered in Weekly Shōnen Jump magazine and just ended its initial run last year. A sequel is now in production.
Naruto Parts I & II were divided up between the manga's 72 volumes and now comes the much awaited Naruto Part III.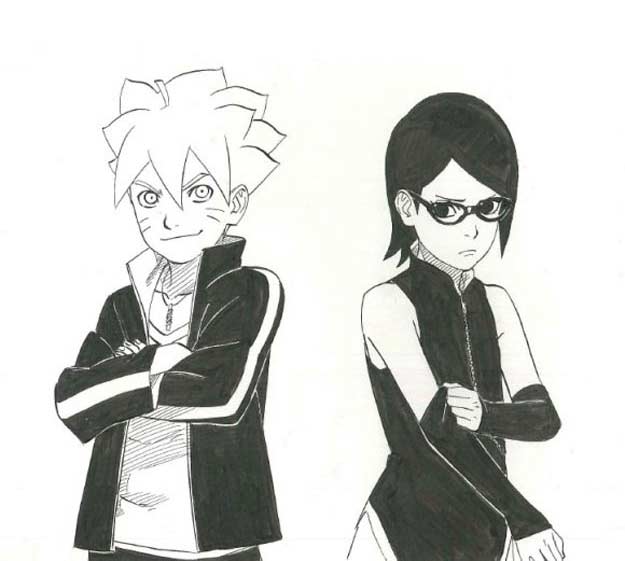 April 27th brings the arrival of Naruto Gaiden: Nanadaime Hokage to Akairo no Hanatsuzuki (Naruto Spinoff: The Seventh Hokage and the Scarlet Spring Month) which is the new Naruto spin-off manga mini-series that will be featured in Weekly Shonen Jump volumes 22 and 23. The full details around this series have yet to be revealed so it's unclear as to how long the new series will run. The rumor mill does say this story will focus on the children of Naruto, Hinata, Sakura, Sasuke and others.
Artwork for the new manga was recently released showing images of Naruto, his son Boruto and Sasuke's daughter Sarada.
Boruto: Naruto the Movie is currently in the works and will be released in Japanese theaters later this year on August 7. Creator Kishimoto heads up the production and handles the original story, script, and character design. Kishimoto has given some inside information on who we can expect to see: "I conceived a story in which Boruto and [Sasuke's daughter] Sarada appears. Sasuke and Sakura also appear." This sequel to the The Last: Naruto the Movie will feature the infamous Sannin Orochimaru as the title's villain, who of course will pick up where he left off, setting his sights on the young Bolt and Sandra. Here's a look at the cover art that was recently released.
Another development in the world of Naruto revolves around its creator Kishimoto, who was given the 2014 Minister of Education Award for Fine Arts' New Face Award last month for his work on the manga. Given that his work has been around since the late 90s it's ironic that he's essentially getting the 'Rookie of the Year' award, but well-deserved either way.
With all the excitement around the new manga and movie it seems like a perfect time to enjoy some fan art. Gather round shinobi as we embark on this S-rank mission to capture the best of the best Naruto fan art.
---



Because they saved me from myself, they rescued me from my loneliness. They were the first to accept me for who I am. They're my friends."







Tears and rain, fall down on my face, my body is unable to stay yet my heart is unwilling to leave."







No single thing is perfect by itself. That's why we're born to attract other things to make up for what we lack. I think we start walking in the right direction only after we start getting our counterparts beside us."







If you believe in your dreams, I will prove to you, that you can achieve your dreams just by working hard."







The things that are most important aren't written in books. You have to learn them by experiencing them yourself."







Regardless of our limitations, we can always be of some use. Our power may seem insignificant … but it may just prove to be useful in the grand scheme of things. Stay focused. Never avert your eyes, because if an opening arises, even our insignificant power may be enough to determine the fate of the world. Which is why everyone must stay alert and ready to strike at any moment!"




---
Your Thoughts
Who is your favorite Naruto character and why?

What would you like to see in future editions of Fan Art Friday?