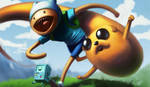 Welcome to the enchanted Land of Ooo, where Finn and his magical dog, Jake, spend their days fighting evil and making things right in the world while having a blast. They prove that there are still good guys out there ready to help those in need and through their adventures take us to the many fantastical and far off corners of their world.
With its mix of funny, smart, fiery, wacky, dramatic and at times dysfunctional characters Adventure Time has won the hearts of both young and old alike. Princess Bubblegum, the brainy ruler of the Candy Kingdom, the half demon/half vampire, full-time rockstar Marceline, the princess snatching Ice King, the volatile and intense Flame Princess, and the attention seeking, current hobo Lumpy Space Princess are only a few of the personalities that inhabit Ooo.
This magical realm boogles time, space, and reality along with the minds of all the deviants who have been inspired to create and share their interpretations of the colorful cast of characters for all to enjoy.
Now's the Time to join the Adventure!