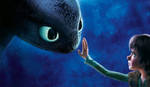 How to Train Your Dragon
The island of Berk once had a troublesome problem with looting airborne raiders, but thanks to Hiccup and his dragon/best friend, Toothless, a peaceful coexistence reigns in the Viking land. It wasn't an easy undertaking to get to this point, but audiences all over have sure enjoyed the journey of these action packed films.
The Dreamworks' How to Train Your Dragon movies are loosely based on the book series of the same name by British children's author Cressida Cowell. Lilo and Stich filmmakers Chris Sander (alohalilo) and Dean DeBlois were brought on halfway through the process of creating HTTYD as co–writers/directors to help transform the film into an all ages adventure. Naturally this lead to there being quite a few differences between the books and the movies starting with one of our main heroes, Toothless. In the books he is a small red and green dragon, but with Codwell's approval he was reimagined as a sleek black, very intelligent, and fast breed of dragon, the rare Night Fury.
Who is Toothless?
Toothless is "a mix between a panther and a salamander" according to DeBlois. The dragon's loveable and at times ferocious personality was inspired by dogs, cats, and horses while his sound is a combination of Supervising Sound Designer Randy Thom's voice mixed in with that of elephants, tigers, cats, horses and even elephant seals.
Hiccup, roughly 15 years old in the initial film, was the first Dreamworks' animated hero to be the same age range as the intended audience. For such a young character Hiccup carries a big message teaching Berk and audiences about learning to understand your enemies and treating them with respect because you just might find you're not so different after all. In the sequel, How to Train Your Dragon 2, Hiccup is 20 years old roughly aging by the same number of years between the release of the two films.
Those not familiar with the books will be surprised to know the character of Astrid was invented for the films. The producers felt they needed a strong female character the female viewers in the audience could identify with. Even though Astrid was initially designed as love interest for our hero, her strong and compelling personality have earned her as much respect and importance as Hiccup.
DeBlois inspiration for the sequel relies heavily on the work of Japanese animation master Hayao Miyazaki as well as the Star Wars: Empire Strikes Back. Fans will be thrilled to note that the third installment of HTTYD is currently underway and slated to hit theaters in 2017.
Can't wait until the release of HTTYD 3? Don't worry Berk is always within reach with this eye–catching gallery of HTTYD fan art sure to meet the approval of any Viking chief. Just make sure your dragon friend doesn't get too excited and accidentally roasts them all — bad dragon!