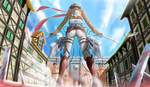 Attack on Titan
Attack on Titan is the groundbreaking Japanese manga and anime series created by Hajime Isayama in 2006 as his entry for Japan's prestigious Magazine Grand Prix (MGP), an award sponsored by Kodansha, Japan's biggest manga publisher and the eventual publisher of the series. Isayama received the 'Fine Work' award and fired up by the achievement took the ambitious step of moving to Tokyo from his hometown of Ōyama to follow his dream of working as a manga creator.
It wasn't until 2009, after a few short stories had been published, that Attack On Titan began serialization in Kodansha's Bessatsu Shōnen Magazine and it has been running ever since. There are currently fifteen volumes completed with over forty-five million copies in print around the world. There is a spin-off novel series, an anime series, four video games, and two films in production slated for release in 2015.
Attack On Titan is set in the far future, one hundred years after the giant Titans appeared and devastated the Earth. These oversized humanoids killed with no seeming rhyme or reason, often eating people, not out of necessity, but getting more enjoyment out of the actual killing itself. Soon the Earth was laid waste by these colossal creatures.
The story centers around a country that has isolated itself from the rest of the world by constructing a series of giant concentric walls all around it to keep the Titans out. Over the one hundred years since their construction most of the countries inhabitants have been raised never having seen a Titan. That changes when a sixty foot Titan appears one day and crashes through the outer wall. Titans have a thick skin that is difficult to penetrate and regenerate quickly, with their weak spot being at the nape of their neck. In one attack, Erin Yeager, a primary character of the series, sees his mother eaten by a Titan and so he vows to kill them all. He enlists in the military along with many of the young adults to defend the city.
Hajime Isayama plans to end the series with the twentieth volume and over time has changed his mind as to how it will end as his original intention was for all the characters to die. Isayama acknowledged the outpouring of support for his characters from his fans as the reason for changing his mind. This is a great example of creators being affected and influenced by their fans.
The wonderful advantage to being a creator in Japan is that you are in full creative control of your own series. It stops when you want it to and the publisher cannot create new stories without your permission. Imagine how few of the characters we know in the west would still be in print if the rights favored the original creators in the same way…
So strap on your Vertical Maneuvering Equipment, head for the wall, and let's kick all this deviant produced Titan ass that's coming our way!