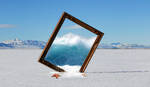 Every day the sea level gets a little higher, and every day we have a little bit less water to drink.
According to the World Wildlife Fund, 2.7 billion people are faced with water scarcities during at least one month of the year. As drought conditions prevail in many places around the globe and our limited supply of accessible fresh water continues to dwindle, the problem is getting worse, not better.
A global water crisis — a scenario in which there simply isn't enough potable water to sustain the world's needs — is the most significant global risk we face on Earth in terms of its potential impact on the population. Of all potential global crises, a water crisis is the eight most likely to occur in a ten year period, according to an assessment by the World Economic Forum in January.
All this is to say that the world's water problems need to be solved sooner rather than later. It's a tragedy in its own right that 2.4 billion people worldwide don't have steady access to water that is sufficiently sanitary — meaning they are exposed to a host of water-borne illnesses, which often prove deadly. But soon this will be everyone else's problem too.
In terms of the shortage, desalinating seawater seems, at first, like an attractive option.
We know that converting seawater into fresh water is a viable way to create potable H2O, but that process is hugely expensive in many ways. The amount of electricity needed as well as the potential impact of a desalination plant on the ocean environment it pumps water from both present major flaws in this solution. Given the costliness of the process, places that have used desalination as a stop-gap to produce water during intense droughts, such as in California and Australia, often end up shuttering the plants when normal rain conditions resume.
---
---
For what it's worth, we know that the effects of global warming and global water shortages are related.
The rising sea levels mean that coastal locations without much land between fresh and saltwater bodies risk cross-contamination, rendering the freshwater saline and thus undrinkable. In addition, many scientists speculate that global warming is causing and will continue to cause extreme weather conditions — that includes harsh droughts.
Prospects seem bleak, and no self-evident solution has presented itself.
But consider this: In the US, California is suffering one of its worst droughts on record right now. As the state continues hemorrhaging fresh water, its supply isn't being replenished at a sustainable rate. To try and curb the effects of the drought, the governor of California has put significant water restrictions in place. During the coverage of these restrictions, a troubling statistic emerged. In California, "outdoor residential use" accounts for one-third of all Urban water consumption. In other words, lawn and garden sprinklers are using a third of the water in California's cities. That's a number that should cause your face to flush red, considering how obscenely simple it would be to simply stop allowing people to water their lawns.
This is especially true in Southern California, where rainfall is so scarce that residential lawns must be planted using turf, because the various species of grass found on lawns do not grow naturally there. Incentive programs exist for homeowners to replace their lawns with water-storing plants that are native to the region.
This problem is more pressing than having a nice-looking lawn whether we choose to acknowledge that fact or not. Right now, most of us think about water scarcity as happening somewhere else, being someone else's problem. But when you juxtapose a lawn sprinkler in California with the millions of people who lack access to clean water all over the world, this problem becomes illuminated in a global context.
A ban on lawn sprinklers isn't going to solve the world's water problems — not even close. The fact that turning sprinklers off could alleviate an entire third of urban water consumption in California makes you wonder what other simple conservation steps we could take with a little bit of creative thinking. Beyond that, there are ways we can help people without access to clean water right now. The impetus take this simple step exists already, and every day it becomes a little more urgent. How much more water could be saved?
---
---
Your Thoughts
Do you incorporate any water-saving techniques in your day-to-day life? If so, we'd love to hear what they are!

In your opinion, which is a more effective strategy for dealing with resource shortages on Earth: creating solutions through conservation and renewal, or exploring other potential homes for our species throughout the universe?

One solution to water woes used in different regions worldwide are so-called "rain taxes" that charges building owners for excess rainwater. What's the water situation like where you're at? Are there any special restrictions or preventative steps being taken to regulate usage?