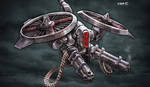 Choose any media or medium and there is no question that Drones have become the white hot center of debate for a multitude of deeply consequential concerns for the entire Earth Sphere. No matter the digital end point or theatre of conversation, whether it be politics, war, privacy, pop culture, or the rise of machines – Drones or UAV's (unmanned aerial vehicles) are the current catalyst du jour in any number of flashpoint discussions. From the front page headlines of news outlets around the world, to op-ed pages debating national security vs. non-juridical "justice," to the big budget sci-fi film "Oblivion" with a main protagonist being a lonely drone repairman toiling away on a scorched earth, there is no getting away from the conversation.
Even more interesting is the tone of inevitability of outcome. Core discussion seems to focus on a coming drone-filled sky and how we might govern our selves accordingly as this fact becomes a reality. It would seem that we have surrendered to the "law" that if something is possible in its technology, it will inexorably come into being and have to be dealt with. If we can build it, we will, and our finger will itch to find a reason for pulling the trigger. Is this the dark side of human creativity and inquisitiveness that will ultimately one day spell our doom or the first signs of a coming technological Utopia.
---
As always, concerned artists around the world are responding, reflecting and creating. In NYC Adam Harvey has turned the very core idea of fashion on it's head. His art project is not about being seen and noticed but about remaining unseen as there will now be no way to be unseen in this brave new climate of surveillance.
The artists of DeviantArt have similarly been creating artwork of incredible beauty and message.
For a deeper examination of the intersection of future shock military terror and artistic response, istickboy takes us on a journey through an art centered perspective on the subject. Jason Boog is not only a talented writer of finely crafted sentences, but he also brings a true journalist's skills in research, analysis and balanced presentation to the topics he covers. His future contributions to depthRADIUS will no doubt prove as edifying and thought-provoking as they will be entertaining. Welcome, Jason.
Questions
For the Reader
1
Which do you think came first: the real drones or the artistic interpretations of drones?
2
DaVinci drew sketches of weapons and war machines as well as producing the most emotionally restrained and expressive portrait of a woman in the Mona Lisa. Is a sketch of a drone emotionally connected or is just an illustration of future shock?
3
There are all kinds of camera drones used by the military, by engineering companies to inspect pipelines, for example, and by film companies for all kinds of effects. What would be an art drone? Maybe a flying machine trailing colors, a guided laser obliterating ugliness or a device for laying down graffiti on inaccessible surfaces— do you have an idea for an art drone's function or mission?
4
In Singer's book, drone squadron commander Gary Fabricius talks about the lives of drone pilots: "You are going to war for twelve hours, shooting weapons at targets, directing kills on enemy combatants, and then you get in the car, drive home, and within twenty minutes you are sitting at the dinner table talking to your kids about their homework." Is this really any different than spending a day in the studio drawing a comic or animations or illustrations of mass mayhem and destruction?
5
Do you think the proliferation of drones all over the world somehow brings us closer to a new world order or one world government?