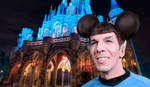 To:
DeviantArt Today's Page News Desk
From:
"Gary Seven" (Reporter Without Portfolio)
I just received a call from "Gary Seven."
DeviantArt has many surprisingly well-connected members and one of them, a top Paramount executive, contacted us two days ago with a rumor so powerful that we wanted to be 100% certain before publishing it. We now know: Disney just bought all television rights to Star Trek.
Bob Iger, the current chairman and CEO of Disney, bought Star Trek from CBS Television, which had acquired the television rights when it split off from Paramount. Paramount has kept the motion picture rights.
Our contact, who wants to be known as "Gary Seven," found out about this purchase — needless to say one of the biggest secrets imaginable — when Iger visited Paramount two days ago to let them know what Disney planned to do with their new franchise. Because Paramount is still making Star Trek movies, we guess there must be some sort of clause in the contracts that requires some kind of cooperation between television and motion picture versions.
Gary is on the Paramount Star Trek motion picture team and their heads started spinning when Iger laid out his plans.
What we know from that meeting is this:
Disney is rebooting the television series Star Trek as a fast track project. JJ Abrams had been in talks with Disney before it closed on Star Trek. Iger asked Abrams to secretly set the reboot of Star Trek in the Star Wars universe and in return he would be rewarded by directing the first of the Star Wars movies.
Star Wars 7: The Force Awakens, now being edited for December release, will plant suggestions that the Federation, Klingons and Romulans were connected to the Star Wars universe. They are dubbing references along those lines into the dialogue now. (Tribbles?) This will set up additional storylines in the television reboot of Star Trek. But Iger assured the meeting that the Star Trek characters would not actually appear in the Star Wars films unless Paramount agreed.
Disney will blend Star Trek into their Marvel Universe by placing Marvel characters like Iron Man and a future version of The Guardians of the Galaxy into worlds visited by the Starship Enterprise and its crew in the reboot. Disney also wants a unified backstory that Stark Industries designed the Starship Enterprise and is the go-to contractor for Starships to the Federation. Iger said he would consider licensing the same characters to Paramount for its Star Trek films if the scripts are made compatible.
The Disney Channel will be producing an entire series in which the Star Trek characters and more importantly the moral lessons and "humanistic" messages of the franchise will be directed at pre-school and K-6 children. Iger said this was a "passion project" for him because he has learned so much to guide his own life from Star Trek.
Disney's Imagineering division has started plans for the Starship Enterprise Holodeck attraction for all its theme parks as part of TomorrowLand and will easter egg the attraction in the TomorrowLand film coming this summer.
Iger showed mock ups of Star Trek merchandise that will start selling at all Disney outlets this summer. In a dramatic gesture he ended his talk by opening up his shirt to display a T-shirt that read "Disney's Star Trek Coming Soon!"
We are told by Gary that the response was icy while Iger and his team were making their presentation.
As soon as they left the room on the Paramount lot in Hollywood, Brad Grey, the Chairman of Paramount, turned to his executives and said: "Don't worry. We've sued Disney before and we will do it again. They will not f**kup Star Trek like they did with so many other cherished properties. Not on my watch."
We learned from another source that Paramount's law firm took over a whole floor in its Century City offices as a "war room" and is pulling in copyright lawyers from all over the country (we guess that includes the one who works here at HQ because he's been gone for three days and used to be General Counsel at Paramount).
We also learned that Paramount is furiously negotiating with 20th Century Fox Chairman, Jim Gianopulous (who used to work at Paramount on the Star Trek franchise), to use the X-Men or Aliens or Predator characters in the next Star Trek movie.
It's all great stuff for the press and the critics. But watching this war will be a sad coda and will close the door on the legacy of Gene Rodenberry. At least cyberspace holds the original series intact even if Disney tries to withdraw it and only release it every seven years, as they have done in the past with animation titles.
We may have reached the Final Frontier.
---
---
Your Thoughts
Do you think Disney will eventually own and control a single universal science-fiction narrative based on Star Wars, with all the characters from Star Trek as well as the Marvel and DC Universes fully subsumed and utilized per relative timeline?
Do you think the world's leaders should get involved to protect the integrity of franchises like Star Trek and Star Wars?

Do you foresee the possibility of a lethal conflict arising between the Vulcans and Jedis different philosophies? Will the undying spirits of Spock and Obi-Wan Kenobi become the political and religious leaders of the two "unified" but contentious factions?

Is it now possible that Gary Mitchell actually tapped into the Dark Side of the Force in "Where No Man Has Gone Before"?

Do you think Scotty and Tony Stark could get along together in the Enterprise's engine room?