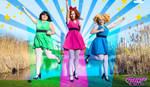 What Are Little Whoopass Girls Made Of?
It was back in the early 90's while attending California Institute of the Arts that creator Craig McCracken (CMcC) first dreamed up three crime fighting female superheroes for his student short film. The super powered girls Blossom, Bubbles, and Buttercup were the result of Professor Utonium's experimental attempt to create the perfect little girls using "sugar, spice, and everything nice", but a can of "Whoopass" accidentally made it's way into the mixture and the Whoopass Girls were born. Armed with super strength, speed, flight, and a few more tricks the girls used their powers to fight crime and save the world all before bedtime.
Once Cartoon Network picked up the show they decided to change the name to something more appropriate for younger audience and replaced "whoopass' with "powerpuff'. Here's the short film that started it all.
---
---
The Artistic Lifestyle Of Townsville
Dripping pop art and pop culture, the animation style used in The Powerpuff Girls is highly stylized and shows influences from the 1950s, 60s, 70s and 80s art scene. The minimalistic look of the show is reminiscent of British artist David Hockney's work conveying "1950s futuristic pizazz" according to movie critic Bob Longino. Longion went on to add that The Powerpuff Girls was "one of the few American creations that is both gleeful pop culture and exquisite high art." The character of Ms. Keane, the girls kindergarten teacher, is named after American artist Margaret Keane whose artwork features children with unusually large eyes. Her art inspired the drawing style of many of the characters in The Powerpuff Girls including the girls themselves.
The retro era influences don't stop at the artwork — the opening credits pay homage to the 1960's live-action Batman series animated intro which pans across a handful of Gotham villains and shows Batman and Robin giving them a one-two punch. The storyline in one episode is loosely based on the Beatles career with the majority of the dialogue being taken from their song lyrics and some of the villains appearing in roles that were a nod to the band members. The characters' dialogue in many episodes references classic rock and pop songs from those earlier eras, there's even references to Star Wars in a few episodes.
Is It The End For The Powerpuff Girls?
The Powerpuff Girls ran for 78 episodes ending in 2005 and featured the voice talent of Tara Strong, Elizabeth Daily, and Cathy Cavadini in the sweet superhero roles. Its popularity generated an anime version Powerpuff Girls Z which debuted in Japan in 2005 and ran for 52 episodes until 2007. So is that it? Are we never to see the girls battling against the crossdressing devil HIM or setting people like misguided feminist Femme Fatale right? Fear not! Cartoon Network is rebooting The Powerpuff Girls who are making their return to the small screen in 2016 on its 18th anniversary of the show's debut.
For now you can enjoy this sugar-coated cosplay collection full of girl powered whoopass as deviants bust out their best Blossom, Bubbles, and Buttercup creations. This is a Powerpuff Girls collection even HIM would approve of.
---



Sugar, Spice, and everything nice. These are the ingredients to make the perfect little girls."







And, like Ben Franklin always said … Early to bed, early to wake, makes a lady smart, pretty, and great."







Yeah. Mojo did a very silly thing, he did, blowing a hole in his house. Boy, was he mad. There was steam coming out of his ears, but I knew that deep down inside he was a sad, poor, little monkey."







We're not keeping that stinky fleabag. Because I'm gonna end up feeding it, and cleaning it, and loving it."







No! Not my priceless, very rare, one-of-a-kind porcelain poodle! Anything! Anything but my priceless, very rare, one-of-a-kind porcelain poodle!"







Hey you kids, get out of my moat, it was not meant to be played in. I must remember to destroy those kids after my breakfast has been eaten."




---
Your Thoughts
Who is you favorite Powerpuff Girls character and why?

What would you like to see in future editions of Cosplay Friday?